In edition 283 of BC Disease News (here), we reported that a 'show cause' hearing had been listed for Monday 30 September 2019, before Her Honour Judge Beech, at Preston County Court.
THE SUBJECT OF DISPUTE
The hearing had been instigated by District Judge Clarke, at Burnley County Court, who noticed that claimant firm, Heptonstalls Solicitors, had repeatedly engaged in the practice of underpaying court fees.
To be precise, Heptonstalls had, on multiple occasions, issued a Claim Form, specifying that the value of the claimant's claim would not exceed £5,000 and then serve Particulars of Claim with proceedings, indicating that the claimant was, in fact, seeking damages not exceeding £25,000.
Effectively, in 'more than 80' noise-induced hearing loss (NIHL) claims, Heptonstalls had paid £205 court fees which, in retrospect, were insufficient – the relevant court fee for a claim valued at £25,000 is £1,250 (5% of the claim value).
Naturally, payment of a lesser court fee, in anticipation of discontinuance, can save claimant law firms a lot of money.
All of these claims were stayed by Court Order (dated 29 July 2019), pending the outcome of the forthcoming interlocutory hearing, in which the affected claimants were required to 'show cause' as to why their claims should not be struck out as an abuse of process, under CPR 3.4(2)(b).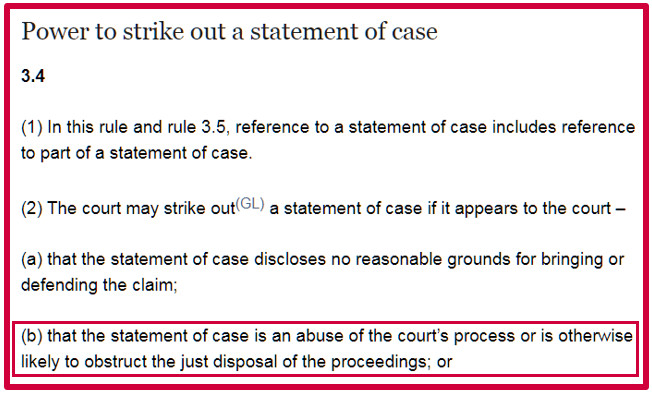 HEPTONSTALLS' WITNESS STATEMENT
In the interim, Head of Heptonstalls' Industrial Injury department, Mr. Shane Hensman, filed and served a witness statement, as the solicitor with supervisory conduct of the claims.
The opening section of his statement was an unremitting list of 'difficulties faced by NIHL claimants ... when attempting to establish their cases and quantify their losses'.
Resting on his 17-years of experience, within which he claims to have handled/supervised 'several thousand' NIHL cases, he identified the 'common features' of NIHL claims which make assessment of quantum such a 'difficult' exercise.
Aside from being 'very mindful of limitation issues', he accentuated the 'fundamental ... feature of NIHL claims ... that the perceived value of a claim may fluctuate significantly between the issue of the claim, and such time as it has been progressed to a relatively advanced stage'.
Seeing that defendants 'invariably contest the Claim from the outset on all issues of breach of duty, causation and quantum, challenging the items in the Schedule of Loss and seeking additional audiogram tests, sound engineer expert evidence and ENT Consultant expert reports', he deemed it unfair to expect the 'precise extent of the Claimant's "actionable NIHL to be crystallised until the proceedings were at a much more advanced stage'.
Regardless, he explained that it was 'extremely rare' for NIHL claims to proceed to trial and would more frequently settle pre-trial for 'amounts less than £5,000'.
To his knowledge, during the period from 1 January 2014 to 5 September 2019, 'approximately 1,297 out of 1,307 NIHL claims (so, more than 99%) ... settled for an amount of £5,000 or less ... the average settlement sum achieved across all such NIHL claims was approximately £2,500 to £3,000 ... only around 10 NIHL claims ... settled for amounts greater than £5,000 – and all such settlement amounts were still less than £15,000'.
As such, it was his 'genuinely-held view', at the time of issue, that the claimants could 'legitimately and realistically expect to recover' less than £5,000 from the defendants. Reflecting this in the Claim Form and satisfying his odd interpretation of CPR 16.3(3) was therefore a means to avoid the 'significant litigation risk' of 'materially' reducing expected compensation recovery.

Whereas, counsel-drafted Particulars of Claim, based on the same evidence that was made available to Heptonstalls at issue, should have been appreciated as the claimant 'putting his or her best foot forward', he contended.
By his analysis, claimants were 'open' to use a 'comprehensive Schedule of Loss' to advance the pleaded claim 'on a hopeful "full liability and full recovery" basis':
'I did not, therefore, see anything untoward in a pleaded claim for damages "not exceeding £25,000" being advanced in the Particulars of Claim ... even though I fully expected ... that the figure would come under significant challenge ... and ultimately not represent the true recoverable value of the Claim in practice, as further evidence emerged (especially from additional audiograms) to test the true extent of the Claimant's condition and prognosis'
He went on to speculate that, 'if it eventually emerged that the Claimant could expect to recover more than £5,000 then steps would need to be taken, at that stage, to amend the Claim Form and pay the higher applicable Court fee'.
Confronting the abuse of process allegation directly, Mr. Hensman maintained that it 'was not some artificial construct to permit the Claimants to pay an issuing fee to the Court that was too low'.
Instead, he criticised the lack of commentary on CPR 16.3(3) to explain 'what is meant by what a claimant "expects to recover", beyond specific matters in CPR 16.3(6) such as interest, costs or contributory negligence'.
Thus, to provide anything but a 'genuine pre-estimate' of the 'actual value' of claim, e.g. stating a figure that signified 'full liability and full recovery', would have been, in his opinion, 'detrimental to the claimant's position'.
Explaining how this approach could possibly be 'detrimental', he described the negative consequences of a claimant paying the higher court fee, only to recover £5,000 or less:
'In such circumstances, there is no way to seek a rebate of such overpayment from the Court, and so there would be a significant shortfall that would have to be met out of the Claimant's compensation. In a case which ultimately settled for around £3,000 ... this would potentially expose the Claimant to an immediate loss of over a third of his compensation'.
Ordinarily, successful claimants would seek to recover excess court fees from the defendant, but his statement was strongly against the idea of 'dragging' claimants into 'contested costs assessment proceedings', thereby risking further 'expense' and 'delay' to the conclusion of proceedings.
Additionally, the ATE insurance (for disbursement costs) argument was made, specifically that insurance premiums typically rise with increasing court fees and would (in post-LASPO claims) also have to be deducted from any compensation recovered by the claimant.
In any event, Mr. Hensman submitted that the claims did not warrant striking out, as they represented 'valuable causes of action' and 'at the very least', the claimants should be able to 'achieve a recovery of the amount not exceeding £5,000 for which they have paid their Court fees'.
He went on to state that, since none of the defendants had sought to strike out the claims before the Court intervened, it could not be said that the defendants had 'suffered prejudice'.
Finally, he concluded that strike out would be a 'a disproportionate and unjustly severe sanction for the Court to impose', not less because it would 'heavily penalise the Claimants personally for doing no more than following their solicitors' advice'.
'SHOW CAUSE' HEARING
The 'show cause' hearing was attended by BC Legal's in-house barrister, Liam Bedford.
He remarked that it was a 'strange and disjointed affair', which comprised mostly of 'discussion', with 'no real submissions' having been made.
'The Judge made it plain that she was not going to strike out the claim. She was minded to make an order limiting the Claimant to the value stated on the Claim Form unless an application was made to increase the statement of value in the Claim Form within a period of time'.
In spite of Mr. Hensman's extensive witness statement, claimant counsel, Ben Williams QC, conceded early on that Heptonstalls' lesser court fee methodology could not be sustained and was based on an 'incorrect reading of CPR 16'. However, there was no immediate concession that it amounted to an abuse of process.
HHJ Beech thought it 'bad practice' to act as they had and 'read the JC Guidelines to Mr. Williams QC to explain that the value of claim would always be above £5,000'.
After having been commanded by the designated Civil Judge for Lancashire to take further instructions on conceding abuse, he returned and said the following:
'Claimants have received external advice and accept that the full value of the claim is the full value they expect to recover, not what they are seeking to recover. They do not accept that the practice was culpable abuse of process'.
The upshot of the hearing and the supplementary Order made is that the claims were not struck out. Instead, it was ordered that claims would be limited to the originally stated value [subject to CPR 16.3(7)], unless the claimants applied to amend their Claim Forms within 28 days, together with payment of the correct court fee.

The costs of any successive amendments are to be borne by the claimants.
What is more, we were awarded £600 to cover the majority of our costs of attendance, which were agreed to be paid by Heptonstalls (as opposed to the claimants themselves), within 28 days.
CONCLUSION
These proceedings are, at the least, proof that Courts in England and Wales are now wise to Heptonstalls' recent history of underpaying court fees. Abusive or not, claimant firms will have to tread carefully from this point forwards to steer clear of incurring stricter sanctions.
CPR 16.3(3) 'requires a Claim Form to state the full value of the claim which is being asserted rather than the level of recovery ultimately expected'. This is unmistakeable.
Claimant solicitors cannot rely on years of experience of compromising compensation recovery in pre-trial settlements to deflect from the literal and logical reading of this rule.