We have consistently reported, in BC Disease News articles, that a number of former pilots and cabin crew believe that air, fed to the cabin and cockpit of aircraft, is insufficiently filtered and contains toxic fumes.
All commercial aircraft, with the exception of the Boeing 787 Dreamliner, incorporate 'bleed air' systems within jet engines [and auxiliary power units (APU)], with the objective of supplying breathable air at high altitude.
As outside air is sucked in through a jet engine's compression section, some of the air is 'bled off', while the remainder fuels the combustion reaction that powers the turbine.
Some argue that extracted 'bleed air', i.e. air that doesn't reach the combustion chamber, can be contaminated, e.g. with by-products of heated lubricating oils.
Drawing: Bleed Air Systems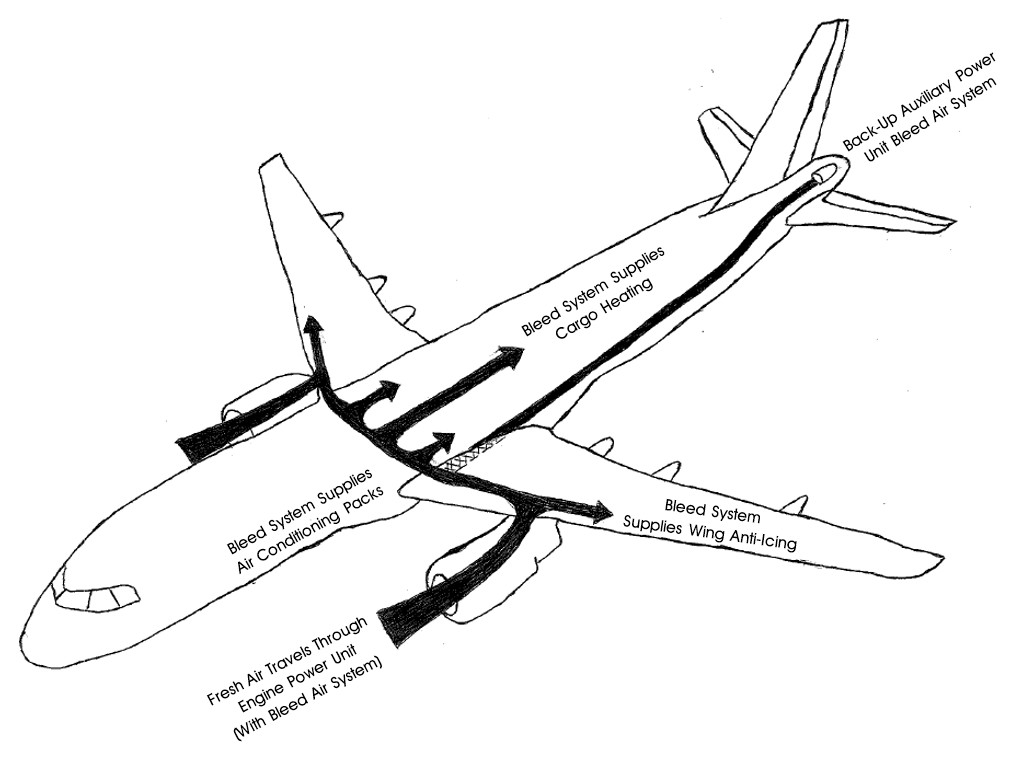 If this is indeed the case, could cumulative workplace exposure to a mixture of pollutants cause individuals to develop an occupational disease, called 'aerotoxic syndrome'?
Although the Civil Aviation Authority (CAA) has previously acknowledged that 'a link between exposure to contaminants in cabin air and possible long-term health effects … cannot be excluded', it has also stated that there is no scientific evidence to show that 'aerotoxic syndrome' exists. [i]
Click here, to access our comprehensive publication on the subject: Aerotoxic Syndrome: A Collection of Articles from BC Disease News.
At the 2019 Raindance Film Festival, on Tuesday and Wednesday of last week, ticket-holders were able to watch the world premiere of 'Everybody Flies'.
What is the significance of this film (watch the trailer here)?
The 2-hour feature-length documentary was directed and written by former British Airways (BA) Captain, Tristan Loraine, who began learning to fly at the age of 17 and was forced to prematurely retire as a result of ill-health, when he was just 44-years-old.
His website claims that:
'His health had deteriorated due to repeated exposure to oil fumes onboard the aircraft he flew'.
In support of this accusation, tricresyl phosphate (TCP), an organophosphate constituent of jet engine oil, was identified in his blood and fat. He also claims to have suffered numbness in his fingers and feet, chronic chest infections, fatigue, nausea and a chemical blister on the side of his nose.[ii]
Throughout his career as a pilot, spanning 20-years, he flew over 10,000-hours on various commercial aircraft, including:
Lockheed L-1011 TriStar (top-left);
Boeing 737 (top-right);
Boing 757 (bottom-left); and
Boeing 767 (bottom-right).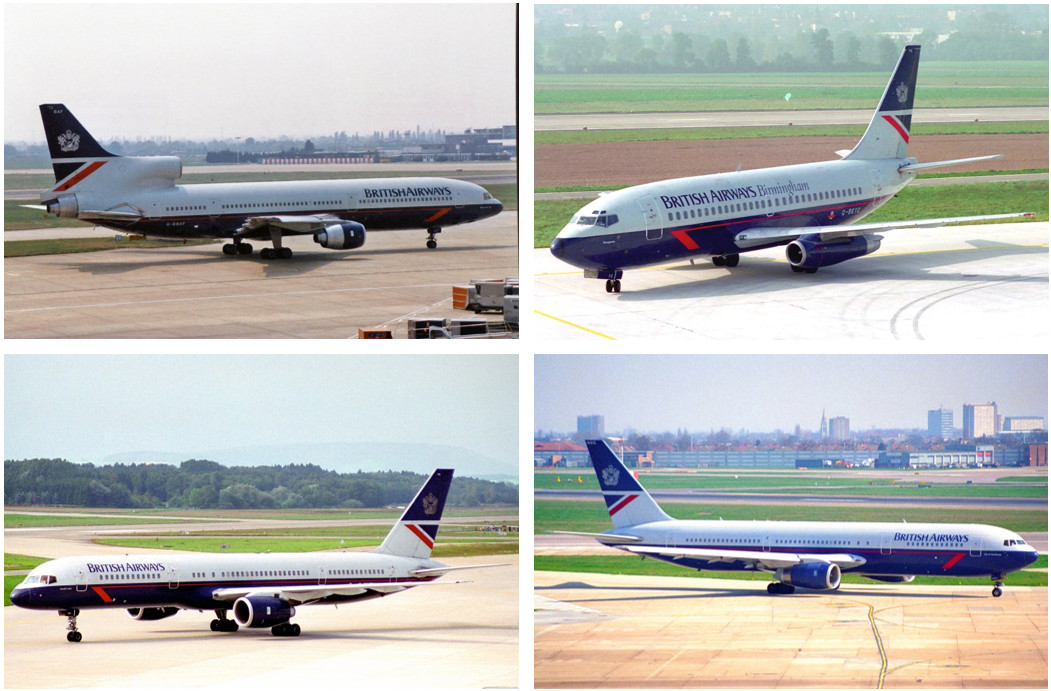 [Sources: Wikimedia Commons (L-1011, 737 and 757) and Flickr (767). For L-1011 – Author: Kambui; Date: June 1989; and Description: 'London - Heathrow (LHR / EGLL)'. For 737 – Author: Aero Icarus; Date: 21 September 2011; and Description: 'British Airways Boeing 737-200'. For 757 – Author: Aero Icarus; Date: 24 September 1995; and Description: 'British Airways Boeing 757-236'. For 767 – Author: Aero Icarus; Date: 13 April 1996; and Description: 'British Airways Boeing 767-300'.]
In fact, Mr. Loraine boasts having previously flown to as many as 50 airports (in America) in a single day.
Besides flying, he became a health and safety representative for the British Airline Pilots Association (BALPA), in 1998, where he was tasked with examining colleague reports of contaminated air. Moreover, he co-chaired the Global Cabin Air Quality Executive (GCAQE), up until 2016, which hosts an annual Aircraft Cabin Air Conference.
Since 2006, Mr. Loraine's production company, Fact Not Fiction Films Ltd ©, has made movies and documentaries that project his suspicions that the aviation industry has known about the risk of 'aerotoxic syndrome' for over half a century:
His latest picture, 'Everybody Flies', received the backing of Unite the Union, prior to being released.[iv]
It is the accumulation of over 4-years of work, disclosing never-before-seen documentation, scientific research, and personal testimonies of whistle-blowers. Mr. Loraine even claims that a Head Doctor in the airline sector was seeking to influence the UK Government's sensitivity to the issue.[v]
For these reasons, Mr. Loraine has formed the disparaging view that the 'Government works to protect the aerospace industry, rather than protect the public health'.[vi]
'We chose this documentary because it affects an incredible number of people constantly flying everywhere. Taking planes is part of our lifestyle and thinking that the air we breathe in planes could be poisonous is very scary', said Suzanne Ballantyne, Head of Programming at Raindance.[vii]
'Everybody Flies' is scheduled for cinema release in the New Year (potentially March 2020), at Everyman Cinema venues.
[i] Jim Reed and Adam Eley, 'How safe is air quality on commercial planes?' (8 June 2015 BBC) <https://www.bbc.co.uk/news/health-32786537> accessed 3 October 2019.
[ii] Kathryn Knight, 'Is the air in your holiday plane poisoning you? Memory loss, chronic fatigue, breathing problems, even cancer. One former BA captain lifts the lid on aviation's darkest secret...' (23 February 2015 The Daily Mail) <https://www.dailymail.co.uk/news/article-2962471/Is-air-holiday-plane-poisoning-Memory-loss-chronic-fatigue-breathing-problems-cancer-One-former-BA-captain-lifts-lid-aviations-darkest-secret.html> accessed 3 October 2019
[iii] Kate Leahy, 'There are hundreds of sick crew': is toxic air on planes making frequent flyers ill?' (19 August 2017 The Guardian) <https://www.theguardian.com/science/2017/aug/19/sick-crew-toxic-air-planes-frequent-flyers-ill> accessed 3 October 2019.
[iv] '"EVERYBODY FLIES" RECEIVES STANDING OVATION AT WORLD PREMIERE IN LONDON' (25 September 2019 Film Industry Network) <https://filmindustry.network/everybody-flies-receives-standing-ovation-at-world-premiere-in-london/37661?fbclid=IwAR34qj7IfllBxZkPTBCmYtuxzfSlLVXDcyk_3-zvtpS5lC9eGbwNKGYRFc0> accessed 3 October 2019.
[v] Dan Stevens, 'Interview: Is Air Travel Toxic Asks Tristan Loraine In His Controversial Documentary "Everybody Flies"' (26 September 2019 Top 10 Films) <https://www.top10films.co.uk/55692-interview-is-air-travel-toxic-asks-tristan-loraine-in-his-controversial-documentary-everybody-flies/?fbclid=IwAR3sLEJxJQ_dEpCIw-0ULYH0oyfcU4SR93KXzHmSb3gQUhZCgl8QKBnIS5U> accessed 4 October 2019.
[vi] 'Tristan Loraine on Everybody Flies "The Government works to protect the aerospace industry, rather than protect the public health"' (20 September 2019 Just Celebrity Mag)
<https://justcelebritymag.com/2019/09/20/tritan-loraine-on-everybody-flies-the-government-works-to-protect-the-aerospace-industry-rather-than-protect-the-public-health/> accessed 3 October 2019.
[vii] 'DOCUMENTARY "EVERYBODY FLIES" THAT EXPOSES THE CONTAMINATED AIR WE BREATHE ON AIRCRAFT SET TO PREMIERE AT RAINDANCE' (20 August 2019 Film Industry Network) <https://filmindustry.network/documentary-everybody-flies-to-premiere-at-raindance-film-festival/37565> accessed 3 October 2019.