In edition 280 of BC Disease News (here), we reported that the former Lord Chancellor and Secretary of State for Justice, David Gauke MP, had completed his review of the personal injury discount rate (PIDR) in England and Wales. The rate is used to determine lump sum damages for future losses, costs and expenses in personal injury and fatal accident claims.
The upshot of the 2019 review was an increase to (-)0.25%, effective from 5 August 2019.
Although some insurance market players considered this to be a 'move in the right direction', with the previous rate having been set at (-)0.75%, the current PIDR, often referred to as the Ogden rate, is still poles apart from the longstanding 2.5% rate, which applied between 2001 and 2017.
What about Scotland?
Under the Damages (Investments Returns and Periodical Payments) (Scotland) Act 2019, Schedule B1 regulates rate review.
The Act entered into force on 1 July 2019, which was the 'appointed day' [s.1(3)(b)] upon which the first review had to be started [s.1(2)].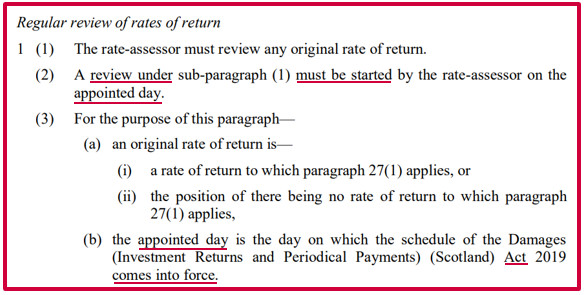 In view of the fact that s.3(1) allows the rate-assessor (The Government Actuary) a maximum period of 90-days, in which to determine a new rate of return, the target date was 28 September 2019.

As it happens, the review was completed on 27 September, with just 1-day to spare.
Since the Government Actuary's Department had, only a matter of months prior, advised the Government to set the PIDR at (-)0.25% in England and Wales, was it ominous that the Scottish review had exhausted almost all of the allotted decision-making time?
Controversially, Martin Clarke (the Government Actuary), in a Report published on Monday, advised the Scottish Government to fix the (-)0.75% rate, as opposed to simply mirroring the new PIDR in England and Wales.[i]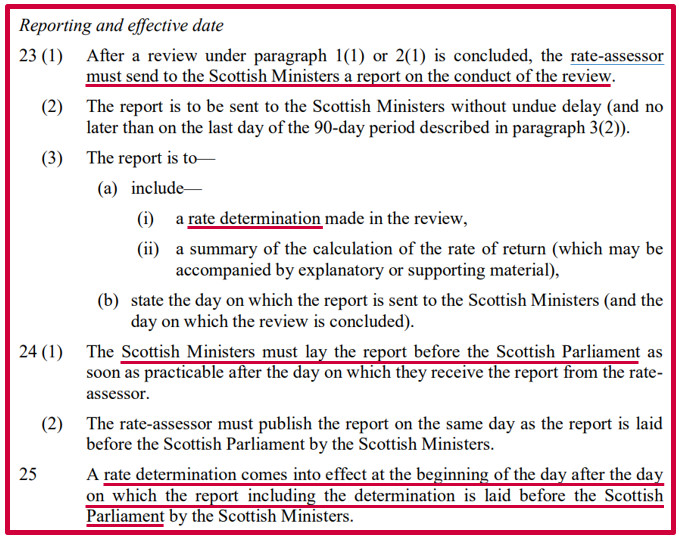 This week, representatives of the Scottish division of the Forum of Insurance Lawyers (FOIL) have described the devolved Executive's recommendation to leave the rate unchanged as 'very disappointing'.
FOIL believes that PIDR disparity across UK jurisdictions will have serious negative implications:
'The lower Scottish rate means that Scottish claimants will receive higher compensation payments. The differential is therefore likely to result in injured people raising claims in Scotland rather than England and Wales if they can. It is feared that this forum shopping will cause delays and higher costs.
The new rate is very disappointing for the insurance industry which considers that the rate does not adhere to the principle of 100% compensation. This new rate artificially boosts compensation payments well beyond those being paid in the rest of the UK'.[ii]
If, as we reported in edition 282 (here), the insurance market is still considering a judicial review challenge of the (-)0.25% discount rate, on the basis that it has been miscalculated, does the outcome of the Scottish review provide enough ammunition for a 2-pronged attack?
[i] Government Actuary's Department, 'Personal Injury Discount Rate in Scotland – Government Actuary's report' (30 September 2019 GOV.UK) <https://www.gov.uk/government/news/personal-injury-discount-rate-in-scotland-government-actuarys-report> accessed 4 October 2019.
Neil Rose, 'Scotland to keep discount rate at -0.75%' (4 October 2019 Litigation Futures) <https://www.litigationfutures.com/news/scotland-to-keep-discount-rate-at-0-75> accessed 4 October 2019.
[ii] Duffie Osental, 'Scottish personal injury discount rate to remain unchanged' (1 October 2019 Insurance Business) <https://www.insurancebusinessmag.com/uk/news/auto-motor/scottish-personal-injury-discount-rate-to-remain-unchanged-179371.aspx> accessed 1 October 2019.