The Notification of Deaths Regulations 2019, which were laid before Parliament on 15 July 2019, will enter into force on 1 October 2019.[i]
The effect of these Regulations is to impart a legal duty on medical clinicians to consistently refer deaths to coroners, as soon as is 'reasonably practicable' after the duty arises [per Regulation 4(1)], where it is speculated that there may be a further need for an investigation or inquest.
'Injury or disease attributable to employment' is listed in Regulation 3(1) as a 'suspected' cause of death that is duty-bound to be reported.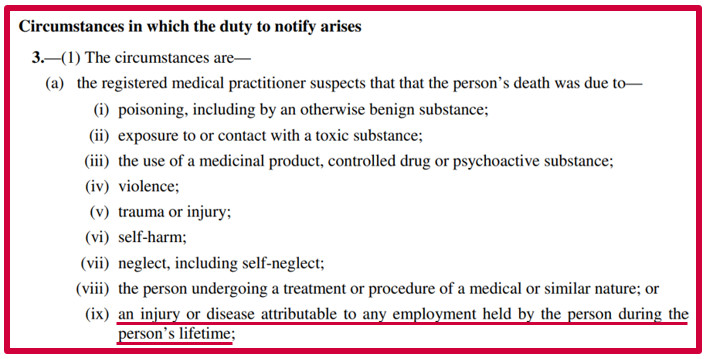 According to Ministry of Justice (MoJ) Guidance for registered medical practitioners, published on 13 September 2019, 'diseases' encompassed by Regulation 3(1)(a)(ix) could include (but are not limited to):
A current or former coal miner who died of pneumoconiosis;
A current or former furniture worker who died of cancer of the nasal sinuses;
A current or former construction worker who died of asbestos-related lung disease e.g. asbestosis or mesothelioma; or
A current or former rubber or paint worker who died of bladder cancer.
Mirroring this advice, the Chief Coroner published GUIDANCE No. 31 DEATH REFERRALS AND MEDICAL EXAMINERS.
Information passed between doctors and the relevant senior coroners must be completed in writing [Regulation 4(2)], or in exceptional cases, orally (with written confirmation thereafter). If so, the information must include the following details [itemised in Regulation 4(3)]: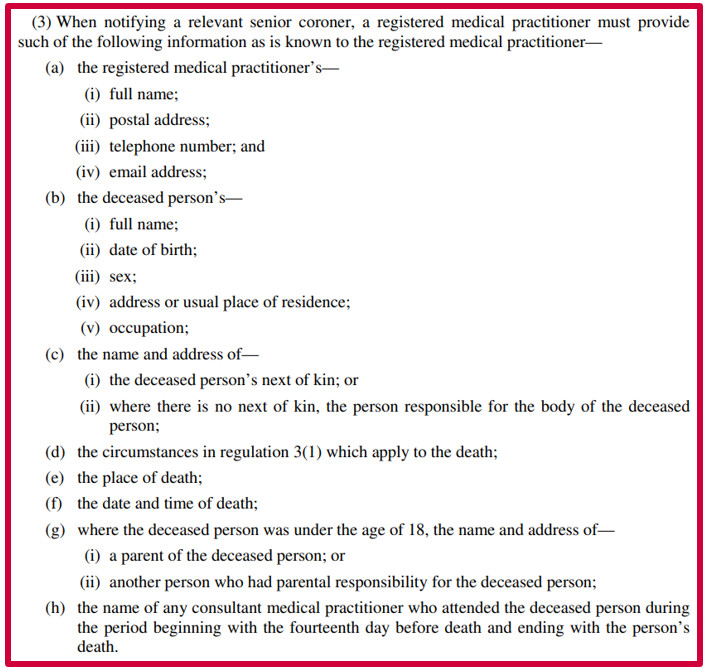 Although there are no expressed sanctions for non-compliance with the 2019 Regulations (i.e. a failure to notify), consequences could consist of:
A referral to the General Medical Council;
Offences for perverting the course of justice, misleading a coroner, or withholding a relevant document; or
A Report to Prevent Future Deaths, sent to the Chief Executive of the affected healthcare organisation. [ii]
There are indirect incentives for medical professionals to comply with the Regulations, therefore.
Whether or not this new legal obligation increases the number of fatal injury claims, brought on behalf of deceased employees against former employer(s) (and their employers' liability insurers), is yet to be seen.
[i] 'Notification of Deaths Regulations 2019 guidance' (13 September 2019 GOV.UK) <https://www.gov.uk/government/publications/notification-of-deaths-regulations-2019-guidance> accessed 25 September 2019.
[ii] Gemma Brannigan and Nicholas Lane, 'A new legal obligation on doctors to notify particular deaths to a Coroner' (19 September 2019 Clyde & Co) <https://www.clydeco.com/insight/article/a-new-legal-obligation-on-doctors-to-notify-particular-deaths-to-a-coroner> accessed 23 September 2019.