In July 2019, the Industrial Injuries Advisory Council (IIAC) issued its latest Annual Report. We reviewed its contents in detail in edition 281 of BC Disease News (here).
One of the sections recounted the convoluted background to the eventual prescription of vibration-induced Dupuytren's contracture, otherwise known as 'miners' claw hand', under the Industrial Injuries Disablement Benefit (IIDB) scheme.
Dupuytren's contracture is caused by the thickening of connective tissue in the palmar region of the hand. As a result, sufferers will present with one or more fingers that have contracted and are bent inwards (towards the palm).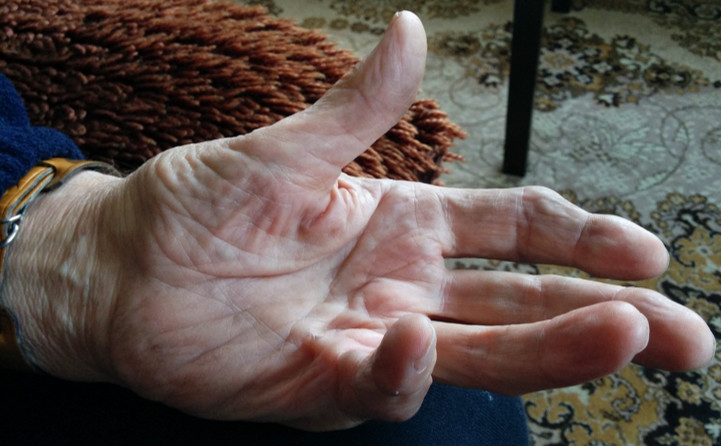 [Source: Wikimedia Commons ─ MikkTooming (30 September 2014): 'Dupuytren']
We first discussed, in edition 136 (here), that the IIAC had recommended entry on the list of prescribed diseases in a 2014 Report, entitled: Dupuytren's contracture due to hand-transmitted vibration.
It was concluded that, given sufficient exposure to hand-held vibrating tools, the risk of Dupuytren's contracture was more than doubled. Whereas, the early (pre-contracture) stages of the disease were not considered to be significantly disabling and were unlikely to qualify for IIDB payment.
Tracking the Government's reaction, we subsequently reported, in edition 224 (here), that the former Minister of State for Disabled People, Health and Work, Sarah Newton MP, had chosen not to heed the Council's advice.
However, the Autumn 2018 Budget recorded that Ms. Newton had been persuaded to (almost immediately) reverse her original decision.
At the time, we endorsed the prediction of various news outlets (here), that disablement benefit claims for Dupuytren's contracture, caused by excessive occupational exposure to vibration, could be brought as early as Spring 2019.
This reckoning was premature, though, as the Department for Work and Pensions (DWP)-drafted Regulations (with the IIAC's input) were only finalised and laid before Parliament this month (9 September 2019).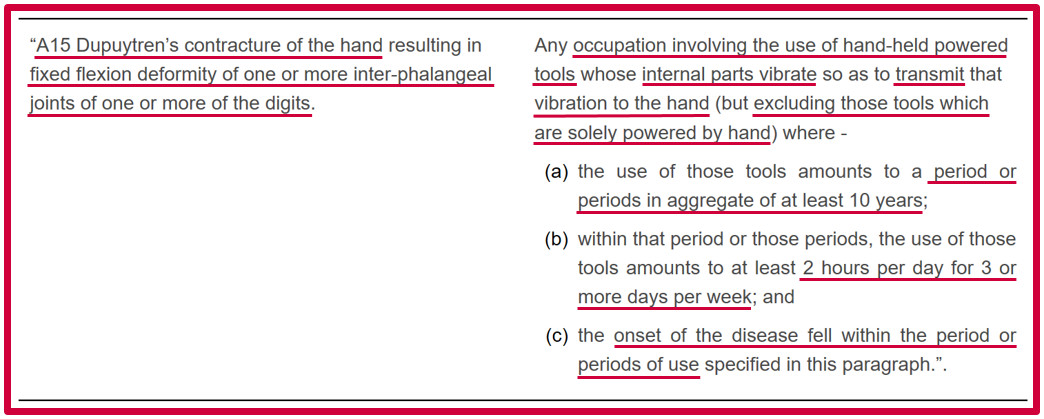 Confirmation of IIDB prescription (PD A15) has been legislated through Regulation 2 of The Social Security (Industrial Injuries) (Prescribed Disease) Amendment Regulations 2019 and will enter into force on 9 December 2019. Successful applicants will need to meet the conditions underlined in red (below).