Earlier this month, results of a small-scale study were published in the International Journal of Environmental Research and Public Health, which evaluated the occupational health risks of respirable crystalline silica (RCS) and respirable dust (RD) exposures among equestrian workers.[i]
The health impacts of equestrian worker exposure to inhalable and respirable organic dusts, such as microorganisms, endotoxins and β-Glucans, have already been subjected to research. However, less is known about equestrian worker exposure to inorganic dusts, e.g. respirable crystalline silica (RCS), aside from just 1 previous study.
Yoon et al (2013) was a case study of a horse trainer, who had worked in the sector for 23 years.[ii] 3 personal exposure measurements were taken and 8-hour time weighted average (TWA) exposure estimates exceeded 0.025 milligrams per cubic meter (mg/m3). Given that high levels of consistent exposure to RCS can lead to the development of silicosis and lung cancer (more pronounced in smokers), this study was indicative of an increased health risk, as well as a lack of awareness.
Cancer is the leading cause of work-related mortality in the EU.
The equestrian sector uses sand as a surface or footing material, typically:
On indoor and outdoor riding arenas;
On sand gallops for training race horses;
On longeing (horse moving around the trainer while attached to a lunge line) arenas; and
On horse walkers.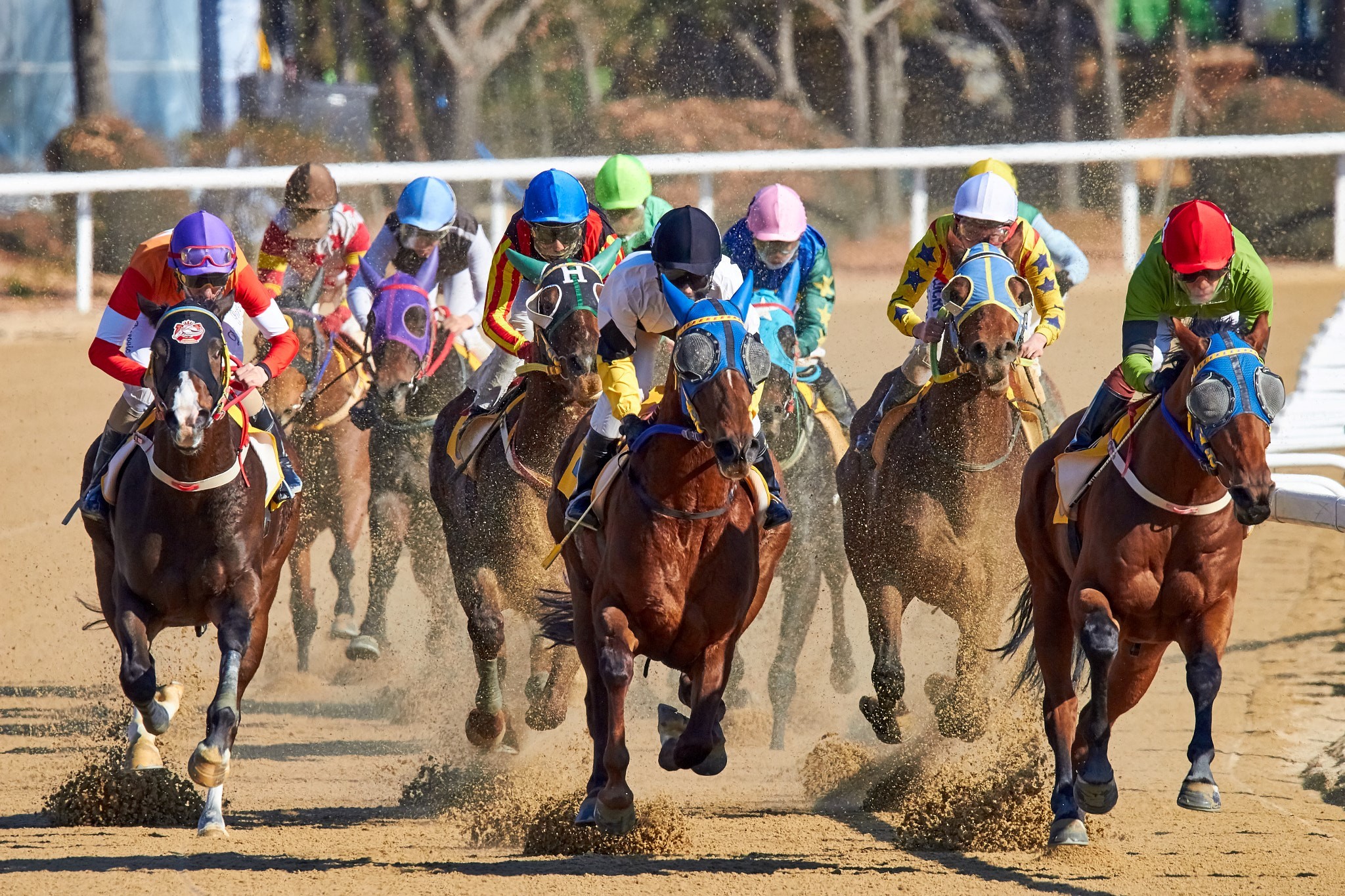 [Source: Wikimedia Commons – Mathew Schwartz (11 December 2016): 'Left In The Dust']
In the latest study, researchers from the University of Ireland, Galway, and the Institute of Occupational Medicine (IOM), in Edinburgh, sought to build on the existing literature by focusing on the individual exposures of an Irish equestrian centre worker.[iii] Indoor (6,000 m2) and outdoor arena (10,000 m2) surfaces were made of silica sand and shredded carpet (sand mixed with polypropylene, polyester and polyurethane fibres less than 30 mm in length). There was no mechanical ventilation supplying the arenas.
From June 2018 until August 2018, the trainer was sampled over a full work shift (ranged between 480 minutes and 540 minutes, 75% to 85% of which was time spent in the arena). Typical work duties included:
Cleaning stables;
Longeing;
Loose/free jumping (jumping a horse without a rider);
Delivering riding lessons;
Grooming, tacking (attaching saddle, saddle pad, stirrups, bridle, etc.) and untacking; and
Surface grading/raking (rake attached to an open top tractor) compacted surface to maintain a good workable footing material.
A total of 16 personal exposure measurements were recorded. These were generally taken at standing height (1.5 m), apart from grading/raking which was taken at seated height.
Inspection of quantities of RD, quartz (reflective of RCS exposure) and cristobalite in exposure samples was performed at the IOM, using an X-ray diffraction technique.
Geometric mean exposures of 0.124 mg/m3 and 0.025 mg/m3 were calculated for RD and RCS concentrations, respectively. Cristobalite was the only undetected exposure material.
At these levels, the estimated relative risk of lung cancer mortality, after 40 years of exposure, increased by between 0.4% and 3.8%. They were therefore 'within the range considered to be associated with increased risk for lung cancer'.
The highest RCS exposures (up to 0.09 mg/m3) approached the Irish occupational exposure limit value (OELV) of 0.1 mg/m3 and the EU Carcinogens and Mutagens Directive (CMD) proposed binding OEL of 0.1 mg/m3, whilst they exceeded the US National Institute for Occupational Safety and Health (NIOSH) recommended exposure limit (REL) of 0.05 mg/m3.
RCS exposures were higher when sandy surfaces were not watered, creating more dispersion and visible clouding of dust. The range of RCS concentrations (0.01 mg/m3 to 0.09 mg/m3) were also comparable to concentrations gathered by Yoon et al.
The researchers accept that their study is somewhat limited by sample numbers, but is nevertheless and improvement on the research carried out by Yoon et al.
Further research is encouraged on:
Other potential airborne hazards from different types of footing materials, e.g. recycled textiles and synthetic carpets;
Exposure to mixed organic dusts, e.g. endotoxin and β (1→3)-glucan; and
Whether components of aerosol may be capable of masking the reactivity of quartz in surface materials.
In the interim, the following dust control solutions should be implemented on a precautionary basis:
Keep footing surfaces moist, using a water suppression technique (or potentially use alternative footing materials, such as sand with wood chips, or wax-coated); and
Supply occupational health training.
[i] Kathleen Bulfin et al., Respirable Dust and Respirable Crystalline Silica' Int. J. Environ. Res. Public Health 2019, 16(17), 3226 <https://www.mdpi.com/1660-4601/16/17/3226/pdf> accessed 17 September 2019.
[ii] Jin-Ha Yoon et al., A case report of lung cancer in a horse trainer caused by exposure to respirable crystalline silica: an exposure assessment. Saf Health Work. 2013 Mar;4(1):71-4. <https://www.ncbi.nlm.nih.gov/pmc/articles/PMC3601299/pdf/shaw-4-71.pdf> accessed 17 September 2019.
[iii] 'Equestrian worker's dust exposure explored in study' (12 September 2019 Horse Talk) <https://www.horsetalk.co.nz/2019/09/12/equestrian-worker-dust-exposure-study/> accessed 20 September 2019.