In 2017, we reported (here) that the Industrial Injuries Advice Council (IIAC) had decided against adding vibration white finger (VWF) [a type of hand arm vibration syndrome (HAVS)], caused by gripping motorcycle handlebars, to the list of prescribed diseases that qualify for industrial injuries disease benefit (IIDB).
In this article, we question, to what extent does riding a bicycle, potentially on 'bumpy, potholed or cracked' streets, increase the risk of developing HAVS?
Symptoms of HAVS include:
Numbness;
Pins and needles sensation in the fingers;
Muscle weakness;
Back pain;
Arm ache;
Nerve impairment; and
Blood vessel damage.
Although the condition predominantly affects construction workers, who are exposed to excessive levels of vibration in the ordinary course of their employment (i.e. through use of vibratory tools), concerns have been raised that cycling (for work, to commute, or for leisure) on poorly maintained roads may contribute towards overall incidence in the UK.
In acknowledgment of this accusation, Edinburgh Napier University's Transport Research Institute (TRI) developed a bicycle, which used in-built cameras, sensors and computers to collect 'huge amounts of data' on the transmission of road-to-hand vibration.[i] It was engineered to measure hand-arm vibration risk [but what are the implications if vibration magnitude (m/s2) is not recorded, in accordance with British Standard (BS 5349)? – see edition 273 (here)].
Equipped with the 'data bike', targeted research was co-led by Professor Chris Oliver, the former Orthopaedic Trauma Surgeon, Edinburgh University Lecturer and Chair of Cycling UK.
Divulging preliminary results in The Herald (Scotland), the team revealed that 'some road surfaces can cause toxic doses of vibration'.
On the roughest terrain (e.g. cobbled surfaces), riding for a 16-minute period put cyclists at risk of developing HAVS.
Prof. Oliver considers that the UK may need to learn from other European countries, such as Holland, which builds roads and cycle lanes with the objective of minimising surface vibration for cyclists.
He is due to present comprehensive study findings at the 54th UK Conference on Human Responses to Vibration, which runs from 24-26 September 2019.
In anticipation of the forthcoming event, a spokesperson for Cycling Scotland said:
'Potholes and uneven surfaces can have an impact on people cycling, in terms of both discomfort and safety, and it will be interesting to see the results from this research'.[ii]
Although Glasgow City Council, which maintains local roads, and Police Scotland, which deploys officers on bicycles, had initially expressed an interest in using the 'data bike', spokespeople for both organisations have since disclosed that they are yet to introduce the technology and have no plans to do so in the foreseeable future.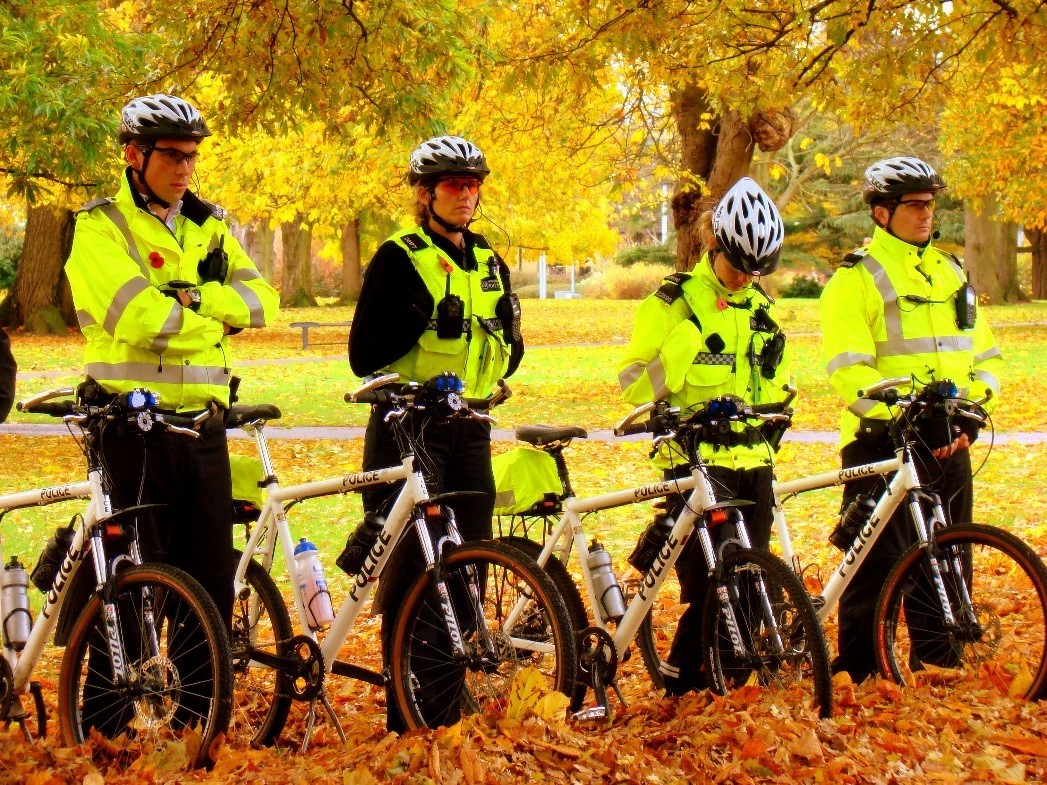 (Source: Flickr – J D Mack (9 November 2008): 'Bike Cops - Hampshire Constabulary: Tactical Cycle Team, Southampton')
Full results of the Scottish investigation will be of undoubted relevance to the determination of liability in employers' liability (EL) / public liability (PL) claims, on issues of causation and exacerbation of injury, as well as contributory negligence.
The significance of these results to EL claims may only increase with time, as 'cargo bikes' are becoming a progressively popular mode of transport for workers in sustainable businesses that offer logistical or delivery services,[iii] e.g. Deliveroo.
In fact, a University of Southampton study, commissioned by courier, CitySprint, found that 'cargo bikes' complete jobs up to 50% faster than small vans during peak weekday times.[iv]
The prospect of efficiency gains are tempting a wide range of businesses to contemplate a move towards 'cargo bikes'. Sainsbury's recently became the first grocery store to commence a trial.[v]
[i] Helen McArdle, 'Cyclists: Why uneven roads and potholes are endangering your health' (26 August 2019 The Herald) <https://www.heraldscotland.com/news/17858097.cyclists-uneven-roads-potholes-endangering-health/> accessed 2 September 2019.
[ii] Simon MacMichael, 'Poor road surfaces expose cyclists to vibration-related injuries, research finds' (27 August 2019 Road.cc) <https://road.cc/content/news/265898-poor-road-surfaces-expose-cyclists-vibration-related-injuries-research-finds> accessed 2 September 2019.
[iii] Peter Walker 'Why cargo bike deliveries are taking over the UK's cities' (10 June 2015 The Guardian) <https://www.theguardian.com/environment/bike-blog/2015/jun/10/why-cargo-bike-deliveries-are-taking-over-the-uks-cities> accessed 6 September 2019.
[iv] Carlton Reid, 'Study Finds Cargobikes Beat Vans In Cities So U.K. Government Backs Flying Urban Taxis' (30 August 2019 Forbes) <https://www.forbes.com/sites/carltonreid/2019/08/30/study-finds-cargobikes-beat-vans-in-cities-so-u-k-government-backs-flying-urban-taxis/#795e594f4cd2> accessed 6 September 2019.
[v] Marianne Calnan, 'Sainsbury's trials UK's first cargo bike grocery delivery service' (19 April 2018 The Grocer) <https://www.thegrocer.co.uk/sainsburys/sainsburys-trials-uks-first-cargo-bike-grocery-delivery/566088.article> accessed 6 September 2019.