In April 2018, the Industrial Injuries Advice Council (IIAC) published an Information Note, which concluded that non-melanoma skin cancer (NMSC), caused by occupational UV exposure, should not be added to the list of prescribed diseases eligible for Industrial Injuries Disablement Benefit (IIDB). This was reported in edition 229 of BC Disease News (here).
While the Council conceded that the risk of NMSC [both basal and squamous cell carcinomas (BCC and SCC)] may be more than doubled by outdoor work in the farming, construction and seafaring sectors, there was no consistent evidence of definitive causation. What is more, the collection of studies on disease incidence at latitudes similar to the UK intimated a less than doubling of risk.
In spite of the IIAC's decision, it is undisputed that UV increases the risk of work-related NMSC, which is why reducing the number of UV-induced skin cancer cases in workers is a focal part of the Institution of Occupational Safety and Health's (IOSH) No Time To Lose (NTTL) campaign.
Earlier this year, we reported (here) that Multi-Stakeholder Summit on Occupational Skin Cancer sponsors, in coalition with advocacy groups, unions, health and safety professionals and clinicians, issued a Global Call to Action which would see NMSC officially recognised as an industrial disease EU-wide.
With the emergence of UV-related disease, epidemiological data is important for the quantification of risk posed by sunlight exposure in the course of employment.
However, research relevant to UK workforces need not necessarily originate from the UK.
The figure below demonstrates that Canada and the UK occupy a similar latitude on the globe.
Figure: Latitude of UK and Canada: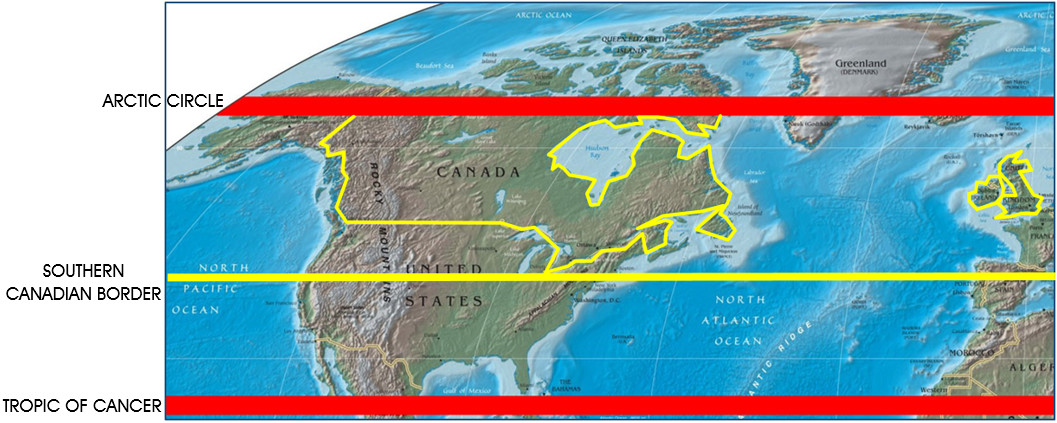 [Source: Wikimedia Commons – Cburnett (2006): 'Based on public domain CIA World Fact book image with the five major latitudes (Arctic Circle, Tropic of Cancer, Equator, Tropic of Capricorn, Antarctic Circle) bolded in red'. (Edited by BC Legal)]
For instance, Fort McMurray (Canada) and Dundee (Scotland) are both 56° north of the Earth's equatorial plane, Calgary (Canada) and Winchester (England) are situated at 51° north and Winnipeg (Canada) and Plymouth (England) are both close to 50° north. Some major Canadian cities are slightly further south, with Ottawa (Canada) at 45° north and Toronto (Canada) at 43° north.
What this means is that outdoor workers in both countries are exposed to similar quantities of sunlight and therefore similar levels of ultraviolet (UV) radiation. As a result, studies into UV-related disease among UK workers are equally applicable to Canadian workers and vice versa.
Gallacher et al (1995) observed a 'strong trend toward increasing risk' of SCC with outdoor occupational exposure in Alberta (Canada), for example.[1]
Last month, authors of a Canadian study, published in the Annals of Work Exposures and Health,[2] concluded that:
'Solar ultraviolet overexposure among outdoor workers is a concern, even in a country like Canada with relatively low ambient UVR. Implementation of sun safety programs should be supported in an effort to reduce exposure in this vulnerable group of workers'.
During the later stages of the Sun Safety at Work Canada project (summer/autumn 2016), UV radiation levels were recorded at 13 worksites (power utilities and municipalities) in the Canadian provinces of British Columbia, Ontario, and Nova Scotia.
Site workers, who participated in the study, wore a UVR measurement badge (light-sensitive polysulfone plastic) on their wrist, shoulder, or hardhat to measure personal UVR doses. Measurements were presented as standard erythemal doses (SED).
Results of the investigation showed that the mean personal dose was nearly 5-times (6.1 SED) the maximum 8-hour exposure limit of 1.3 SED,[3] established by the International Commission on Non‐Ionizing Radiation Protection (ICNIRP) to minimise the long‐term risk of skin cancer and photoaging.[4]
Moreover, 14% of the workers were exposed to levels below the international limit, while 10% were exposed to more than 10-times the limit.
Ontario workers (51° north of the equator) had the highest level of exposure, with a mean personal dose of 7.3 SED, although those least exposed, in British Columbia, still recorded a mean personal dose of 4.5 SED.
Comparatively, a recent IOSH Report (featured here in BCDN), documenting exposure among UK construction workforces, found that 40% of workers who spent their time 'predominantly outdoors' and wore electronic sensors on the back of their hard hats, exceeded 2 SED, averaged over an 8-hour day.
In short, there is growing pressure in support of introducing 'sun safety programs' for outdoor workers exposed to excessive sunlight. This pressure is internationally recognised and is not confined to domestic efforts.
[1] Gallagher RP et al., Sunlight Exposure, Pigmentation Factors, and Risk of Nonmelanocytic Skin Cancer - II. Squamous Cell Carcinoma. Arch Dermatol. 1995;131(2):164-169 <https://jamanetwork.com/journals/jamadermatology/article-abstract/556368> accessed 20 August 2019.
[2] Peters CE et al., Solar Ultraviolet Radiation Exposure among Outdoor Workers in Three Canadian Provinces. Annals of Work Exposures and Health, Volume 63, Issue 6, July 2019, Pages 679–688 <https://academic.oup.com/annweh/article-abstract/63/6/679/5511519?redirectedFrom=fulltext> accessed 20 August 2019.
[3] International Commission on Non-Ionizing Radiation Protection. ICNIRP statement--Protection of workers against ultraviolet radiation. Health Phys. 2010 Jul;99(1):66-87. <https://www.icnirp.org/cms/upload/publications/ICNIRPUVWorkersHP.pdf> accessed 21 August 2019.
[4] Grandahl K et al., Measurements of Solar Ultraviolet Radiation Exposure at Work and at Leisure in Danish Workers. Photochem Photobiol. 2018 Jul;94(4):807-814 <https://onlinelibrary.wiley.com/doi/epdf/10.1111/php.12920> accessed 21 August 2019.