WHAT IS POTASSIUM PERMANGANATE?
Potassium permanganate (KMnO4[1]), otherwise known as permanganic acid potassium salt, should not be swallowed or inhaled, as it is corrosive to the eyes, skin and respiratory tract for short periods of exposure.
Cumulative exposure may result in lung conditions, such as bronchitis and pneumonia.
Rodent studies have found that continuous exposure resulted in a lack of sexual drive, impotency and impaired fertility.[2] On this basis, the European Chemical Agency's (ECHA) Committee for Risk Assessment (RAC) accepted a proposal,[3] in December 2016, to classify potassium permanganate as a reprotoxic substance under the Classification, Labelling and Packaging (CLP) Regulation.
Nevertheless, the substance has multiple uses, some of which are work-related.
MEDICAL USE OF POTASSIUM PERMANGANATE
In aqueous solution, potassium permanganate functions as a mild antiseptic and astringent (dries the skin).[4] Typically, NHS clinicians will instruct patients to soak infected wounds with potassium permanganate solution.[5]
However, in December 2014, NHS England issued a patient safety alert after the institution was informed of a fatal incident, involving accidental ingestion.[6]
A supplementary investigation revealed that, between 1 January 2011 and 4 August 2014, there had been 43 reported health incidents implicating the compound. The NHS concluded that inadvertent instances of potassium permanganate use had occurred because patients were prescribed potassium permanganate tablets (Permitabs®) and had misunderstood instructions to dissolve the chemical and restrict application to external use only.
Potassium permanganate's uses are not exclusively medicinal, however. It is also an essential ingredient in the clothes manufacturing industry.
POTASSIUM PERMANGANATE USE IN DENIM FACTORIES
Potassium permanganate's strong oxidising properties make it a useful fading/bleaching agent. This is especially so in countries such as Turkey, where sandblasting, the technique previously used on denim, led to rising incidence of silicosis and has been banned since 2009. It is also a cheaper alternative to laser etching and produces a more authentic finish. As a result, 90% of bleached denim sold worldwide has been treated with potassium permanganate.
The Potassium Permanganate Bleaching Process
At the start of the bleaching process, a garment is mounted on a balloon and filled with air to stretch the fabric. Stretched fabric is then abraded (sanded-down) to facilitate the absorption of potassium permanganate solution.
To prepare the potassium permanganate solution, a chosen quantity and density of chemical is diluted with water. The solution is then sprayed on the garment using a spray gun, or automated machinery. Spray concentrations typically range from between 0.25 grams per litre (g/L) to 15 g/L – the appropriate concentration will depend upon the fabric colour.[7] For intensified effect, additional potassium permanganate solution may be painted onto fabric using a brush.
When freshly applied, potassium permanganate is red/pink, but it turns 'muddy brown' when dry – the colour of manganese oxide.
During the final stage of the bleaching process, potassium permanganate-treated denim turns a natural, white colour (potentially aided by further oxalic acid or hydrogen peroxide treatment[8]) and is neutralised by washing with an anti-oxidant, e.g. a sulphite wash (sources suggest meta-bi-sulphite).[9]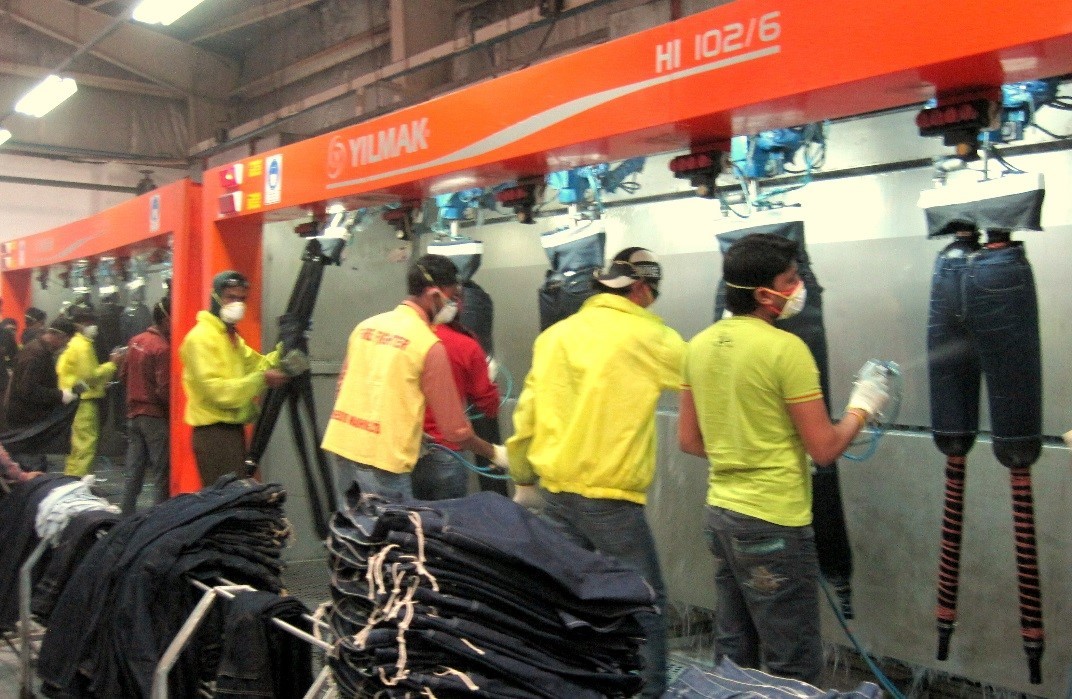 (Source: Wikimedia Commons – Fahad Faisal: 'PP Spray running during Denim pant washing in Bangladesh RMG factory'.)
Are Textile Workers At Risk? – The Turkish Report (2019)
Textile workers advocacy group, Clean Clothes Campaign Turkey, recently interviewed a small sample of workers from 8 Turkish denim factories over a period of 3-months, in order to gauge the health effects of occupational exposure to PP.[10]
16% of branded jeans are exported to the UK from Turkey.
A supplementary report, published by the non-Governmental organisation (NGO) last month: Bleached Denim, Bleached Souls, revealed that 'almost all' exposed workers in Turkish denim factories had applied potassium permanganate without protective masks, goggles, or gloves.
Skin irritation conditions were the most commonly reported health complaint among interviewed workers, though prior to the investigation, Clean Clothes Campaign predicted that the most prevalent complaint would be respiratory conditions.
Workers who abraded jeans were identified as being at risk of inhaling airborne thread particles, which increases the risk of developing a lung disease, called byssinosis.[11] Byssinosis is caused by breathing in vegetative dust from plants, such as cotton, flax (linen) and hemp (cannabis).
Thus, the Report concluded that:
'... there is a need to conduct medical research concerning the health conditions of workers who are in continuous contact with PP [potassium permanganate], by way of dermal contact and/or inhalation. Based on the outcomes of medical research, legislation that will determine PP's terms of use, protective equipment to be utilized, ratios of exposure to potassium permanganate should be established'.
Anna Bryher, Director of Advocacy at Labour Behind the Label, the UK division of the Clean Clothes Campaign, also emphasised the 'need for further investigation':
'To replace this process with a deadly chemical and continue the risk of thousands of workers inhaling toxic substances seems incomprehensible. Regulation and action are needed to protect the people who make our clothes'.[12]
It would appear, therefore, that the removal of airborne silica dust has been replaced with an equally dubious substance.
What About Exposure Risk in the UK Textile Industry?
At the turn of the millennium, many UK denim factories closed down, due to rising production costs.
In 1999, Wrangler closed its Falkirk factory. Levi's followed suit, closing its Whitburn plant in the same year, while its Dundee and Bellshill factories were wound up in 2002. Elsewhere, Dewhirst, which used to make 35,000 pairs of jeans per-week at its Cardigan unit, ceased operations in Wales, in 2002.
Manufacturing has migrated, for the most part, to Turkey (as discussed above), China, India and Bangladesh.
As a result, British-manufactured denim remains a small niche, but has shown signs of a revival in the past couple of years, with the (re)emergence of the following brands:[13]
Hiut Denim (Cardigan);
Community Clothing (Blackburn);
Lee Cooper, the Cooper Collection (London);
King & Tuckfield (London);
Blackhorse Lane Ateliers (London);
Toogood (London);
Le Kilt (London);
Empire Jeans (West Midlands);
Dawson Denim (Brighton);
Fallow Denim (Brighton); and
Ullac (Birmingham).
According to Adam Mansell, Chief Executive of the UK Fashion and Textile Association, 'production is returning, and our garment-making infrastructure is growing'.
For example, Empire's factory, which makes 1,000 pairs of jeans per-week (also producing for Wizard Jeans and Freddies of Pinewood) boasts its own industrial laundry, as well as hand-sanding and blast-washing facilities.
The recovery of British-made denim may be further fuelled by reduced importation of materials, with England's first selvage fabric mill having been opened in Lancashire, last year.[14]
At Hewitt Heritage Fabrics, fabric is weaved on looms from the 1950's. Founder, Chris Hewitt, is working on ways to grow hemp and nettle to form a cotton-like yarn strong enough to manufacture denim.
EXISTING EXPOSURE LIMITS?
According to Fashion United, factories around the world are replacing or combining sandblasting with potassium permanganate bleaching. [15]
So, what exposure limits are in place in the UK to protect workers?
In the EU, the long-term (8-hour) OEL for manganese and inorganic compounds (this includes potassium permanganate) are 0.2 mg/m3 for an inhalable fraction and 0.05 mg/m3 for a respirable fraction.
EH40/2005, which contains the UK workplace exposure limits (WEL's) for use with the Control of Substances Hazardous to Health Regulations (COSHH) 2002 (as amended), follows the EU OEL's.
What about a short-term exposure limit?
The French Agency for Food, Environmental and Occupational Health & Safety (ANSES) published an Evaluation Report, in November 2018, recommending the implementation of a short-term occupational exposure limit (OEL), in order to take into account 'high peaks' of potassium permanganate exposure. Germany, for example, employs a short-term OEL of 0.02 mg/m3.
The Report also specified that a 'jeans bleaching' company had contacted ANSES part-way through its evaluation and requested that employee exposure be addressed as a 'concern'. Based on the available information, inhalation exposure estimates for workers undertaking 'industrial spraying' were likely to be lower than the 0.2 mg/m3 OEL (maximal modelled exposure of 0.18 mg/m3).
However, the information available to ANSES was criticised because:
'... most exposure scenarios only address use of the solid form of potassium permanganate, but not of the aqueous solution, although workers may also use aqueous solution ... [and] ... additional contributing scenarios (mixing and loading of potassium permanganate and maintenance and cleaning) are missing and should be included ...'
CONCLUSION
Combining the content of the French Agency's Evaluation Report with the Results of the Clean Clothes Campaign investigation, it is foreseeable that exposure to potassium permanganate in the course of employment will soon be more stringently regulated.
[1] 'Potassium permanganate' (NCBI) <https://pubchem.ncbi.nlm.nih.gov/compound/Potassium-permanganate> accessed 5 August 2019.
[2] 'POTASSIUM PERMANGANATE' (INCHEM) <http://www.inchem.org/documents/icsc/icsc/eics0672.htm> accessed 14 August 2019.
[3] 'A public consultation for ANSES's proposal to classify potassium permanganate as a reprotoxic substance' (19 February 2016 ANSES) <https://www.anses.fr/en/content/public-consultation-ansess-proposal-classify-potassium-permanganate-reprotoxic-substance> accessed 15 August 2019.
[4] 'HOW TO USE POTASSIUM PERMANGANATE SOAKS' (October 2015 British Association of Dermatologists) <http://www.bad.org.uk/for-the-public/patient-information-leaflets/potassium-permanganate-solution-soaks/?showmore=1&returnlink=http%3A%2F%2Fwww.bad.org.uk%2Ffor-the-public%2Fpatient-information-leaflets#.XUgwDfJKhGo> accessed 5 August 2019.
[5] 'Patient Safety Alert – Stage One: Warning Risk of death or serious harm from accidental ingestion of potassium permanganate preparations' (22 December 2014 NHS England) <https://www.england.nhs.uk/wp-content/uploads/2014/12/psa-potass-prmangant.pdf> accessed 5 August 2019.
[6] 'Patient safety alert – Risk of death or serious harm from accidental ingestion of potassium permanganate preparations' (22 December 2014 NHS England) <https://www.england.nhs.uk/2014/12/psa-potassium/> accessed 5 August 2019.
[7] Dakuri Arjun et al., Effects of Biochemical Wash on 100% Cotton Denim Apparel. American Journal of Chemical Engineering Volume 5, Issue 2-1, April 2017, Pages: 6-14 <https://www.researchgate.net/publication/303205771_MNF_Technology_of_industrial_denim_washing_review> accessed 14 August 2019.
[8] 'PP Spray Wash on Denim and Its Health Hazards' (Clothing Industry) <https://clothingindustry.blogspot.com/2017/12/pp-spray-wash-denim.html> accessed 15 August 2019.
[9] Shikha Sarker et al., Effects of Dry Washing Process on Denim Garment. Chemical Science International Journal (2016) 17(4). <http://www.journalrepository.org/media/journals/CSIJ_53/2016/Dec/Sarker1742016CSIJ29399_1.pdf> accessed 5 August 2019.
[10] 'Faded denim look comes at a steep price' (20 July 2019 Clean Clothes Campaign) <https://cleanclothes.org/news/2019/07/20/faded-denim-look-comes-at-a-steep-price#targetText=The%20chemical%20is%20classified%20as,to%20human%20reproduction%20or%20development.> accessed 14 August 2019.
[11] Vanessa Zainzinger, 'Turkish group blasts textile worker exposure to potassium permanganate' (18 July 2019 Chemical Watch) <https://chemicalwatch.com/79992/turkish-group-blasts-textile-worker-exposure-to-potassium-permanganate> accessed 14 August 2019.
[12] 'Concerns raised over health impacts of chemical use in denim bleaching' (Labour Behind the Label) <http://labourbehindthelabel.org/concerns-raised-over-health-impacts-of-chemical-use-in-denim-bleaching/> accessed 15 August 2019.
[13] Emily Sutherland, 'Drapers Denim Report: The Great British denim revival' (28 September 2017 Drapers) <https://www.drapersonline.com/business-operations/drapers-denim-report-the-great-british-denim-revival/7026087.article> accessed 5 August 2019.
[14] Grace Cook, 'Jeans, Made in the … U.K.?' (29 May 2018 New York Times) <https://www.nytimes.com/2018/05/29/style/jeans-made-in-the-uk.html> accessed 5 August 2019.
[15] Marjorie van Elven, 'Report drives attention to risks of potassium permanganate exposure in the denim industry' (15 July 2019 Fashion United) <https://fashionunited.uk/news/business/report-drives-attention-to-risks-of-potassium-permanganate-exposure-in-the-denim-industry/2019071544262> accessed 14 August 2019.