Ford Motor Company Limited opened its car factory in Dagenham, Essex, in 1931. At its peak, in 1953, the plant employed around 40,000 people.
Ford Dagenham (1973):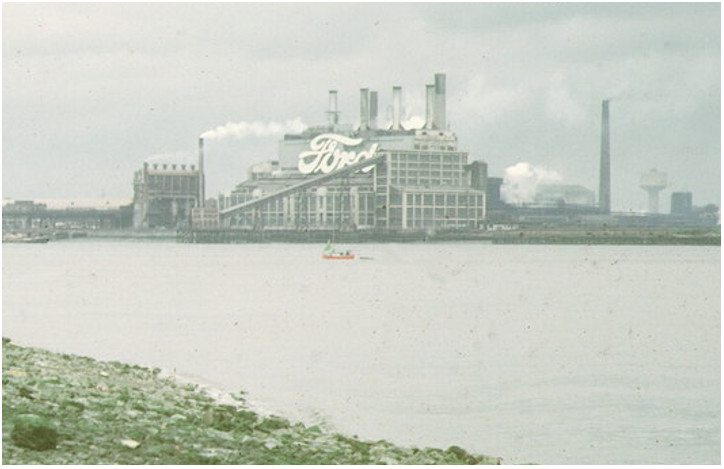 [Source (amended): Wikipedia – Pierre Terre: 'Ford Dagenham in 1973, displaying what was at the time the largest neon sign in Europe'.]
Over the past decade, media outlets and claimant solicitors have reported that ex-Ford Dagenham workers and their families have secured compensation for industrial asbestos-related diseases, insisting that asbestos was used in vehicle production processes (brake and clutch parts) and was integral to the factory building (insulation, e.g. lagging).[i]
For example, Ronald Whiston, a former Ford Dagenham worker, contended that he had developed mesothelioma as a consequence of fitting asbestos-containing brake pads (for 3-4 months) and working alongside laggers, who mixed up asbestos lagging. Mr. Whiston also claimed that, during his 29-year (1961-1990) stint with Ford, fork-lift trucks would knock into walls and disturb the asbestos sheeting inside, creating dust. Having purported exposure without respiratory protective equipment, a £100,000 settlement was secured in 2006, as was reported by Thompsons Solicitors[ii] and Irwin Mitchell Solicitors.[iii]
Another claimant firm, Boyes Turner, settled a mesothelioma claim in 2010, for £145,000.[iv] This was in regards to a claim advanced by a Ford employee, who alleged that he had been exposed to asbestos when works were undertaken on the workshop roof and when working in the vicinity of maintenance staff, who regularly repaired asbestos lagged pipework. Although he was employed by Ford between 1951 and 1999, the claimant was previously employed by Cape plc, between 1941 and 1951, where he often inspected factory moulding and jig tools covered with asbestos dust.
Subsequently, in 2012, a Ford worker, who worked in the 'hot metal section', accepted settlement of £10,000 for asbestos-related pleural thickening.[v] The Dagenham plant boasted its own foundry, where the claimant, Mr. F, replaced the asbestos brake linings on overhead cranes and cut asbestos insulation board to size to cover large ladles of molten metal, allegedly over an 8-year period (1958-1964) of employment.
Moreover, the estate of Margaret McConnell (deceased in 2016) recovered £70,000, in 2018, for fatal asbestos-induced mesothelioma.[vi] Acting claimant solicitors, Royds Withy King, submitted that the deceased's husband had worked on Ford assembly lines and would coat his overalls in asbestos dust every day. Secondary exposure to asbestos was caused by the deceased shaking out overalls and using a rubbing board to clean them by hand.
Negligence liability of Ford's Essex-based motor plant [and its insurer(s)] has also been called into question in proceedings where Ford was not a named defendant (as it did not employ the claimant).
In 2010, Fieldfisher, instructed by ex-scaffolder, 'Mr. Plumer', settled a mesothelioma claim against 2 construction companies for an undisclosed fee, 3-weeks before trial. The claimant pleaded that he had been exposed to asbestos in the 1970's and 1980's. When scaffolding projects took place at the Ford plant, asbestos dust was alleged to have been present on sheets covering scaffolding boards, which was dispersed into the air once the scaffolding was disassembled.[vii] Although defendant medical expert, Professor Gleason, noted that the disease progression was unusual and the claimant had alleged exposure to asbestos during the demolition of another site, both defendant employers admitted full liability.
More recently, the British press and claimant solicitors have appealed to colleagues of former Ford Dagenham workers with asbestos-related diseases, in the hope of obtaining additional evidence in support of their claims.
Lee Mullins died of mesothelioma in 2016, aged 49. He worked at Ford from September 1985 (aged 19) until March 1990 (aged 24). Given that his cancer was so aggressive, the nature of his role was not confirmed by the deceased. Nevertheless, it was 'suspected he was exposed to asbestos when working on the production line as a result of fitting brake pads to vehicles'. In June 2018, his wife and Larcomes Solicitors made a public plea for information in the Southend Echo:
'I am keen to contact former Ford workers who may recall Lee or have useful information about whether asbestos was used in any processes on the production line at the Ford factory'.[viii]
In March 2019, Amanda Jones, of Thompsons Solicitors, requested information from living Ford workers in a Barking and Dagenham Post article:
'If there is anyone with information about the use of asbestos at the Ford factory between 1954 and 1982, please do get in touch'.[ix]
The call for evidence, in this instance, was issued on behalf of Victor Back, who died of asbestosis in 2017, aged 62. His father, Sydney, worked in Ford's foundry and block department as a labourer, oiler and greaser, from 1954 (when Victor was born) until 1982. Mr. Back recalled washing asbestos dust covered overalls with his mother when he was a child. Following in his father's footsteps, he also worked in the factory's press shop, between 1974 and 1976. [x] Thus, there is potential for Mr. Back to have been exposed to both primary and secondary sources of asbestos.
Finally, at the start of August 2019, the Barking and Dagenham Post published an article on Stephen Goodwright, who worked at the Thames foundry between 1974 and 1985, producing mouldings for engine parts.[xi] Mr. Goodwright was diagnosed with mesothelioma, aged 66, and has advanced his occupational disease claim with Hodge Jones and Allen (HJA). He avers that he was not supplied with a protective dust mask.
Isobel Lovett, partner and Head of Industrial Disease at HJA, has since appealed 'to all of Mr Goodwright's former colleagues who he worked with to come forward and help with ... [the] ... investigation'.[xii]
BC Disease News rarely features individual instances of claimants hailing out-of-court settlement of industrial disease claims, as the ramifications of such events are usually inconsequential.
However, Ford Dagenham, which is still an active site, albeit with operations reduced to engine production only (in the original 1931 building), has been a large UK employer for almost a century.[xiii]
Ford Dagenham (2006):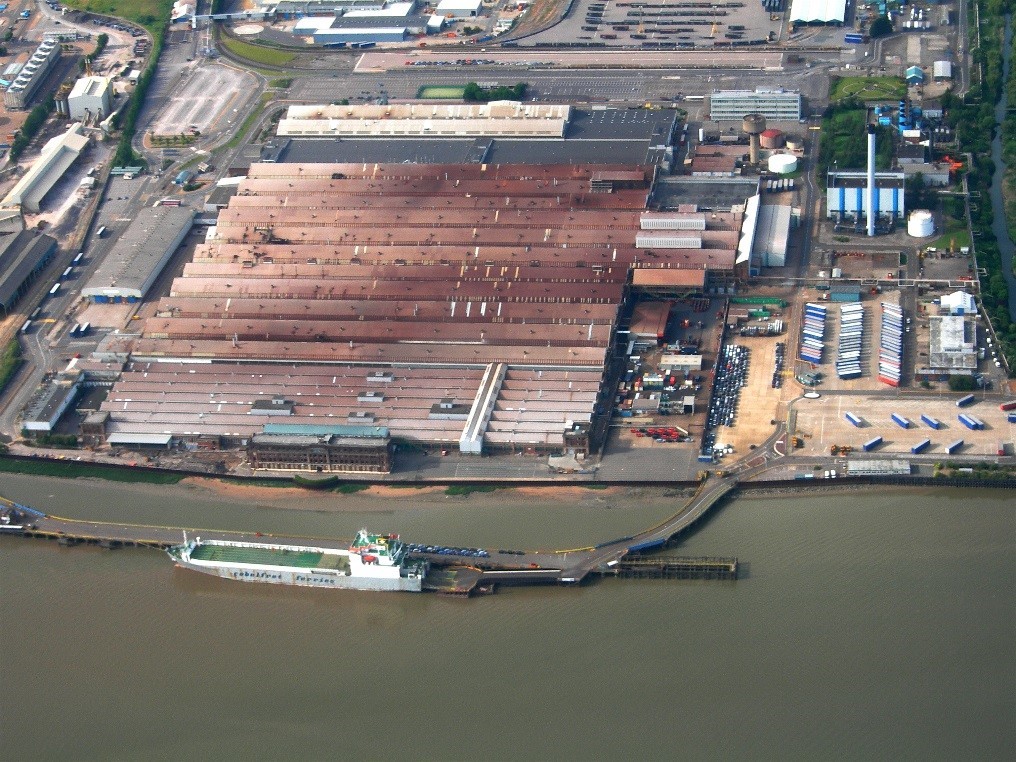 (Source: Wikipedia – Lars Plougmann: 'Ford at Dagenham, London, England. With Thames in the foreground'.)
Public requests for witnesses to come forward in support of existing claims have dual-purpose, as they effectively provide free advertising for new claims, imparting unsuspecting asbestos-related disease sufferers with an occupational link (attribution of risk).
Nevertheless, in the absence of reported case law and freely available company documents, it remains a challenge to ascertain:
Firstly, the extent of workplace exposure across Ford Dagenham.
Secondly, whether a foreseeable risk of asbestos-related injury existed prior to the publication of Technical Data Note 13, in 1970; and
Thirdly, whether Ford Dagenham had adopted reasonably practicable measures to protect its employees once it acquired knowledge of the dangers of asbestos.
What we wish to emphasise, therefore, is that publicised accounts of out of court settlements, without admission of liability, are no guarantee of spillover litigation, though litigation risk cannot be completely discounted.
[i] 'Mesothelioma: Hospice wins landmark victory in asbestos cancer case' (29 August 2010 Hackney Citizen) <https://www.hackneycitizen.co.uk/2010/08/29/mesothelioma-hospice-wins-landmark-victory-in-asbestos-cancer-case/> accessed 6 August 2019.
[ii] 'FORD TO PAY OVER £100,000 COMPENSATION TO FORMER EMPLOYEE NOW DYING FROM ASBESTOS CANCER' (9 November 2006 Thompsons Solicitors) <https://www.thompsons.law/news/news-releases/asbestos-disease-news/ford-to-pay-over-gbp100000-compensation-to-former-employee-now-dying-from-asbestos-cancer> accessed 6 August 2019.
[iii] 'Ford to pay over £100,000 in asbestos cancer compensation to former employee' (10 November 2006 Irwin Mitchell) <https://www.irwinmitchell.com/newsandmedia/2006/november/ford-to-pay-over-100-000-in-asbestos-cancer-compensation-to-former-employee> accessed 8 August 2019.
[iv] '£145,000 mesothelioma compensation for former Cape and Ford Motor's employee' (Boyes Turner) <https://www.boyesturnerclaims.com/site/our-cases/145k-compensation-for-mesothelioma-victim accessed 6 August 2019.
[v] '£10,000 Payout for Exposure to Asbestos Whilst Working at Ford Motor Company' (26 July 2012 Asbestos Victim Advice) <http://asbestosvictimadvice.com/2012/07/10000-payout-for-exposure-to-asebestos-whilst-working-at-ford-motor-company/> accessed 6 August 2019.
[vi] Jennifer Seavor, 'Family recover compensation against Ford Motor Company' (10 December 2018 Royds Withy King) <https://www.roydswithyking.com/family-recover-compensation-for-mesothelioma-victim-exposed-to-asbestos-on-her-husbands-work-clothes/> accessed 6 August 2019.
[vii] 'Caroline Pinfold Secures a Successful Claim For Asbestos Exposure To a Scaffolder' (Fieldfisher) <https://www.fieldfisher.com/personalinjury/case-studies/mesothelioma-claims/caroline-pinfold-secures-a-successful-claim-for-asbestos-exposure-to-a-scaffolder> accessed 6 August 2019.
[viii] Kirsty Hough, 'Family appeal for help to track colleagues' (25 June 2018 Echo) <https://www.echo-news.co.uk/news/16312775.family-appeal-for-help-to-track-colleagues/> accessed 6 August 2019.
[ix] Sophie Morton, 'Ford worker's widow seeks answers after death from asbestos-related cancer' (21 March 2019 Barking and Dagenham Post) <https://www.barkinganddagenhampost.co.uk/news/widow-seeks-answers-after-husband-s-death-1-5949685> accessed 8 August 2019.
[x] 'WIFE SEEKS HELP FROM FORMER FORD DAGENHAM WORKERS AFTER HUSBAND'S DEATH' (18 March 2019 Thompsons Solicitors) <https://www.thompsons.law/news/news-releases/asbestos-disease-news/wife-seeks-help-from-former-ford-dagenham-workers-after-husband-s-death> accessed 6 August 2019.
[xi] Sophie Morton, 'Appeal by Ford worker diagnosed with cancer linked to deadly asbestos' (1 August 2019 Barking and Dagenham Post) <https://www.barkinganddagenhampost.co.uk/news/dagenham-ford-worker-searching-for-former-colleagues-1-6193322> accessed 5 August 2019.
[xii] 'FORMER FORD CAR PLANT WORKER APPEALS TO OLD COLLEAGUES FOR HELP AFTER CANCER DIAGNOSIS' (1 August 2019 Hodge, Jones & Allen) <https://www.hja.net/press-releases/former-ford-car-plant-worker-appeals-to-old-colleagues-for-help-after-cancer-diagnosis/> accessed 6 August 2019.
[xiii] John Nevill, 'Ford Dagenham's 80 year history' (6 October 2009 BBC) <http://news.bbc.co.uk/local/essex/hi/people_and_places/history/newsid_8292000/8292277.stm> accessed 8 August 2019.