According to the International Agency for Research on Cancer (IARC), electromagnetic fields (EMF) are 'possibly carcinogenic to humans' (Category 2B).
We last discussed the risk of radio frequency electromagnetic radiation (RFR), emitted by in-built mobile phone antennae, in edition 277 of BC Disease News (here), after the inaugural launch of EE's 5G mobile network in the UK. EE has defended the safety of mobile phone-produced RFR in recent months:
'… there are strict rules on the power level that each site broadcasts a signal at – this is governed by an organisation called ICNIRP.org, which informs the Health & Safety Executive and Public Health England, together acting as the health-related watchdog for the mobile industry. All 5G is being rolled out within those guidelines.
It's important to point out that no health risks have been established from exposure to the low-level radio signals used for mobile communications (and WiFi), and this includes 5G Operators in the US [which] have chosen to use the higher frequency mmWave spectrum, and there is no danger associated to that - because all new wireless technologies are rolled out under similar strict guidelines.
... non-ionizing waves, the waves that carry mobile signals, are not able to change the structure of a cell, so don't cause any cellular damage, and as such don't cause illness'.
However, British Telecom, which owns EE, was criticised last year for warning shareholder investors about the potential health risks and withholding information from customers. The 2017 Annual Report disclosed:
'We can't provide absolute assurance that research in the future won't establish links between radio frequency emissions and health risks'.[i]
Although the general position in the UK is that devices producing exposures within current ICNIRP guidelines do not pose a risk to public health, Italy has displayed growing concern over the health effects of EMF.
The Landmark Italian Case
Back in October 2012, Italy's Supreme Court heard an appeal of a claim brought by former Commerce Manager, Innocenzo Marcolini, who alleged that 5 to 6 hours of phone use per day, over a 12 year period, caused him to develop a left-sided brain tumour, or neurinoma, on the trigeminal ganglion of his trigeminal nerve (the 5th and largest of 12 cranial nerves).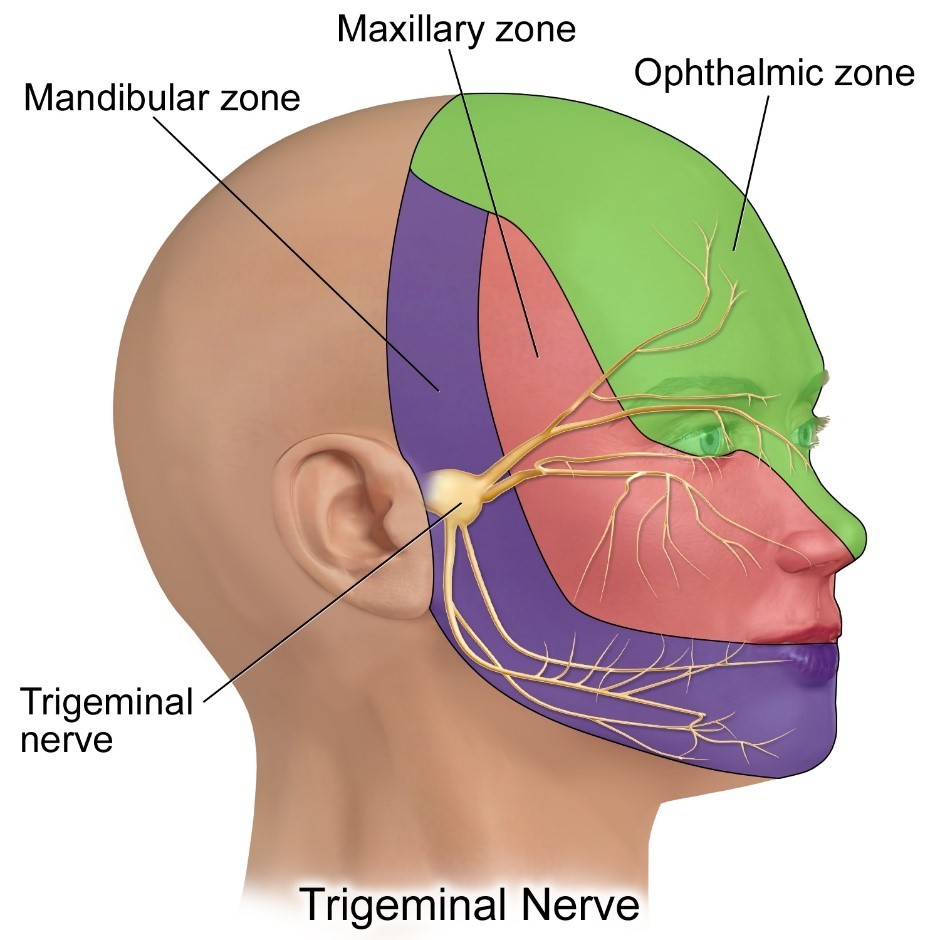 (Source: Wikimedia Commons)
As a result, he argued that his application to the Italian Workers' Compensation Authority (INAIL) for workers' compensation should not have been rejected for lack of proof that his condition, albeit benign, was related to his occupation.
At 1st instance, a Civil Court found in favour of the Government and the national insurance scheme covering workplace accidents (INAIL), but on appeal to the Appeal Court, the claimant successfully overturned the original decision. At a subsequent appeal to the Supreme Court, the decision of the Court below was upheld and 80% disability pension was granted in a landmark judgment.[ii] His exposure (holding the phone in his left hand, while taking notes with his right hand) was 'different from normal, non-professional use of a mobile telephone'.
Both the Appeal Court and Supreme Court rulings were heavily influenced by research undertaken by cancer specialist, Lennart Hardell, at the University of Örebro in Sweden, which found that mobile phone use for a period in excess of 10-years increases the risk (not the same as a 'causal link') of acoustic neuroma and glioma.[iii]
Hardell's study, published in 2009, was preferred over the International Agency for Research on Cancer's global Interphone study, published 1-year later, which only hinted at a slightly higher risk for 'heavy' users.[iv]
It was essentially favoured because, where the World Health Organisation (WHO) faction's study was jointly funded by the mobile phone industry (including mobile manufactures) and the European Commission, Hardell's investigation was 'independent'.
However, in a post-trial email response to the Nature journal, the former Coordinator of the WHO's Electromagnetic Fields Project, Mike Repacholi, asserted that the Interphone study was, contrary to presumption, also 'independent':
'Funds [for the Interphone study] were provided to a committee of the International Union Against Cancer who acted as a firewall between the funders and sponsors so that the researchers had no contact with any of the sponsors. Thus the industry contribution had absolutely no influence on the study outcome. It is unfortunate that the judge thought the Hardell study was the only independent one, when the WHO/IARC study was independent and was the largest study ever conducted on this topic'.[v]
The 2nd Case
5-years later, in March 2017, the Court of Ivrea awarded a monthly state-funded pension (€500) to compensate 57-year-old, Roberto Romeo, for a benign tumour of the vestibulocochlear nerve (the 8th cranial nerve), diagnosed in 2010.[vi] The medical expert estimated the damage at 23% of his bodily function, having been left deaf after the acoustic neuroma (blocking his right ear) was removed.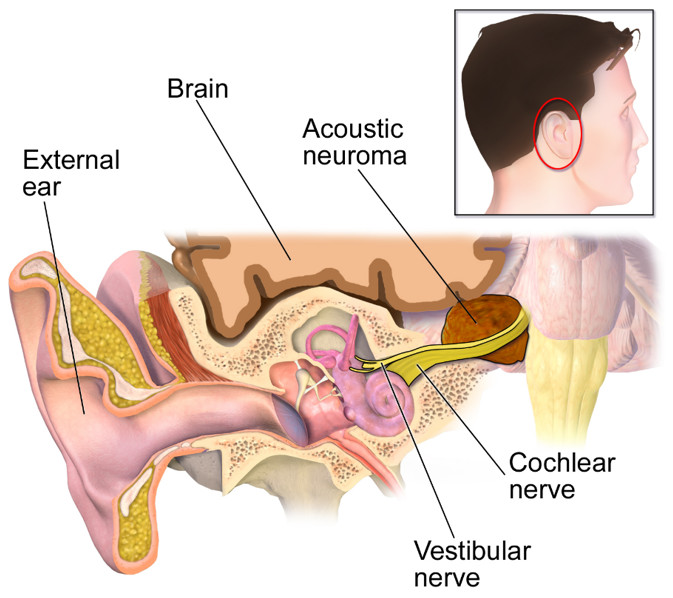 (Source: Wikimedia Commons)
Mr. Romeo alleged that his work duties required him to use his mobile phone for 3 to 4 hours of every working day for 15 years, in order to liaise with colleagues and organise work.
Building on the Supreme Court decision, which was the first case to establish a cancer risk, the Court of Ivrea was the first instance of a Court establishing a causal link between excessive, work-related use of mobile phones.
The 3rd Case
1-month later, in April 2017, the Court of Florence ordered INAIL to compensate a salesperson, who developed acoustic neuroma after 10 years of mobile phone use for 2 to 3 hours per day.[vii]
There was a 'high probability between cell phone use and malignant disease'.[viii]
The 4th Case
Most recently, in January 2019, a Court in Monza recognised an occupational disease in a former airport employee, who developed acoustic neuroma and was left permanently incapacitated.[ix]
Throughout his 10-year employment period, he alleged more than 4 hours (sessions of up to 45 minutes consecutively) of daily use of a Siemens DECT phone, a Nokia and later a Samsung mobile.
The CTU, a collaboration of experts and technical advisers assigned to evaluate the case, concluded that the development of the claimant's left auditory nerve neuroma was related to his work, harking back to the Hardell study.
The Italian Government Forced into Submission on Information Campaign
At the Supreme Court, in 2012, expert witness evidence in support of the claimant was given by the founder of the Association for the Prevention of and Fight Against Electrosmog (APPLE), Professor Gino Angelo Levis.
Why is this significant?
In November 2018, APPLE-led litigation was heard in Rome in another milestone case, wherein the Lazio Regional Administrative Court (TAR Lazio) ordered the Government to launch a national campaign, advising the public on the health risks arising from the misuse of mobile and cordless phones.[x]
The legal basis behind APPLE's efficacious argument was founded in Article 10 of Law 36/2001, which compels the Government to provide the public with information on how it can protect itself against exposure to electric, magnetic and electromagnetic fields (EMF).
Italy's Higher Health Council (Consiglio Superiore di Sanità) had previously recommended an information campaign akin to this, in 2011, because, despite there being no scientific certainty about a possible causal relationship between radio frequency radiation exposure and cancer, a relationship could not be excluded.
On account of the Government's 'unjustified' failure to comply with Article 10, the Court Order,[xi] published on 15 January 2019, read:
'It is … necessary to declare the obligation of the Ministry of the Environment, the Ministry of Health and the Ministry of Education, University and Research, each for its own area of competence, to ensure, in accordance with the provisions of Art. 10 of Law No. 36/2001, the adoption of an information campaign, addressed to the entire population, concerning the identification of correct methods of use of mobile telephone devices (cellular and wireless phones) and information on the health and environmental risks related to the misuse of these devices.
The above-mentioned information and environmental education campaign must be implemented within six months of the earlier of the notification or administrative communication of this judgment, using the most appropriate means of communication to ensure wide dissemination of the information contained therein'.
Thus, by 15 July 2019, the national campaign on short- and long-term risks of mobile phone use should have been implemented.
Will the debate on electromagnetic pollution and mobile phones be resurrected in the UK as a result of this? Only time will tell.
We are still waiting to hear more about the first ever British claim, initially reported in edition 230 of BCDN (here).
Former salesman, Neil Whitfield, is understood to be pursuing legal action outside of the 3-year limitation period and Katrina Pope, of instructed claimant firm, London Corporate Legal, contended that:
'… it's only now that the technology exists for radiation testing to allow us to bring the case'.[xii]
A 'strong [product liability] claim' against Nokia, valued at £1 million, was expected to be made by the end of 2018.
[i] Grace Macaskill, 'Top mobile phone firms warning shareholders over devices' possible cancer risks - but fail to tell customers' (2 June 2018 The Mirror) <https://www.mirror.co.uk/news/uk-news/top-mobile-phone-firms-warning-12637044> accessed 31 July 2019.
[ii] Virginia Alimenti, 'Italy court ruling links mobile phone use to tumor' (19 October 2019 Reuters) <https://www.reuters.com/article/us-italy-phones/italy-court-ruling-links-mobile-phone-use-to-tumor-idUSBRE89I0V320121019> accessed 30 July 2019.
[iii] Hardell L and Carlberg M, Mobile phones, cordless phones and the risk for brain tumours. Int J Oncol. 2009 Jul;35(1):5-17. <https://www.spandidos-publications.com/ijo/35/1/5/download> accessed 30 July 2019.
[iv] The INTERPHONE Study Group, Brain tumour risk in relation to mobile telephone use: results of the INTERPHONE international case–control study. International Journal of Epidemiology, Volume 39, Issue 3, June 2010, Pages 675–694. <https://academic.oup.com/ije/article/39/3/675/631387> accessed 30 July 2019.
[v] 'Italian court says mobile phones cause cancer' (19 October 2012 Nature) <http://blogs.nature.com/news/2012/10/italian-court-says-mobile-phones-cause-cancer.html> accessed 30 July 2019.
[vi] Agence France-Presse, 'Italian court rules mobile phone use caused brain tumour' (21 April 2019 The Guardian) <https://www.theguardian.com/technology/2017/apr/21/italian-court-rules-mobile-phone-use-caused-brain-tumour> accessed 30 July 2019.
[vii] Martine Vriens, 'Fifth Court in Italy Ruled Cell Phones Cause Brain Tumors and Determined It Is An Occupational Disease' (13 June 2019 Le Vaud Sans Antennes) <https://levaudsansantennes.ch/2019/06/> accessed 1 August 2019.
[viii] 'Cell Phone Court Cases, Tumours, Acoustic Neuroma, Italy' (30 April 2019 EMFSA) <https://www.emfsa.co.za/news/cell-phones-court-cases-tumours-acoustic-neuroma-italy/> accessed 1 August 2019.
[ix] <https://wearetheevidence.org/wp-content/uploads/2019/05/Italian-Court-Brain-Tumor-2019.pdf> accessed 1 August 2019.
[x] 'Health risks arising from mobile phone misuse: government ordered to launch information campaign' (1 May 2019 Hogan Lovells) <https://www.lexology.com/library/detail.aspx?g=892face6-ba03-4f11-8f93-471f51e98480> accessed 30 July 2019.
[xi] <https://www.phonegatealert.org/wp-content/uploads/2019/01/sentenza-tar-apple-ministeri-2019.pdf> accessed 30 July 2019.
[xii] Grace Macaskill, 'Brit dad sues Nokia for up to £1million claiming using his mobile phone caused his brain tumour' (12 May 2019 EMFSA) <https://www.emfsa.co.za/news/mobile-phonesbrain-tumours-court-cases/> accessed 1 August 2019.