On 9 July 2019, the Industrial Injuries Advisory Council (IIAC) published its Annual Report (April 2018 to March 2019).
IIAC Annual Reports describe work undertaken by the Council over the past 12-months. As a result, they typically provide an indication of the topics that will feature in Reports published over the upcoming year.
Asbestos Causes Anti-Neutrophilic Cytoplasmic Autoantibody (ANCA) Vasculitis?
ANCA vasculitis is an autoimmune disease, which causes inflammation and damage to small blood vessels. Autoimmunity occurs when the body's immune system fails to distinguish between the body's own cells ('self' cells) and foreign cells ('non-self' cells). White blood cells produce antibodies, called autoantibodies, that attack 'self' cells and, in doing so, harm the body.
ANCA is a type of autoantibody, which binds to white blood cells, called neutrophils. This causes the release of toxic substances that perpetuate blood vessel wall damage and surrounding tissue inflammation.
It is most common for the condition to affect the kidneys, lungs, joints, ears, nose and nerves, despite the fact that small blood vessels are found all over the human body.[i]
In the past year, the Council recently received correspondence from MPs over a potential link between asbestos exposure and ANCA and were encouraged to conduct a literature review. The insinuation was that asbestos triggers the condition. However, there was no 'robust' evidence of an association and the Council could therefore not recommend prescription for Industrial Injuries Disablement Benefit (IIDB).
For example, the study of Pelclová et al (2003)[ii] confirmed that exposure to asbestos and silica are occupational factors that are associated with ANCA positivity, but arrived at the conclusion that 'additional stimuli may be necessary to induce systemic vasculitis in asbestos-exposed persons'.
Pleural Plaques and Questions on Civil Compensation?
In Scotland and Northern Ireland, pleural plaques, developed as a result of exposure to asbestos, is a compensatable condition under The Damages (Asbestos-related Conditions) (Scotland) Act 2009 and The Damages (Asbestos-related Conditions) Act (Northern Ireland) 2011, respectively.
However, in England and Wales, pleural plaques are not compensatable. This was established in the House of Lords case of Johnston v NEI International Combustion Ltd and Rothwell v Chemical & Insulating Co Ltd [2007] UKHL 39. This is because pleural plaques are benign, or symptomless, as was explained by Lord Hoffman, at paragraph 2 of his judgment:
'Proof of damage is an essential element in a claim in negligence and in my opinion the symptomless plaques are not compensatable damage. Neither do the risk of future illness or anxiety about the possibility of that risk materialising amount to damage for the purpose of creating a cause of action, although the law allows both to be taken into account in computing the loss suffered by someone who has actually suffered some compensatable physical injury and therefore has a cause of action. In the absence of such compensatable injury, however, there is no cause of action under which damages may be claimed and therefore no computation of loss in which the risk and anxiety may be taken into account. It follows that in my opinion the development of pleural plaques, whether or not associated with the risk of future disease and anxiety about the future, is not actionable injury'.
Rothwell was recently revisited in the de minimis Supreme Court case of Dryden and others (Appellants) v Johnson Matthey Plc (Respondent) [2018] UKSC 18 (reported in BC Disease News here), in which Lady Black emphasised that:
'... pleural plaques were nothing more than a marker of exposure to asbestos dust, being symptomless in themselves and not leading to or contributing to any condition which would produce symptoms, even if the sufferer were to be exposed to further asbestos dust'.
In this way, the lack of physiological change was key in establishing that pleural plaques could not constitute actionable damage.
In spite of this, the IIAC has continued to receive enquiries about civil compensation for pleural plaques. However, the Council reiterates that it has no role in civil compensation, only the assessment of prescribed diseases. Pleural plaques are not suitable for prescription.
Extending Prescription for 'Bystander' Asbestos Exposure?
MP correspondence with the Council in the past year revealed that an electrician with asbestos-induced lung cancer was refused IIDB for 'bystander exposure' to asbestos, namely exposure which occurs while working alongside workers that work directly with asbestos. This is because so-called 'bystander exposure' is not comprehended under the terms of prescription for PD D8.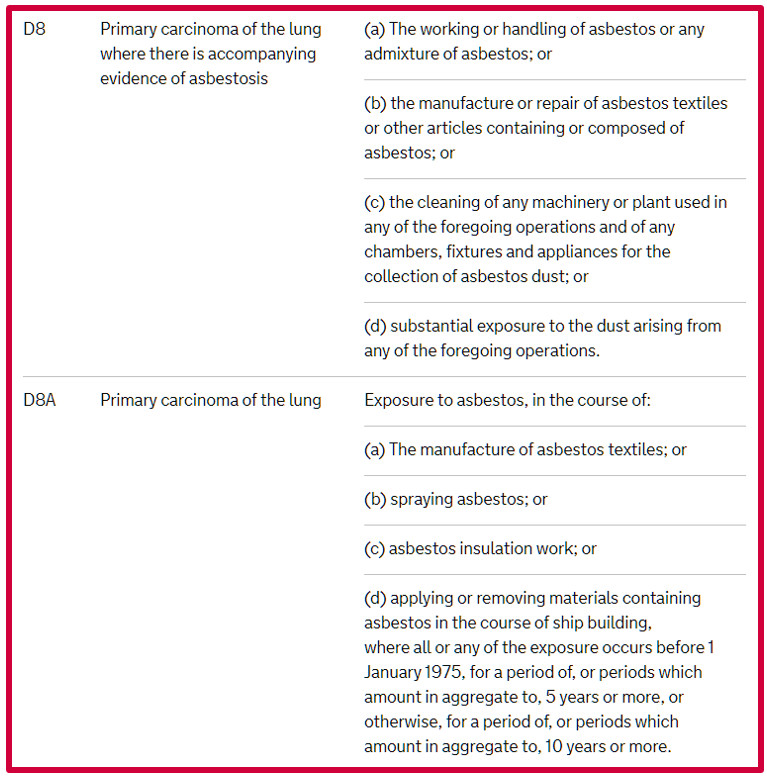 The Council explained that substantial levels of asbestos exposure are required to surpass the prescription threshold and there is inadequate evidence to suggest that bystander exposure, both generally and among electricians specifically, poses a risk to warrant extending prescription.
Nonetheless, the Council has also surmised that the list of occupation comprised in PD D8 is 'out of date' and does not 'accurately represent' those most at risk of asbestos exposure, i.e. workers in construction (demolition, maintenance, renovation).
Consequently, a review has been commissioned within construction industry, which may result in an extended list of prescribed occupational tasks within the scope of IIDB.
COPD and Noxious Dust Exposure?
Within the forthcoming 'Bystander Exposure to Asbestos' Report, there will also be discussion on exposure types other than asbestos and coal dust, which are capable of causing COPD.
This is in response to a recent stakeholder query to the Council. Exposure sources in construction work will be targeted.
COPD Prescription Affected by British Coal Group Litigation?
Coke oven workers, employed by British Coal, undertook a process called 'coking', which involved the purification of coal at high temperatures to make smokeless fuel.
In August 2018, the widow of a coke oven worker was awarded £15,853 in damages, payable by the main defendant to proceedings, the UK Government.
Her husband, George Nicholls, suffered chronic bronchitis for almost 20 years as a result of exposure to harmful dust and fumes.[iii]
We reported on this case: Pearce & Ors v The Secretary of State for Business, Energy And Industrial Strategy & Ors [2018] EWHC 2009 (QB), in edition 242 of BC Disease News (here).
At the time, it was also reported that 4 more cases, which were part of the same group action, brought by Irwin Mitchell on behalf of more than 260 former British Coal workers, had settled out of Court. These included claims for COPD, lung cancer and emphysema.
A separate group action, brought by Hugh James and Irwin Mitchell on behalf of a similar class of claimants, is expected to reach trial in 2020.
What have been the implications of Pearce on the IIAC's COPD prescription, under PD D12?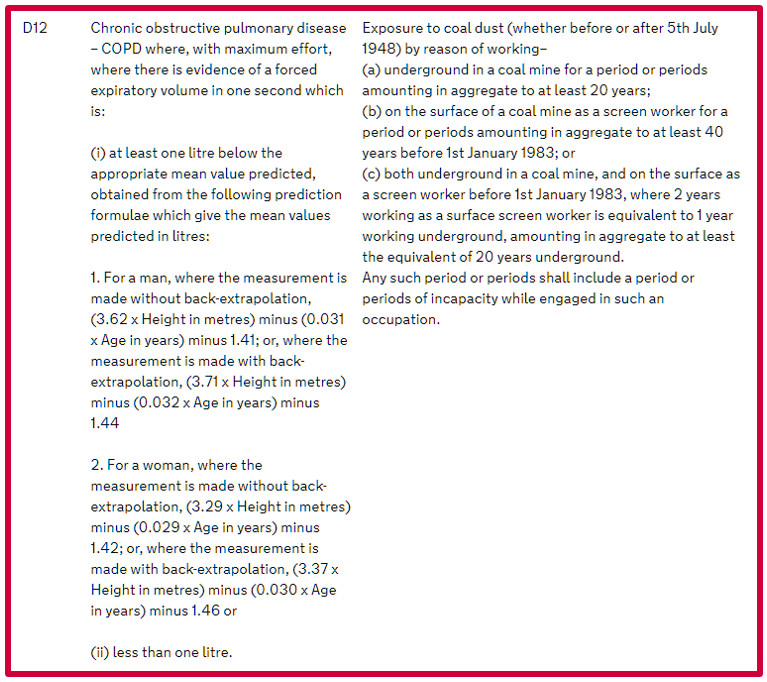 Since the Pearce judgment was handed down, the Council has commenced a literature review of the effects of COPD on mortality and lung function.
It claims to be in the final stages of concluding its investigation, the results of which can be anticipated in the coming months.
Occupational UV Exposure and Melanoma in Airline Crew?
We previously reviewed a study of melanoma in our latest occupational ultraviolet radiation (UV) feature article (here). After 15-years of follow-up, the highest incidence rates were identified in the fixed-wing pilot/crew group.
We submitted, at the time, that in addition to solar UV radiation, exposure to small amounts of cosmic ionizing radiation may have contributed towards increased prevalence of melanoma.
In the past year, the Council received correspondence from a person who developed multiple conditions as a result of work in hot climates and an investigation was commissioned on skin cancers, including melanoma, caused by occupational exposure to natural UV.
A systematic review of the literature up to 2017 noted 'many inconsistencies', but there was evidence of an increased risk of melanoma in pilots and cabin crew:
'For example, a systematic review and meta-analysis of 14 studies published after 2013 and for the most part carried out among northern Europeans (10), reported summary risks of 2.22 (95% confidence interval 1.67-2.93) in pilots and 2.09 (1.67-2.62) in cabin crew'.
Public Health England (PHE) and experts from the aviation industry have been consulted, in an attempt to understand the cause(s) of the doubling of risk:
'The Council are currently reviewing evidence relating to the site of the melanomas, length of employment and flight hours, exposure to cosmic radiation, UV exposure through plane windshields, and exposure to UV light incurred as part of non-flight duties'.
Its investigation is ongoing and conclusions on potential prescription will be published soon.
Osteoarthritis of the Knee in Footballers?
In edition 208 of BC Disease News (here), we reviewed Arthritis Research UK (ARUK) research into the relationship between football and osteoarthritis. This was the largest study on an international plane, consisting of more than 1,200 Professional Footballers Association members.
Results showed that male ex-professional footballers are 2 to 3-times more likely to suffer from knee pain and knee osteoarthritis, necessitating total knee replacement, than the general population.[iv]
It has since emerged, in the Annual Report, that Football Organisations have approached the Council on this issue and submitted the cross-sectional ARUK study as supportive evidence that knee osteoarthritis is an 'occupational hazard' of professional football.
In turn, the Council's initial analysis of medical literature indicated a less significant risk, although it is evident that those who sustain injuries are more likely to develop osteoarthritis of the knee.
The Council is continuing with its investigation and an official publication can be expected in due course.
Osteoarthritis of the Knee in Mineworkers?
There is growing concern, among IIAC stakeholders, that 'job description', under PD A14 wording, is being 'misconstrued' and 'taken too literally'. It is feared that 'legitimate' IIDB claims for osteoarthritis of the knee in mineworkers are being turned down.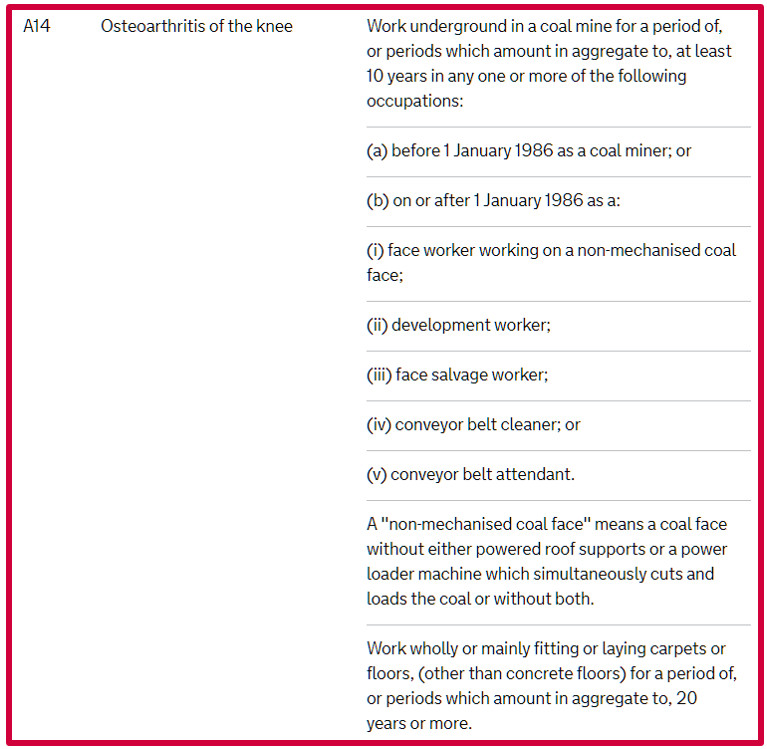 It was itemised, in the Annual Report, that the Council has been working with the Department for Work and Pensions (DWP) to understand and clarify the rationale and intentions behind the wording of PD A14 prescription, since 'general roles' involving work underground may result in sufficient exposure to merit a successful claim for IIDB.
Overturning Refused Prescription of Dupuytren's Contracture?
The IIAC Report also sheds more light on the work that ultimately led to Dupuytren's contracture, otherwise known as 'miner's claw hand', being added to the IIDB scheme, as was reported in edition 253 of BC Disease News (here).
Prescription was initially recommended in 2014 in a Report entitled: Dupuytren's contracture due to hand-transmitted vibration. However, the former Minister of State for Disabled People, Health and Work, Sarah Newton MP, decided not to adopt the Council's advice. Following a meeting with the Council, the Minister was persuaded to overturn her decision.
Accordingly, the Council has been working with the DWP to ensure that the Regulations are drafted to meet intentions.
The current Minister of State for Disabled People, Work and Health is Justin Tomlinson, who previously held the Office during David Cameron's final term as Prime Minister (May 2015-July 2016).
HAVS Sufferers Disadvantaged by Prescription Wording?
Are IIDB claimants disadvantaged by the wording of PD A11, on the basis that intense blanching of the skin may be 'episodic'?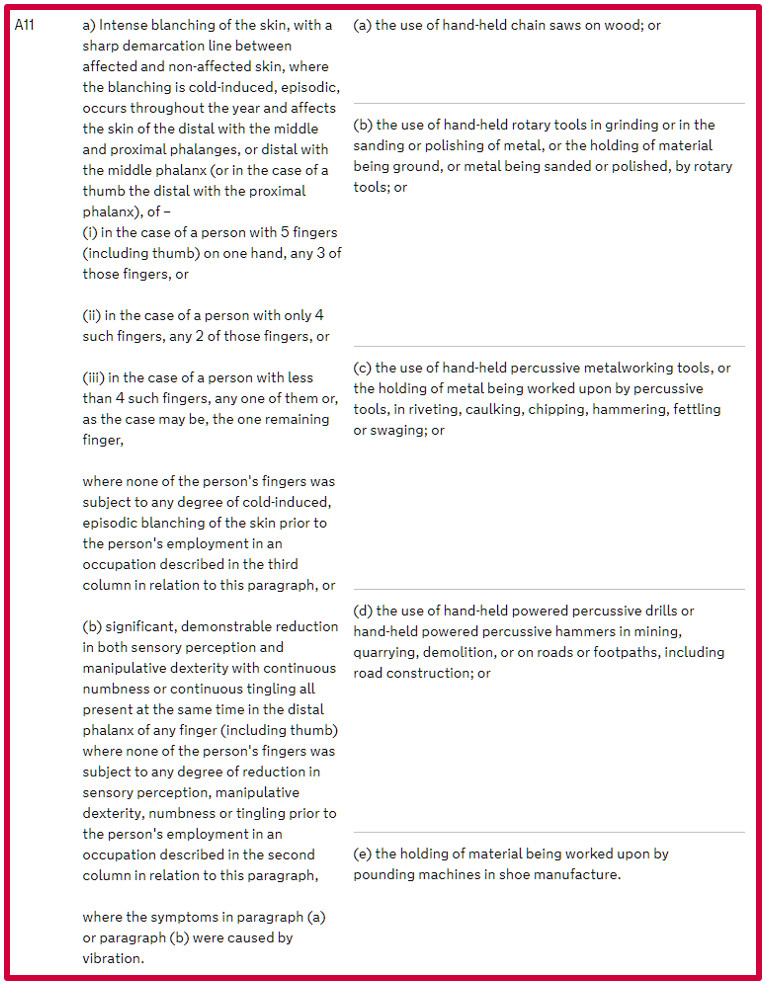 This month, the IIAC published: POSITION PAPER 43 – A review of the assessment and objective testing for the vascular component of hand arm vibration syndrome (HAVS).
HAVS is the collective term to describe disorders of the upper limbs associated with hand-transmitted vibration (HTV), such as vibration white finger (VWF), carpal tunnel syndrome (CTS) and Dupuytren's contracture.
Council stakeholders have voiced concerns over the wording of prescription and the Council has previously undertaken a small audit, on the instruction of MPs, to reveal any unmet need among claimants – there was no 'adverse impact' for claimants with sensorineural symptoms.
Position Paper 43 documents a more recent audit, which discovered that claimants were being refused benefit as a result of their medical history (the course of onset and progression of symptoms).
If vascular symptoms, i.e. blanching, are episodic and fugitive, they are unlikely to be reproduced for clinical verification. If diagnosis relies on the claimant's subjective recollection of the development and progression of their symptoms, this presents a challenge for 'diagnostic testing', which is pivotal to IIDB applications.
What is the best objective test for the vascular component of HAVS?
Cold Water Provocation Testing and Plethysmography (CWPT & FSBP)
Applying the logic that blanching occurs when blood vessels are over-sensitive to the cold, exposing digits to cold water (10 or 15°C) conditions, for a period of 5 minutes, is often used as a means to provoke vascular symptoms in HAVS patients.
However, the validity and reliability for wide-scale use was called into question when CWPT and FSBP were employed in multi-party medico-legal compensation assessment claims in the 1990s.[v] Further, the High Court, in the case of National Association of Colliery Overmen, Deputies and Shot Firers, R (on the application of) v Secretary of State for Work and Pensions [2003] EWHC 607 (Admin), deemed that 'none of the cold water provocation tests assist with the assessment of disablement'.
More recent cold provocation testing has provided conflicting evidence about the utility of the tests for the assessment of HAVS and could therefore not be recommended by the Council as a method of objective diagnosis.
Capillaroscopy
By using a microscope, set at a high level of magnification, capillary loops of the skin's micro-vasculature are visible. Although 1 study revealed a significant association between HAVS and dimensional and morphological characteristics of the capillaries, the Council stated that this was insufficient to recommend as an objective test for the vascular component of HAVS, but will nevertheless monitor capillaroscopy as research continues.
Doppler Ultrasound
The time that elapses between the emission of high-frequency ultrasound waves from a probe and bounce-back from red blood cells in blood vessels is a non-invasive method of estimating blood flow. It is commonly used in the detection of deep vein thrombosis. However, the Council considers that there is insufficient evidence in HAVS patients to recommend its widespread use as a diagnostic testing method, especially as 'there are widespread normal anatomical variations in the vascular supply to the hand', which may produce 'misleading' results.
In short, the review of objective testing for the vascular component of HAVS found a lack of 'robust' evidence throughout and the Council was unable to make any further recommendations on that basis.
Digital Photography
Nevertheless, the Council went on to consider the emerging role of digital photography for the diagnosis of HAVS. This is due to the 'more widespread use of good quality photographic equipment on mobile phones'. Photos and/or videos, e.g. of blanching, may be taken and then verified independently by a clinician. Excess backlighting should be avoided and 'they are best taken in the 'hold-up' pose with an individual's face clearly identifiable'.
The Council therefore encourages claimants to supplement their descriptions of symptoms and the relationship between work and exposures by disclosing photographical evidence. It should be stressed that digital photography is not an 'absolute requirement' for diagnosis.
Moreover, the Council accepted that aspects of patients' clinical history, in respect of symptom onset and duration, may be too restrictive for diagnosis. In light of this, international experts were consulted to provide opinion and the Industrial Injuries Benefit Handbook 2 for Healthcare Professionals (HCP) was revised accordingly.

[i] 'Anti-neutrophil cytoplasm antibodies (ANCA)' (Vasculitis UK) <http://www.vasculitis.org.uk/about-vasculitis/what-is-anca> accessed 14 July 2019.
[ii] Pelclová D et al., Asbestos exposure and antineutrophil cytoplasmic Antibody (ANCA) positivity. Arch Environ Health. 2003 Oct;58(10):662-8. <https://www.ncbi.nlm.nih.gov/pubmed/15562639> accessed 26 July 2019.
[iii] 'British Coal coke oven workers: Widow wins court battle' (15 August 2018 BBC) <https://www.bbc.co.uk/news/uk-wales-45037519>
[iv] Fernandes GS, Parekh SM, Moses J, et al Prevalence of knee pain, radiographic osteoarthritis and arthroplasty in retired professional footballers compared with men in the general population: a cross-sectional study Br J Sports Med Published Online First: 03 November 2017. doi: 10.1136/bjsports-2017-097503 <http://bjsm.bmj.com/content/early/2017/10/25/bjsports-2017-097503> accessed 13 November 2017.
[v] Proud G, Burke F, Lawson I J, McGeoch K L, Miles JNV. Cold provocation testing and hand-arm vibration syndrome – an audit of the results of the Department of Trade and Industry scheme for the evaluation of miners. British Journal of Surgery 2003; 90:1076-1079.