The French Agency for Food, Environment and Occupational Health and Safety (ANSES) has published an opinion (in French), on its analysis of regulatory management options (RMOA) for ammonium, potassium and sodium persulphate substances, within the framework of the Registration, Evaluation, Authorisation and Restriction of Chemicals (REACH) Regulation.[i]
Chemical persulphates, available in powder (to mix in liquid), granulated, cream, or ready-to-use liquid forms, are inorganic salts, commonly used as oxidising agents in hair-colouring preparations.[ii] Due to their oxidising properties, they are particularly useful in decolourants, or hair bleaches. Under alkaline conditions, persulphates accelerate the bleaching process by making hair porous and absorbent to dye treatment.
Hair lighteners, off-the-scalp products (used to highlight hair strands) and bleaches may contain persulphates at concentrations up to 60%, 25% and 22%, respectively.[iii]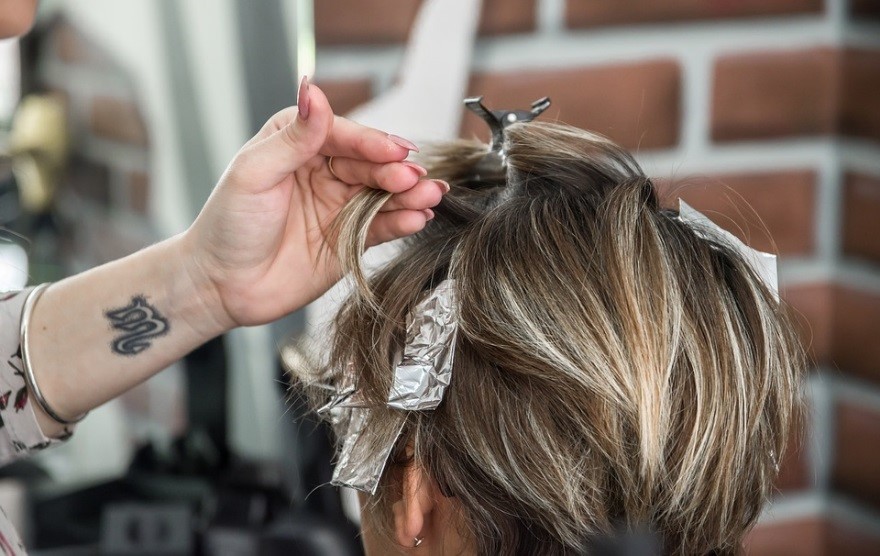 (Source: Pixabay)
Although ammonium and potassium persulphate-types are acidic and flammable, what (if any) risk do they pose to human health?
Last month, The Daily Mail reported on an accident in a South Korean hair salon, which left a woman with a 'gaping wound' on her head.[iv]
It transpired that 'prolonged exposure' (the typical maximum exposure is between 30-45 minutes) to persulfates and hydrogen peroxide-based hair colouring product had caused a high-energy reaction with the woman's skin tissue.
This was the conclusion of treating physician, Dr. Suk Joon Oh, at the Department of Burn Reconstructive Surgery in Bestian Seoul Hospital, who published an accompanying article in the Archives of Plastic Surgery journal.[v]
Dr. Oh explained that the high-energy reaction instigated a process called coagulative necrosis (cell death triggered by a lack of blood supply), which caused the woman to suffer hair loss and a deep, open burn.
In respect of treatment, the woman underwent a hair transplant, using the 'follicular extraction method', although Dr Bessam Farjo, Founder and Director of the Farjo Hair Institute Clinics, clarified that:
'... the ability of the graft to take hold and thrive is not as reliable as it is in healthy non-scarred skin and may need repeating to achieve adequate density, which is important for a natural look'.
As a result, Dr Greg Williams, a specialist Plastic Surgeon in burn scar alopecia, professed that:
'... hair loss can have an equal or greater impact on the self-esteem and quality of life of patients than the scars themselves ...'
Is persulphate product use a risk factor solely in instances where exposure is 'prolonged'?
Dr Emma Meredith, Pharmacist and Director at the UK Cosmetic, Toiletry and Perfumery Association (CTPA), argues that persulphate products are 'safe for use, provided of course the instructions for use are followed'. Further, she highlights that persulphates do not fall under the 'list of substances prohibited in cosmetic products' in the 'robust, strict' Cosmetic Products Regulation.[vi]
Moreover, in 2001, the US Cosmetic Ingredient Review (CIR) Expert Panel 'concluded that Ammonium, Potassium, and Sodium Persulfate are safe as used as oxidizing agents in hair colorants and lighteners designed for brief discontinuous use followed by thorough rinsing from the hair and skin'. The Panel made their decision on the basis of:
Remarkable inhalation toxicity studies, which observed gross lesions in the lungs, liver, stomach, and spleen;
Short-term inhalation toxicity (ammonium persulphate) at concentrations of 4 mg/m3 and above, as witnessed in rats;
Contact irritation seen with rabbit eyes and guinea pig skin, but not with rabbit skin;
Negative chromosomal abnormality/DNA mutation tests;
No significant evidence of tumour promotion or carcinogenicity in rats exposed to ammonium persulphate; and
A finding that 'normal' (no occlusion and rinsed off) use of 17.5% ammonium, potassium, and sodium persulfate products did not create a risk of urticarial reactions.
Regardless of evidence that advocates controlled use of persulphates, ANSES has declared that 'substance of very high concern' (SVHC) identification, under REACH, is an ineffective measure because cosmetic uses are excluded from its scope.[vii] In addition, the Agency has requested that persulphates should be restricted in cosmetic hair colour products at the earliest opportunity, due to the risk of allergic, respiratory and skin reactions in hair professionals and the general public.
Persulphates are classified as 'respiratory and skin sensitisers' in the Classification, Labelling and Packaging (CLP) Regulation.[viii] After quaternary ammonium, ANSES alleges that persulphates represent the 2nd most common chemical cause of occupational asthma.
Occupational exposure may occur through respiratory and dermal contact during preparation, application and rinsing of persulphate-containing products. Indeed, several air monitoring studies of hair salons have found elevated levels of persulfates.[ix] Whereas, consumers may be exposed in salons or in the course of home-application.
In findings confirmed by health agencies in other EU Member States (United Kingdom, Netherlands, Germany, Switzerland, Austria and Denmark), ANSES disclosed that between 2001 and 2015, the National Network for the Monitoring and Prevention of Occupational Diseases (RNV3P) Survey of occupational pathologies identified more than 1,000 cases of asthma, allergic dermatitis, rhinitis, urticaria, anaphylactic shock and other respiratory diseases related to persulfates. Most cases involved hairdressers, one-quarter of whom were young workers and apprentices.[x]
Accordingly the French Agency is recommending that exposure to persulphates in products should be 'reduced to a minimum'. In fact, a BBC program, aired in 2017, documented that industry guidelines often already state that dyes should not be used on under-16's.
Similarly, Dr. Oh recognises that clinicians must 'educate people about the risk of burns caused by mixtures used for hair colouring, provide information on the safe use of these compounds, and join in current efforts to ban these chemicals from hair colouring products'.
While persulphates remain licensed for use, in order to reduce exposure levels, salon workers are advised to:
Ensure that salons are adequately ventilated;
Close waste disposal receptacles;
Wear nitrile gloves and protective clothing;
Use the minimum quantities of product necessary to perform a service; and
Wash hands both before and after using persulfate products.
[i] Regulation 1907/2006.
[ii] Pang S and Flume MZ, Final report on the safety assessment of Ammonium, Potassium, and Sodium Persulfate. Int J Toxicol. 2001;20 Suppl 3:7-21. <https://www.ncbi.nlm.nih.gov/pubmed/11766134> accessed 14 June 2019.
[iii] 'Toxic Chemicals in Salon Products: What Salon Workers Need to Know' (<https://womensvoices.org/wp-content/uploads/2013/09/Ingredients-to-Avoid-in-Salon-Products_workers.pdf> 17 June 2019
[iv] Vanessa Chalmers, 'When getting your hair coloured goes WRONG: Shocking image shows 21-year-old left with a gaping wound after going to a salon "in hope of turning blonde"' (24 May 2019 The Daily Mail) <https://www.dailymail.co.uk/health/article-6956117/Shocking-image-shows-21-year-old-scalp-scalded-going-salon.html> accessed 14 June 2019.
[v] Suk Joon Oh, Closure of a full-thickness scalp burn that occurred during hair coloring using a simple skin-stretching method: A case report and review of the literature. Archives of Plastic Surgery 2019;46(2):167-170. <https://www.e-aps.org/upload/pdf/aps-2018-00871.pdf> accessed 14 June 2019
[vi] Regulation 1223/2009.
[vii] 'French agency calls for restriction on persulfates in hair dye' (13 June 2019 Chemical Watch) <https://chemicalwatch.com/78688/french-agency-calls-for-restriction-on-persulfates-in-hair-dye> accessed 13 June 2019.
[viii] Regulation 12/72/2008.
[ix] Leino T et al., Working conditions and health in hairdressing salons. Appl Occup Environ Hyg. 1999 Jan;14(1):26-33. <https://www.ncbi.nlm.nih.gov/pubmed/10730135> accessed 14 June 2019.
Hollund BE and Moen BE, Chemical exposure in hairdresser salons: Effect of local exhaust ventilation. The Annals of Occupational Hygiene Volume 42, Issue 4, May 1998, Pages 277-281. <https://academic.oup.com/annweh/article-pdf/42/4/277/349197/42-4-277.pdf> accessed 14 June 2019.
[x] 'ANSES recommends restricting persulphates in hair products' (12 June 2019 ANSES) <https://www.anses.fr/en/content/anses-recommends-restricting-persulphates-hair-products> accessed 14 June 2019.