Our last report on the link between brain cancer and radio frequency electromagnetic radiation (RFR) was in edition 272 of BC Disease News (here).
We reviewed a BBC documentary that dismissed allegations that non-ionising, 'low power' radio frequency electromagnetic radiation (RFR), emitted by in-built mobile phone antennae, is damaging to human brain cells. Further, that RFR levels are within internationally agreed limits, specified by the International Commission on Non-Ionizing Radiation Protection (ICNIRP) Guidelines.
However, we also revealed that the launch of 5th generation (5G) RFR had been drawn into controversy, because it uses higher frequency radio waves. Generally speaking, higher frequency radiation is more penetrative, but is more sensitive to reflection, meaning that it travels shorter distances.
Figure: The Electromagnetic Spectrum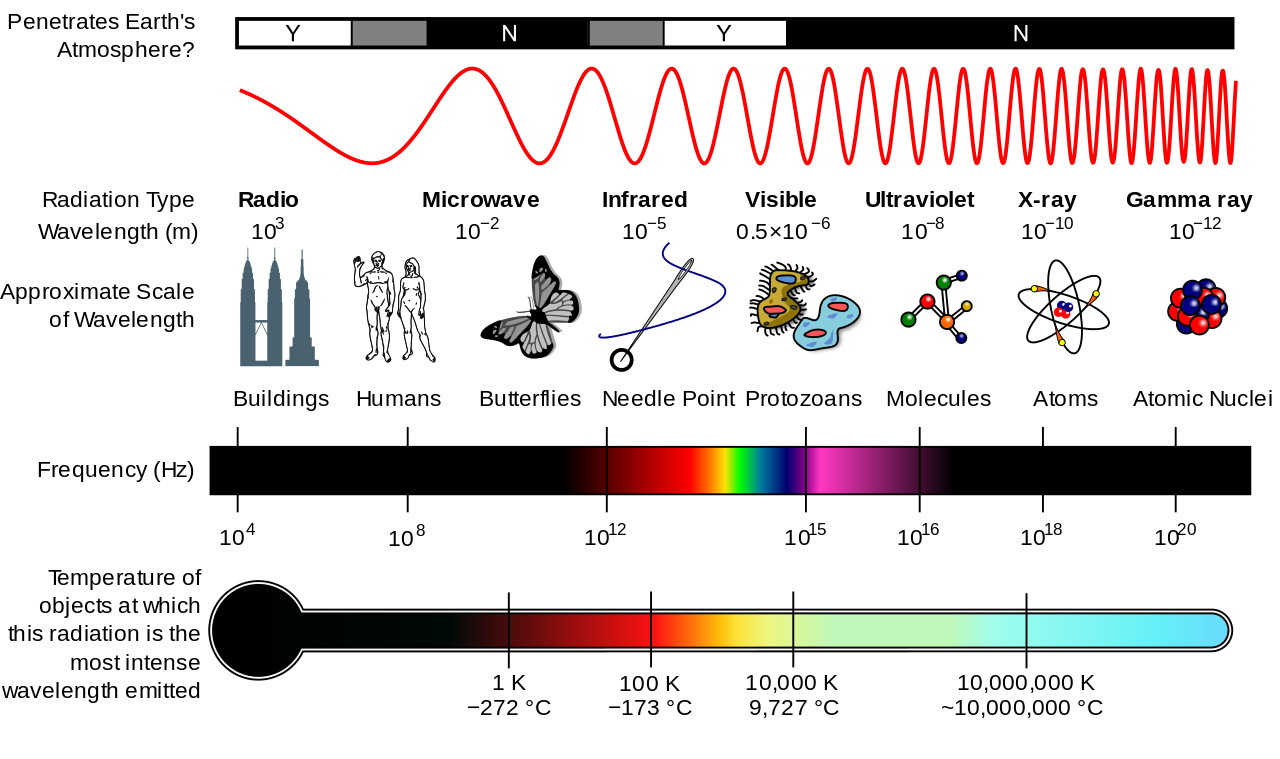 (Source: Wikimedia Commons)
As a result, it has been feared that intercepting and re-beaming 5G RFR at closer quarters may expose the public to more radiation than ever before, capable of raising the temperature of cells by 0.2°C,[i] and increase the risk of cancer. Switzerland has been developing a monitoring system to gauge the dangers of 5G and test this theory.
In spite of enduring accusations concerning health and safety issues, EE unveiled its first commercially available UK 5G network at the end of May 2019, with Vodafone set to follow suit on 3 July.[ii]
EE has assured the public that its new service is not dangerous to humans:
'The vast majority of concerns about 5G are based on the misunderstanding that 5G is a "millimetre wave" or "mmWave" technology – this isn't true. Operators will not be launching 5G mobile networks with mmWave frequencies in the UK in 2019. Articles have been written about mmWave spectrum (radio waves between 28GHz and 100GHz, with a very short wavelength) being a 'military' technology and even suggesting that the use of it will result in a mobile site 'for every 10-20 houses in the UK'. These things are not true.
We are initially rolling out 5G on spectrum in the 3.4GHz range. This is very similar to our 4G, 3G and 2G services, which operate on radio spectrum between 800MHz and 2.6GHz. We will roll 5G out using existing mast sites – meaning there will be no significant increase in sites in our initial roll out over the coming year.
In addition, there are strict rules on the power level that each site broadcasts a signal at – this is governed by an organisation called ICNIRP.org, which informs the Health & Safety Executive and Public Health England, together acting as the health-related watchdog for the mobile industry. All 5G is being rolled out within those guidelines.
It's important to point out that no health risks have been established from exposure to the low-level radio signals used for mobile communications (and WiFi), and this includes 5G Operators in the US [which] have chosen to use the higher frequency mmWave spectrum, and there is no danger associated to that - because all new wireless technologies are rolled out under similar strict guidelines.
... non-ionizing waves, the waves that carry mobile signals, are not able to change the structure of a cell, so don't cause any cellular damage, and as such don't cause illness'.
The UK has now joined several other European nations, including Switzerland, Monaco, Jersey and San Marino, by going live with the latest wireless technology. 5G is also operational in the US and South Korea, but is yet to be released in China and Japan.
EE's initial 5G coverage is limited to just 6 of the UK's largest cities (Belfast, Birmingham, Cardiff, Edinburgh, London and Manchester).[iii]
By the end of 2019, an additional 10 cities will have access (Bristol, Coventry, Glasgow, Hull, Leeds, Leicester, Liverpool, Newcastle, Nottingham, Sheffield) and there are already plans in place for city launch sites in 2020 (Aberdeen, Cambridge, Derby, Gloucester, Peterborough, Plymouth, Portsmouth, Southampton, Worcester, Wolverhampton), at which point it is estimated that 50 billion devices will be connected to 5G.[iv]
However, the 2019 release is only 'Phase 1' of the 5G revolution, which provides an additional layer on top of the existing 4G network. In 2022, 'Phase 2' will enhance the capabilities of 5G through 'higher bandwidth and lower latency, coupled with expansive and growing 5G coverage'. 'Phase 3', scheduled for 2023, is the final stage of rolling out 5G technology, i.e. consumers will be waiting several years to see the full benefits. [v]
Carphone Warehouse claims that 5G will be up to 1,000 times faster than 4G.[vi]
We understand that the UK Government will not be launching an 'independent enquiry into the health and safety risks of 5G', after having rejected a petition (received 32,454 signatures by petition closure on 3 June 2019) in March, echoing the NHS[vii] position:
'Exposure to radio waves has been carefully researched and reviewed. The overall weight of evidence does not suggest devices producing exposures within current guidelines pose a risk to public health'.[viii]
[i] 'Is 5G safe for your health?' (3 June 2019 Sky News) <https://news.sky.com/story/is-5g-safe-for-your-health-11732308> accessed 21 June 2019.
[ii] Nic Fildes, 'EE launches UK's first 5G service' (30 May 2019 The Financial Times) https://www.ft.com/content/4484ce80-82ca-11e9-b592-5fe435b57a3b> accessed 10 June 2019.
[iii] Chris Fox, '5G: EE launches UK's next-generation mobile network' (30 May 2019 BBC) <https://www.bbc.co.uk/news/technology-48458280> accessed 10 May 2019.
[iv] Joe Pinkstone, 'EE launches UK's first 5G network, but will it be enough to entice customers? MailOnline puts super-fast mobile internet to the test' (30 May 2019 The Daily Mail) <https://www.dailymail.co.uk/sciencetech/article-7087857/EE-launches-UKs-5G-network-entice-customers.html> accessed 10 June 2019.
[v] Natasha Lomas, 'UK's first 5G network taster goes live in six cities tomorrow' (29 May 2019 Tech Crunch) <https://techcrunch.com/2019/05/29/uks-first-5g-network-taster-goes-live-in-six-cities-tomorrow/?guccounter=1&guce_referrer_us=aHR0cHM6Ly93d3cuZ29vZ2xlLmNvbS8&guce_referrer_cs=7xDfZvQquke0q_q0Njb22Q> accessed 10 June 2019.
[vi] 'All you need to know about 5G as EE launches UK's first network' (30 May 2019 ITV) <https://www.itv.com/news/2019-05-30/what-you-need-to-know-about-5g-as-ee-launches-uks-first-network/> accessed 10 Jun 2019.
[vii] 'Mobile phone safety' (20 February 2019 NHS) <https://www.nhs.uk/conditions/mobile-phone-safety/> accessed 21 June 2019.
[viii] 'Launch an independent enquiry into the health and safety risks of 5G' (3 June 2019 Parliament.UK) <https://petition.parliament.uk/petitions/233707> accessed 21 June 2019.