Targeted research of Britain's railway industry has identified that incidence of manual handling injuries, as well as shock and trauma, are still significantly high among employees, despite the fact that there has been sector-wide recognition of the need to prioritise both mental and physical occupational health.
On 30 May 2019, the UK's Office of Road and Rail (ORR) published the Occupational Health Factsheet for 2018/19.[i]
According to information reported to ORR under the Reporting of Injuries, Diseases and Dangerous Occurrences Regulations (RIDDOR), there were 91 cases of hand arm vibration syndrome (HAVS) in 2018/19 – consistently the most commonly reported disease over the past 9 years.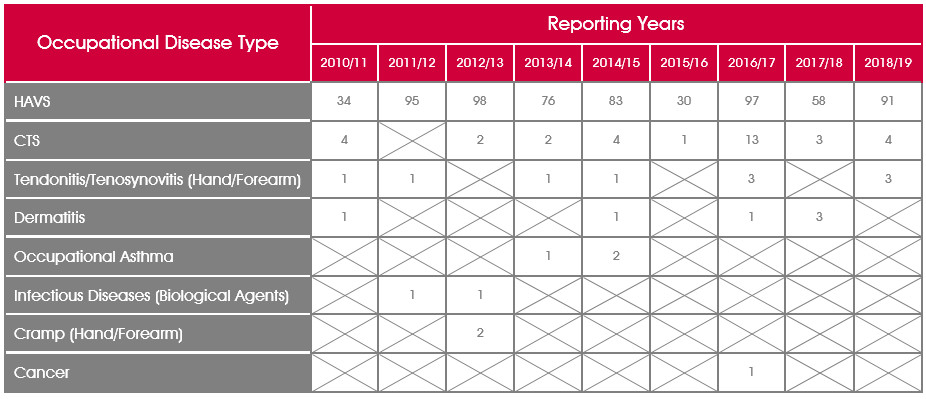 Since 2010 (see the graphical representation below), there have been 662 reports of the debilitating condition, caused by excessive use of hand-held vibrating tools. Between 2017/18 and 2018/19, there was a 56.9% increase in the number of HAVS cases reported.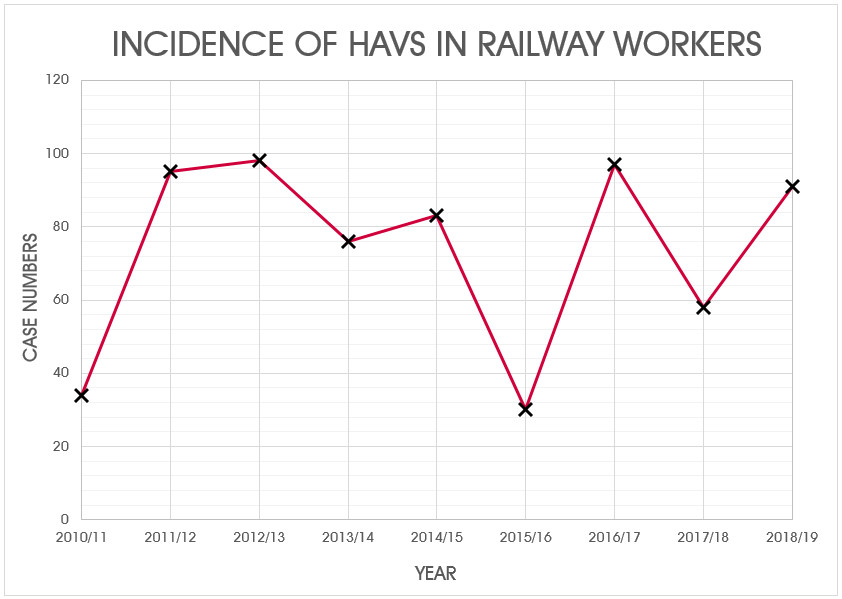 What is more, the Factsheet made known the latest shock/traumatic stress case data (not RIDDOR reportable) and contrasted this against manual handling injuries, i.e. musculoskeletal injuries caused by lifting, lowering, carrying, pushing or pulling.
In the latest recording year, there were 483 manual handling injuries, 33% (157) of which led to employees (of train operating companies, freight operating companies, London Underground Ltd, Network Rail contractors and non-Network Rail contractors) needing time off work. Comparatively, there were 1,054 cases of shock/trauma, 36% (380) of which led to workplace absence.[ii]
Where absence (or 'lost time') figures, as a consequence of manual handling injuries, fell by 15.6% in the latest reporting year, they rose by 8.6% in shock/trauma sufferers.
Institute of Occupational Safety and Health (IOSH) Railway Group member, Keith Morey, believes that the 2018/19 statistics are a 'wake-up call' for the rail sector. He went on to emphasise that:
'… we [the rail industry] must continue to strive for improvement … It is clear where the major issues are. We have to look at why there are still a large number of shock/trauma cases as well as injuries caused by manual handling … It is unacceptable that people are suffering when it is entirely preventable. As an industry, we need to ensure that proper controls are in place to prevent people from suffering the terrible effects of HAVS'.
[i] 'Rail occupational health figures "wake-up" call' (13 June 2019 Health & Safety Matters) <https://www.hsmsearch.com/Rail-occupational-health-wake-up-call> accessed 13 June 2019.
[ii] 'Occupational Health Manual handling and shock trauma incidents (no lost time) by duty holder' (ORR) <https://dataportal.orr.gov.uk/displayreport/report/html/0b169e47-5f90-46d7-aec8-7f769b376888> accessed 19 June 2019.