In April 2017, Gareth Howarth, of Begbies Traynor LLP, and Julian Pitts, of Path Business Recovery, were appointed as Joint Liquidators of the SRA-intervened, claimant personal injury firm, Asons Solicitors Limited.
Last week, the latest Notice of Progress Report in Voluntary Winding Up (the 'Annual Progress Report') was filed with Companies House.
The Notice reveals that Asons is suing its successor, Coops Law, on the basis that the pre-liquidation sale (business and assets) for £229,534.57, in March 2017, was an 'undervaluation' of the business.[i]
This is a material development since the first 'Progress Report', published in June 2018 and discussed in edition 245 of BC Disease News (here), in which the Joint Liquidators stated that they were 'investigating concerns raised by creditors that the transactions did not take place at arm's length and for full value'.
To what extent was the acquisition of Asons tainted by the brotherly relationship between Coops Founder, Irfan Akram, and suspended (18-months suspension beginning May 2018) Asons Principal, Kamran Akram?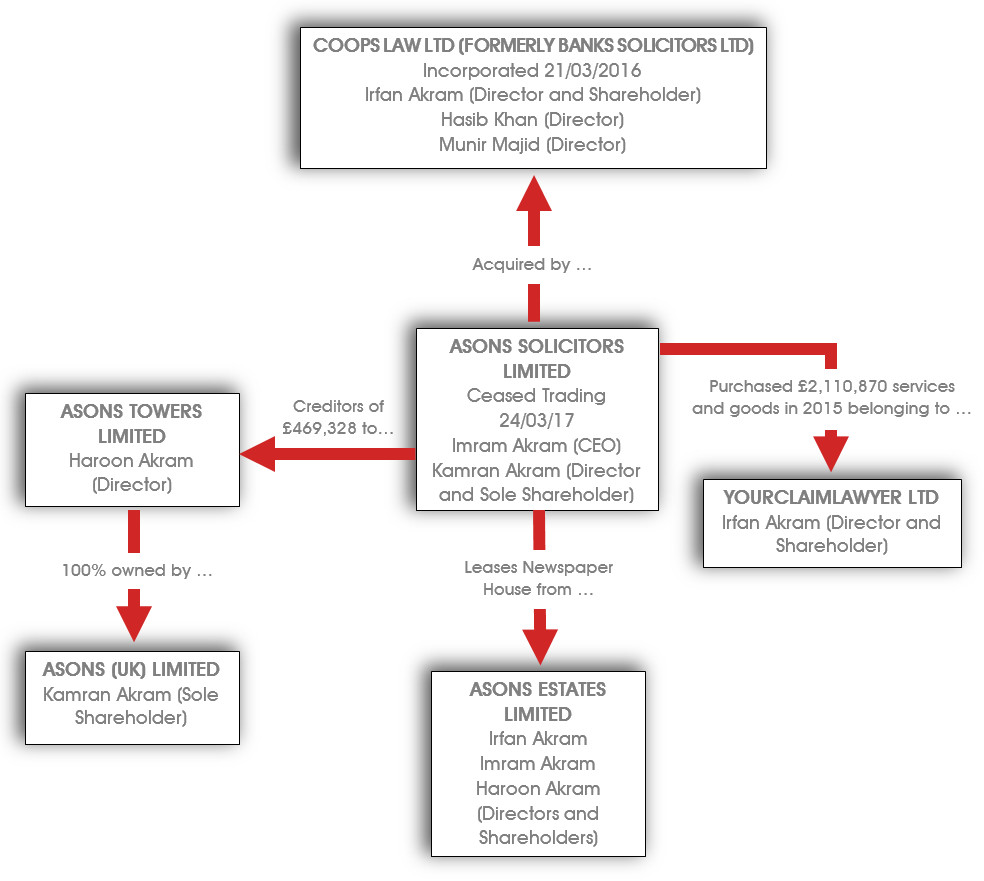 As well as notifying Coops of a claim for sale at an undervalue, the Joint Liquidators are also pursuing Coops for contractual breach of a share purchase agreement term, which specified that Coops would pay Asons' run-of insurance cover premium, totalling £99,400.
According to Mr. Howarth, they are 'currently in negotiations ... with the aim [of reaching] a settlement of those claims'.
Elsewhere, the Insolvency Service is conducting its own inquiries 'with a view to [instigating Director] disqualification action', in accordance with the Company Directors Disqualification Act 1986.
In regards to unsecured creditor debt, the 'Progress Report' states that claims submitted are 'far in excess' of figures provided in the Director's Statement of Affairs.
For example, HM Revenue and Customs was listed in the Statement of Affairs as being a creditor in the sum of £20,000, when in fact, a claim has been received for £1,415,296. Another example would be trade and expense creditors. They were listed in the Statement of Affairs as being creditors in the sum of £3,220,945, but to-date, actual claims received add up to £26,515,005.91.
In fact, the total value of admissible unsecured claims is still yet to be fully determined, as creditor claims are still being received.
Currently, the Joint Liquidators are unable to estimate the outcome or timing of any dividend to unsecured creditors, nor are they able to estimate when the liquidation process will close. This is because uncertainty remains over the level of work necessary to address outstanding issues, e.g. potential recoveries and future costs.
However, the 'Progress Report' confirms that £8,298.33 has been recovered from concluded Asons cases, which were transferred to practices other than Coops – supposedly, Asons' work-in-progress (WIP) had a value of £11 million in February 2017.
In the face of unsecured creditor debt in excess of £28 million, it would seem, at least on the evidence presented in the Joint Liquidator's Report (2019), that creditors will be hard-pressed to recover what is owed.
Looking more closely at the defunct law firm's 'net receipts/(payments)', it is apparent that the Liquidators have realised £197,006.46 to-date. Nonetheless, Asons' legal fees add up to around £95,000 (£75,000 more than the original estimate), due to 'significant additional work in respect of litigation, initial meetings of creditors, reviewing claims, seeking funding, negotiating with the SRA', while the SRA has contributed a further £42,500 towards 'future litigation'.[ii]
Meanwhile, the Joint Liquidators themselves have incurred time costs of £146,000.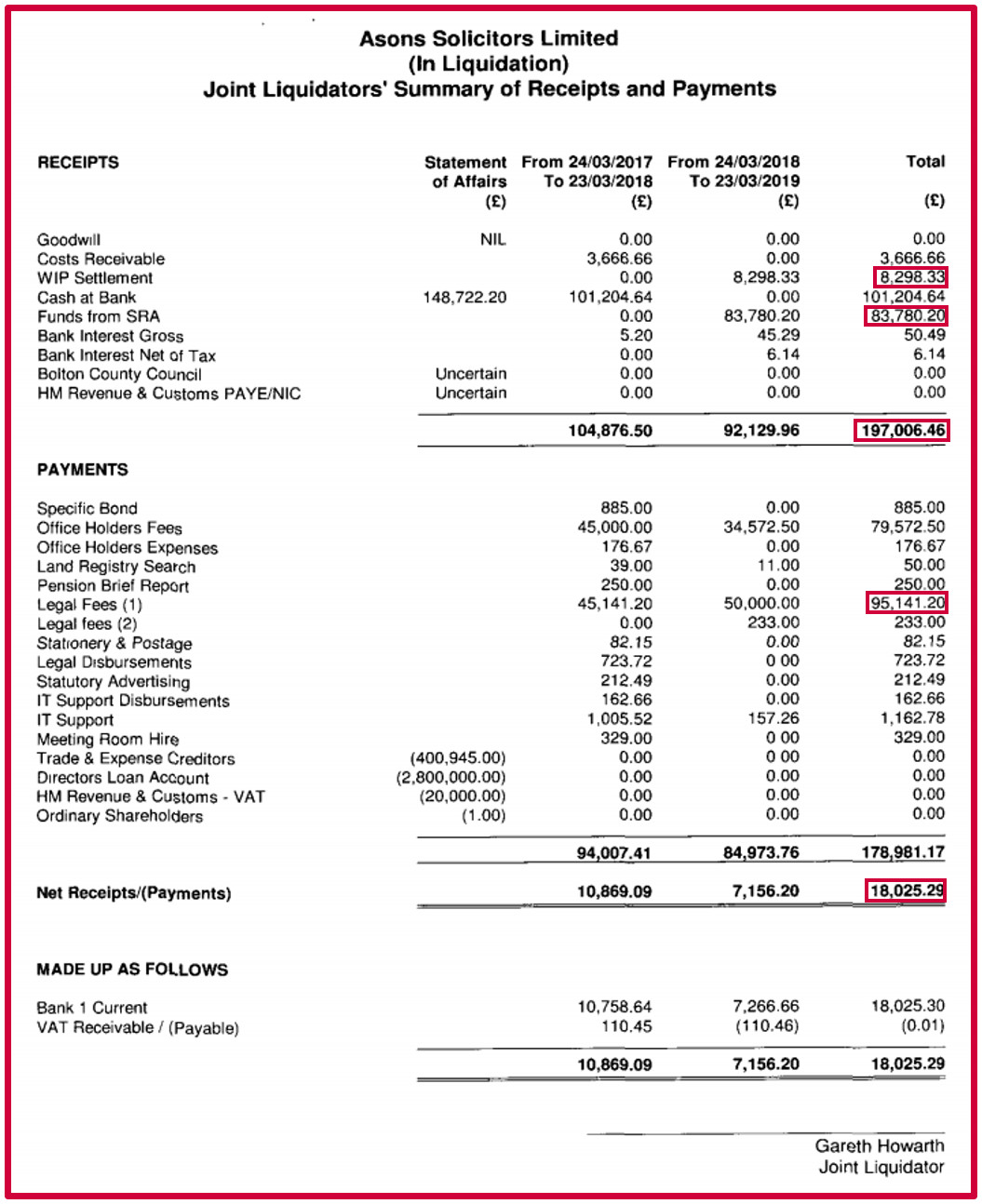 [i] Neil Rose, 'Asons creditors owed £28m as liquidators bring claim over sale' (17 June 2019 Legal Futures) <https://www.legalfutures.co.uk/latest-news/asons-creditors-owed-28m-as-liquidators-bring-claim-over-sale> accessed 18 June 2019.
[ii] John Hyde, 'Creditors seek £26.5m from collapsed Asons' (17 June 2019 Law Gazette) <https://www.lawgazette.co.uk/news/creditors-seek-265m-from-collapsed-asons/5070638.article> accessed 18 June 2019.