The World Health Organisation (WHO) International Classification of Diseases and Related Health Problems (IDC) identifies global health trends and statistics and provides diagnostic classification of diseases, disorders, injuries and other related health conditions using a coded system.
In a 2018 edition of BC Disease News (here), we reported that the WHO had added 'gaming disorder' (Code 6C51) to the list of 'disorders due to addictive behaviours' in its draft version of IDC-11 (the 11th and latest revision):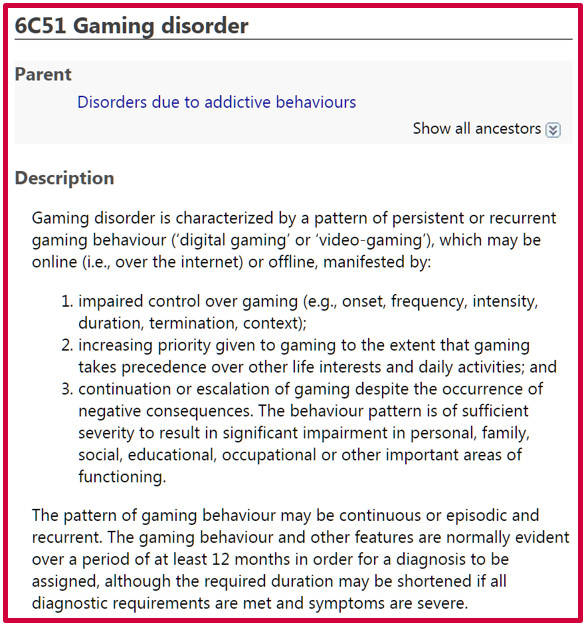 'Gaming disorder' should not be confused with 'hazardous gaming' (Code QE22), which is located in the list of 'problems associated with health behaviours' and does not describe an addictive disorder. Plainly, 'gaming disorder' is exclusive of 'hazardous gaming' and a person cannot therefore be diagnosed with both conditions.[i]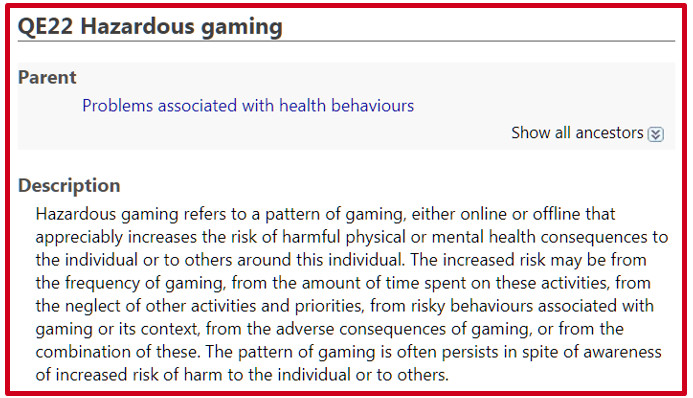 Considering that around 2.2 billion people worldwide play video games and, assuming that 4% become addicted, it is speculated that up to 90 million people could be prone to 'gambling disorder', with 18 to 24-year-old men falling under the most-at-risk category. Explaining why gaming can be addictive, Adam Cox, Founder of Addiction Experts, reasoned:
'We know that games trigger the release of dopamine which can become habit-forming, especially when the stimulus is so readily available to us all the time'.[ii]
From 20 to 28 May 2019, the World Health Assembly convened in Geneva for its 72nd session, in which delegations from all Member States voted on an agenda, prepared by the Executive Board. The agenda included a vote on official adoption of IDC-11 – and with it – 'gaming disorder'.
On 25 May, 194 Member States unanimously approved IDC-11,[iii] remarking that the electronic document had been produced in a 'transparent and collaborative manner'.[iv] The WHO believes that official recognition of 'gaming disorder' will 'result in the increased attention of health professionals to the risks of development of this disorder and, accordingly, to relevant prevention and treatment measures'.
IDC-11 will enter into effect on 1 January 2022. From this date onwards, those diagnosed with 'gaming disorder' may receive treatment on the NHS.
Incidentally, the first NHS gaming addiction centre was scheduled to open in September 2018, but in March of this year, the NHS Trust in charge of the project confirmed that there was no set date for opening.[v]
During the lengthy 3-year period running-up to 2022, various gaming industry bodies are expected to urge the WHO to rethink its unanimous acceptance of IDC-11 and 'gaming disorder', predominantly on the basis that it is likely to 'obfuscate underlying issues such as depression or social anxiety'. [vi]
In an official statement, representatives of Global Video Game Industry Associations expressed their concerns over the decision made last month, allegedly 'without the consensus of the academic community':
'The consequences of today's action could be far-reaching, unintended, and to the detriment of those in need of genuine help'.[vii]
Such associations include the Entertainment Software Association (ESA), the Interactive Software Federation of Europe (ISFE) and the Association for UK Interactive Entertainment (UKIE), all of which consider the inclusion of 'gaming disorder' within IDC-11 to be 'deeply flawed'.[viii]
Equally, a 2018 journal article, published in the Journal of Behavioural Addictions, made reference to the 'weak scientific basis' behind classification and called for caution.[ix]
Irrespective of gaming industry dissention, Dave McCarthy, Head of Operations at Xbox, told The Telegraph that the company should be 'leading the way' on this public health issue:
'We should evolve what we offer and recognise there's more we can do. We've probably been more quiet about it in the past than maybe we would like to be. Part of this is saying that we recognise there are challenges and we feel a great responsibility to make healthy spaces'.[x]
Mr. McCarthy proposes that Microsoft should introduce functions to set screen-time limits and block online purchases as measures to 'curb overuse'. However, he is keen to draw a line between engagement and overuse:
'I think they are two different concepts'.
Moreover, Sony CEO, Kenichiro Yoshida, has stated that the industry needs to take the WHO advice 'seriously and adopt countermeasures'.
In the meantime, the Government has launched the Immersive and Addictive Technologies Inquiry, led by Committee Chair, Damian Collins,[xi] which is investigating 'how the addictive nature of some technologies can affect users' engagement with gaming and social media, particularly amongst younger people'.
A full report is expected in due course.
[i] Harry Domanski, 'World Health Organization officially classifies 'gaming disorder' as an illness' (28 May 2019 Tech Radar) <https://www.techradar.com/news/world-health-organization-officially-classifies-gaming-disorder-as-an-illness> accessed 29 May 2019.
[ii] Harry Pettit, 'Gaming addiction is now an official disease after WHO adds it to latest list of modern illnesses' (27 May 2019 The Sun) <https://www.thesun.co.uk/tech/9162409/gaming-addiction-official-disease-who/> accessed 29 May 2019.
[iii] Emily Mee, 'World Health Organisation makes gaming addiction an official disease' (27 May 2019 Sky News) <https://news.sky.com/story/world-health-organisation-makes-gaming-addiction-an-official-disease-11729612> accessed 29 May 2019.
[iv] 'World Health Assembly Update, 25 May 2019' (25 May 2019 WHO) <https://www.who.int/news-room/detail/25-05-2019-world-health-assembly-update> accessed 28 May 2019.
[v] Natasha Bernal, 'First NHS-funded gaming addiction centre for children delayed despite 'desperate' demand from parents' (2 March 2019 The Telegraph) <https://www.telegraph.co.uk/technology/2019/03/02/first-nhs-funded-gaming-addiction-centre-children-delayed-despite/> accessed 29 May 2019.
[vi] Tom Hoggins, 'World Health Organisation adopts 'gaming addiction' as official illness despite industry opposition' (28 May 2019 The Telegraph) <https://www.telegraph.co.uk/gaming/news/world-health-organisation-adopts-gaming-addiction-official-illness/> accessed 29 May 2019.
[vii] 'INTERNATIONAL NEW RELEASE: GLOBAL VIDEO GAME INDUSTRY CALLS UPON WORLD HEALTH ORGANISATION TO REVERSE VIDEO GAME CLASSIFICATION' (25 May 2019 IGEA) <https://igea.net/2019/05/international-new-release-global-video-game-industry-calls-upon-world-health-organisation-to-reverse-video-game-classification/> accessed 29 May 2019.
[viii] Sophie Curtis, 'Xbox pledges to curb toxic behaviour as 'gaming disorder' set to become recognised mental illness' (21 May 2019 The Mirror) <https://www.mirror.co.uk/tech/xbox-pledges-curb-toxic-behaviour-16177889> accessed 29 May 2019.
[ix] AJ van Rooij et al., A weak scientific basis for gaming disorder: Let us err on the side of caution J Behav Addict. 2018 Mar 1;7(1):1-9. <https://www.ncbi.nlm.nih.gov/pmc/articles/PMC6035022/pdf/jba-07-19.pdf> accessed 29 May 2019.
[x] Tom Hoggins, 'Microsoft says gaming companies must 'do more' to curb overuse ahead of WHO 'addiction' ruling' (21 May 2019 The Telegraph) <https://www.telegraph.co.uk/gaming/news/microsoft-says-gaming-companies-must-do-curb-overuse-ahead-addiction/> accessed 28 May 2019.
[xi] Alex Sassoon, 'Parliament to investigate if game and phone 'addiction' are harming Brits as Government rejects call to BAN Fortnite' (11 December 2019 The Sun) <https://www.thesun.co.uk/tech/7950805/video-gaming-addiction-parliament-inquiry/> accessed 29 May 2019.