Last month, the Department for Work and Pensions (DWP) published the latest 2018/2019 performance data on Compensation Recovery Unit (CRU)-registered claims,[i] as itemised in the table below: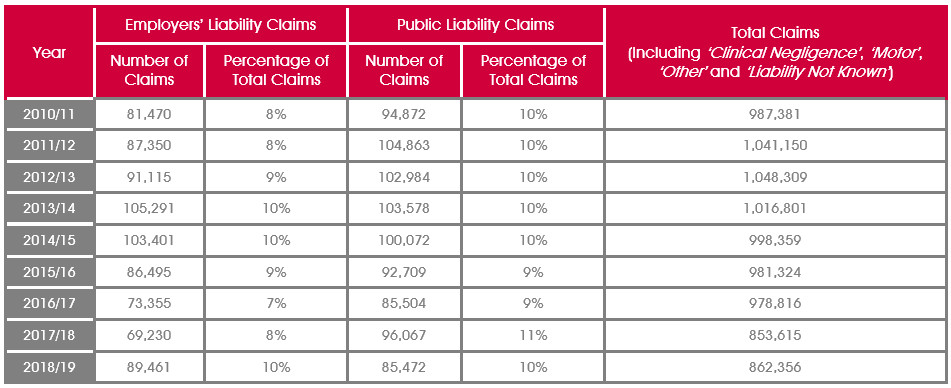 Examining the figures more closely, one of the most noticeable changes in claims numbers was seen in the employers' liability (EL) category. In 2018/19, CRU recorded 89,461 EL claims, a 29% increase from the 69,230 claims recorded just 1-year prior. The graph below conveys the year-on-year fluctuation of EL and public liability (PL) claims, as PL claims numbers decreased by 11%, reversing a brief resurgence in 2017/18: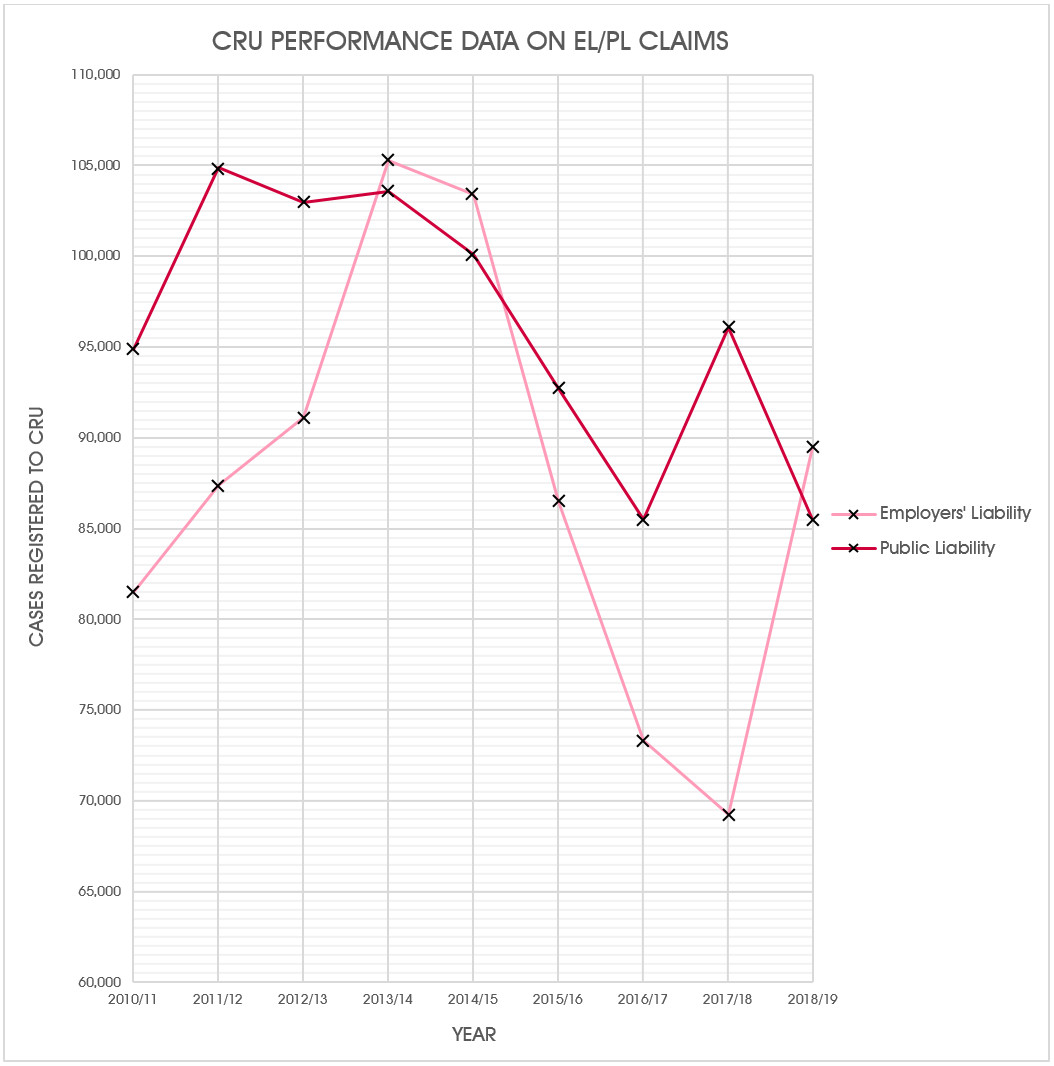 What is more, updated CRU records show a slight (10,000) rise in the number of motor claims, to 660,608. This is still the 2nd lowest figure since 2008/9 and 20% lower than peak motor claims registered in 2011/12. It is expected that reforms, encompassed within the Civil Liability Act 2018 and effective from April 2020, will bring an end to the whiplash 'epidemic'.[ii]
The most significant drop in claims was perceived in the 'other claims' category, from 19,172 in 2017/18 to 7,614 in 2018/19. It is presumed that this rapid decline is due to the 'crackdown' on holiday sickness cases. With clinical negligence claims numbers having also fallen in 2018/19, EL/PL claims captured an equal share of 20% of the total number (862,356) of CRU-registered claims.
The last time that the proportion of EL/PL CRU claims was this high was in 2014/15, when there were 103,401 EL claims, 100,072 PL claims and 998,359 total claims.
Coinciding with this CRU update, First4 Lawyers has published the results of a market survey (109 solicitors), which found that 42% had seen firm profits decrease over the past year, 46% had seen cashflow worsen and 40% had seen staff numbers reduce.[iii]
In spite of this, just 13% of survey respondents believe that the current climate will lead to their firm closing, with most expecting 'caseloads, turnover, profit, cashflow, staff numbers and investment in marketing to stay the same or increase over the next 12 months'.
That being said, all solicitors questioned are anticipating sector-wide redundancies over the next 18 months, as well as a rise in marketing for non-RTA work and an increased inclination towards mergers and work-in-progress (WIP) sales.
[i] 'Transparency data – Compensation Recovery Unit performance data' (10 May 2019 Department for Work & Pensions) <https://www.gov.uk/government/publications/compensation-recovery-unit-performance-data/compensation-recovery-unit-performance-data#settlements-recorded-by-cru> accessed 3 June 2019.
[ii] Neil Rose, 'Number of PI claims "largely static" over past year' (31 May 2019 Legal Futures) <https://www.legalfutures.co.uk/latest-news/number-of-pi-claims-largely-static-over-past-year> accessed 3 June 2019.
[iii] 'Claimant PI market will "contract sharply" after whiplash reforms' (28 May 2019 Legal Futures) <https://www.legalfutures.co.uk/latest-news/claimant-pi-market-will-contract-sharply-after-whiplash-reforms> accessed 7 June 2019.