In edition 184 of BC Disease News (here), we reported that claimant personal injury firm, Slater and Gordon (S&G), had served proceedings on Watchstone Group plc (formerly branded as Quindell), on 14 June 2017.
S&G purchased Quindell's Professional Services Division for £637 million, in 2015. However, the acquisition was so unsuccessful that its share price fell to 'almost worthless' levels and the business was forced to restructure; 94% of S&G bank debts, totalling £458 million (AU$738 million), was sold to 'secondary debt buyers' and the Australian parent company disconnected itself from UK operations (Slater and Gordon Lawyers and Slater and Gordon Solutions).
Graph: Slater and Gordon Share Price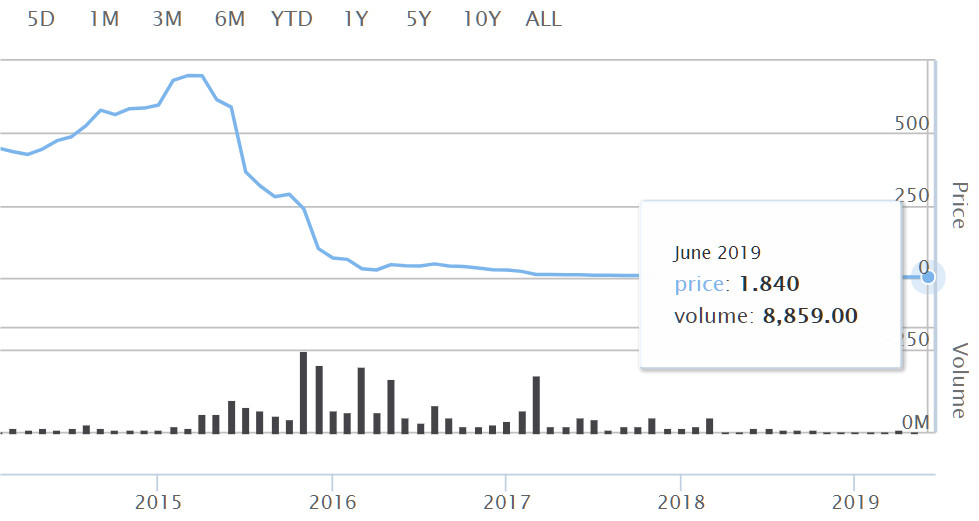 (Source: Australian Stock Exchange)
Ultimately, S&G argues that Quindell induced the firm into the transaction by 'fraudulent misrepresentation' and 'but for fraudulent misrepresentation it would not have entered into the transaction at all'.
Subsequently, we reported, in edition 201 (here), that Watchstone had increased its legal costs budget from £1 million to £3.5 million. Several editions later (here), Watchstone filed its defence, which made clear that the allegations are 'wholly without merit and should never have been advanced'.
In recent times, very little new information has surfaced on Watchstone legal action, other than that the business was facing threats of shareholder claims (reported in a March BCDN edition here).
However, this week, Watchstone's annual report announced that S&G's claim is scheduled for trial in October 2019.[i]
It also confirmed that its legal costs have been further bolstered to £8.2 million, reflecting its 'determination to robustly defend the action'.[ii] Nevertheless, there has been a candid admission that:
'Clearly, in the event the claim should succeed in whole or in part this would have a substantial negative impact upon the group and, at worst, could leave the group unable to settle its debts as they fall due'.
In respect of deferred consideration, Watchstone has indicated that 'no agreement has been reached as to a terminal value of the [live] NIHL assets' (up to the value of £50 million), which were tied up in the sale and purchase agreement with S&G. It is supposed to receive 50% of the net receipts of ongoing noise-induced hearing loss matters, retained in a joint escrow account, but on the basis of uncertainty of outcome, the prospective figure 'has been determined as £nil on the group's balance sheet'.
[i] Neil Rose, 'Slater & Gordon's £637m Quindell case grinds towards trial' (4 June 2019 Legal Futures) <https://www.legalfutures.co.uk/latest-news/slater-gordons-637m-quindell-case-grinds-towards-trial> accessed 4 June 2019.
[ii] John Hyde, 'October showdown as Slater and Gordon chases Quindell millions' (4 June 2019 Law Gazette) <https://www.lawgazette.co.uk/news/october-showdown-as-slater-and-gordon-chases-quindell-millions/5070482.article> accessed 4 June 2019.