Can a defendant challenge a claimant's procedural failings without stating its intention to contest jurisdiction?
In defamation proceedings, the claimant issued his Claim Form on 9 May 2017 and completed service on 5 October (Claim Form) and 9 October (Particulars of Claim), even though service should have been effected by midnight on 9 September [4 months after the date of issue, per CPR 7.5(1)].

Further, there had been a failure to serve a response pack with proceedings, in breach of CPR 7.8.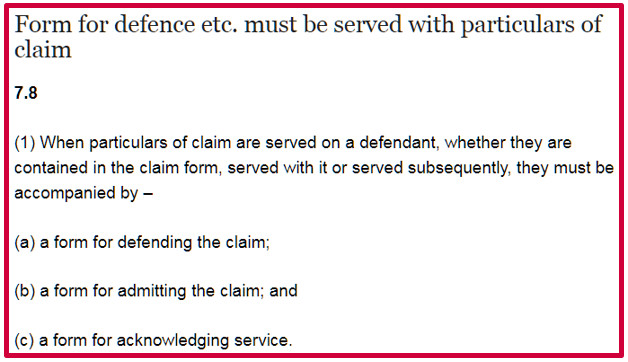 On 19 October, the defendants emailed an acknowledgement of service to the court, ticking the box that they intended to defend all of the claim, rather than intending to contest jurisdiction.


By letter dated 26 October, the defendants' solicitors wrote to Master Yoxall to alert him to the fact that the claimant had not complied with Part 7 of the CPR, among other failings, and encourage him to strike out the claim 'on his own initiative'.
A further email, sent by the defendants on 1 November, repeated their invitation for the court to strike out the claim or enter summary judgment against the claimant, but Master Yoxall made no such order 'of his own motion'.
On 7 November, 4 days after the final date for filing the acknowledgement of service, the defendants made an application to:
Have the claimant's statement of case struck out, pursuant to CPR 3.4(2); or
Have summary judgment filed against the claimant, pursuant to CPR 24.2; and
Have the claimant pay the defendants' costs of the application.
However, the claimant considered that the issue of late service was irrelevant, since the defendants 'had not disputed jurisdiction pursuant to CPR Part 11 within 14 days as required by the CPR Part 11, and because they had waived their right to challenge the jurisdiction of the court'.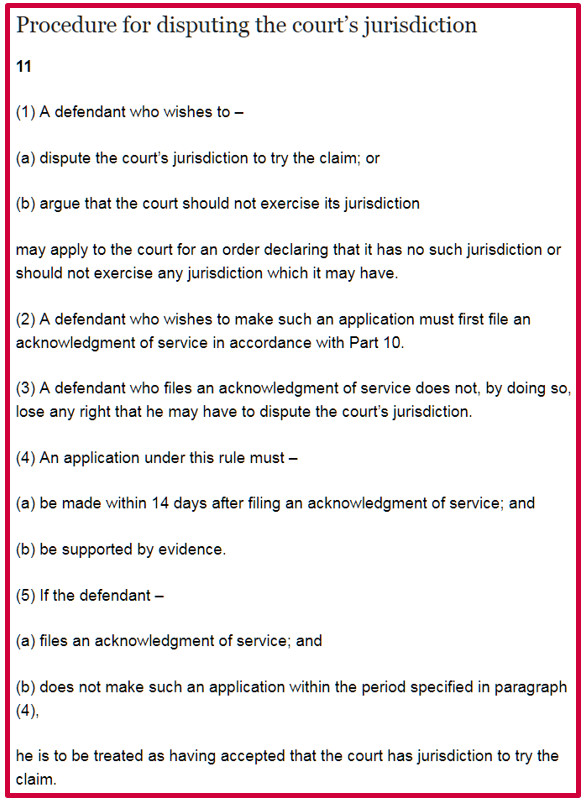 As a result, the defendants made an application to retrospectively extend the period for filing an application by 4 days, using the court's powers of case management [CPR 3.1(2)(a)]. Further, the defendants applied for relief from sanctions, so that they were 'not treated as having accepted that Court has or should exercise its jurisdiction' and their 'challenge to service'.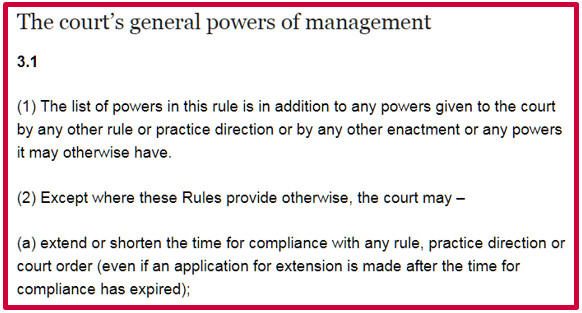 The 1st Instance Decision
Master Yoxall handed down judgment on 10 August 2018.
He noted the decision of Aktas v Adepta [2010] EWCA Civ 1170, in which Lord Justice Rix ruled that CPR Part 3.4 applies 'in terms to a statement of case rather than to a claim form' and was therefore not the correct application to make.
However, in view of the earlier decision in Hoddinott v Persimmon [2007] EWCA Civ 1203, the Master found that Aktas 'overlooked CPR Part 2.3(1) which defines a statement of case to include, among others, a claim form and particulars of claim' and concluded, at paragraph 30 of his judgment, that:
'... a defendant is entitled to strike out a claim form served out of time under CPR 3.4(2)(c)'.
In the event that he was wrong to determine that a defendant could use either CPR Part 3.4 or CPR Part 11 to contest jurisdiction, Master Yoxall went on to consider the defendants' application for a retrospective extension of time.
Applying the 3-stage test established in Denton v TH White Limited [2014] EWCA Civ 906, he established, firstly, that '... adopting the wrong application route was not a serious breach', secondly, that 'there was no good reason for the breach' and finally, that relief from sanctions should be granted when 'turning to all the circumstances of the case'.
On 11 October, the claimant was granted permission to appeal by Butcher J.
The Appeal Decision
The High Court appeal took place on 14 January 2019, before Mr Justice Dingemans.
There were 5 grounds of appeal, though the most pertinent grounds were:
Whether the defendants were wrong to apply to strike out the Claim Form and Particulars of Claim pursuant to CPR 3.4(2)(c) rather than disputing the Court's jurisdiction pursuant to CPR 11(1)(b); and if so
Whether Master Yoxall had erred in treating the CPR 3.4(2)(c) application as an application under CPR 11(1)(b) by permitting an extension of time and granting relief from sanctions.
On the 1st issue, the Judge noted case authority that described CPR 11 as having been 'inelegantly and inconsistently drafted'[i] and, despite accepting that the Aktas decision 'overlooked' CPR 2.3(1), Hoddinott was not binding. He cited Rix LJ, at paragraph 18 of Aktas, who identified that Hoddinott provided 'definitive support for the CPR 11(1) route', and went on to find that:
'... the decision in Hoddinott v Persimmon, followed in this respect by Atkas v Adepta, is clear authority, binding on both Master Yoxall and me, that an application that the court should not exercise its jurisdiction to try a claim must be made by CPR Part 11 ... In my judgment Master Yoxall was wrong to find that the application to set aside service of the claim form could be made pursuant to CPR Part 3.4'.
Moving on to the 2nd issue, the claimants contended that, because the defendant had 'not made any application under CPR Part 11 to dispute jurisdiction', whether or not Dingemans J granted an extension of time was irrelevant. Regardless, the claimant submitted that the defendants should not be granted an extension because they had 'waived their right to contest jurisdiction by failing to tick the appropriate box on the acknowledgment of service form'.
Even though no application had been made under CPR 11(1), the judge on appeal interpreted that the 'effect' of the defendants' applications (strike out and retrospective extension of time to file a Part 11 application), albeit the 'wrong' applications, could be construed as an 'application to challenge jurisdiction pursuant to CPR Part 11 and to apply for an extension of time to do so'. CPR 11 had been 'expressly addressed'. Accordingly, he went on to find in favour of the defendants and upheld the ultimate finding of the 1st instance Judge:
'Master Yoxall was entitled to permit an extension of time to challenge service by CPR Part 11 in circumstances where the point about service had been taken from the outset ... Even where the acknowledgment of service ticked only that the claim was being defended, it was accompanied by a letter identifying a point about service. In these circumstances there was no waiver of the right to dispute jurisdiction on the basis that the claim form and particulars of claim were not served in time ... Therefore Master Yoxall was entitled to extend time for the Part 11 application, and to impose a permanent stay on proceedings'.
Full text judgment can be accessed here.
[i] Texan Management Ltd v Pacific Electric Wire and Cable Co Ltd [2009] UKPC 46.