'It should be emphasised that in litigation of this type insurers are particularly vulnerable to fraudulent claims. NIHL claims often concern issues or allegations of historic exposure and potential non-occupational noise exposure over a long intervening period, and entail long-tail insurance claims where the insured and/or the relevant records no longer exist. Insurers of NIHL claims are, therefore, particularly dependent on the veracity of claimants, both as to occupational and non-occupational causes. The current case is a paradigm example of the problem with the insured company having ceased to exist some 30 years ago'.
In edition 270 of BC Disease News (here), we reported that Lord Justice Davis and Lord Justice Haddon-Cave had reserved judgment on an appeal of an employers' liability (EL) insurer's application for permission to make a committal application against a noise-induced hearing loss claimant, who discontinued his claim after an 'intelligence report' called into question the honesty of his pleadings.
This week, judgment of the Court of Appeal was handed down.
Facts of the Claim Revisited
Zurich Insurance Plc v Romaine [2019] EWCA Civ 851 regarded a £5,000 occupational deafness claim, allegedly arising out of the claimant's employment as a fridge engineer, from 1978 to 1985.
'... he denied that he had any noisy hobbies [when interviewed by Mr Hugh Wheatley, the medical expert]'. In Part 18 replies and a witness statement, also accompanied by Statements of Truth, he rebuffed suggestions that he was a professional singer, or a motorcyclist and stated that he only ever played the acoustic guitar for 'soft music ... on a very rare occasion'.
In actual fact, 'extensive investigations' revealed that the claimant was an avid motorcyclist and an electric guitarist and lead singer in 'The 501's', a live rock band, which 'regularly' performed at pubs, clubs and festivals across the south-east of England.
Considering this to be 'a clear case of simply deliberate misstatements about this man's non-occupational noise exposure', the defunct employer's insurer threatened to strike out the claim and an immediate discontinuance ensued.
Subsequently, Zurich made a CPR 81.14 application for permission to make a committal application, as was necessitated by CPR 81.18(3), on the basis that proceedings for Contempt of Court may be brought against a person that makes or causes to be made a false statement in a document verified by a statement of truth without an honest belief in its truth – see CPR 32.14 and CPR 81.17.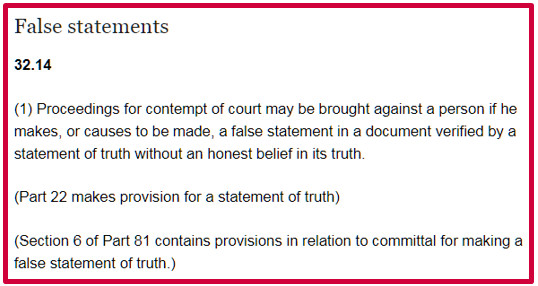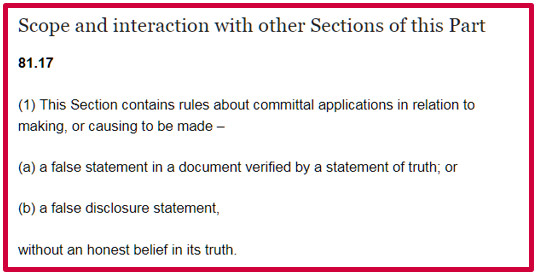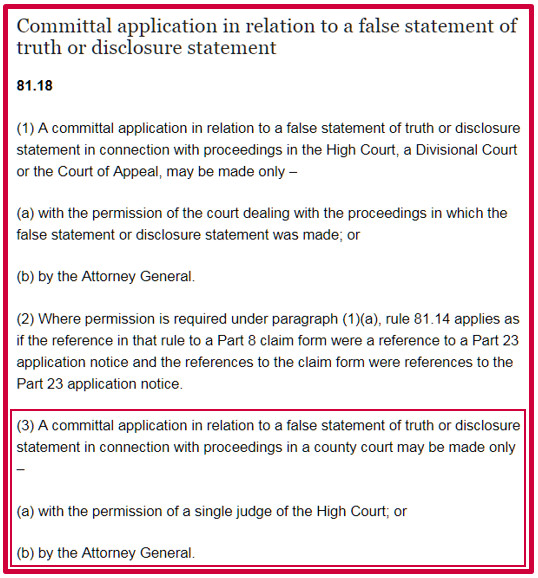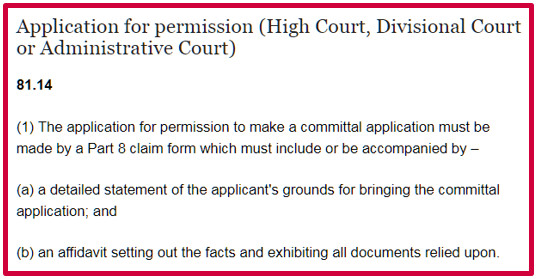 However, the High Court refused the application:
'Whilst there is good evidence of false statements being made deliberately, the documents upon which the Statement of Truth appeared were not signed by the Defendant. This is not a sufficiently strong case bearing in mind the need for great caution before granting permission.
Although it is in the public interest that dishonesty in litigation is identified publically, it is not in the public interest that committal proceedings be brought in the circumstances of this case, where the Defendant discontinued his claim at a relatively early stage of the proceedings'.
An appeal was launched with the permission of Lord Justice McCombe.
Having 'accepted that there was good evidence that Mr Romaine had been dishonest in the presentation of his claim', the appellant insurer argued that Mr Justice Goose had erred in failing to find that its 'application was not in the public interest'.
The Decision on Appeal
Haddon-Cave LJ, with whom Davis LJ agreed, allowed the appeal, finding in favour of the defendant on 3 separate grounds.
'First, the Judge [Goose J] took into account an irrelevant matter, namely the absence of any warning given to the Respondent that if he brought a claim for personal injury for hearing loss based on false statements, he ran the risk of committal proceedings'.
Although the absence of a warning may be relevant in some cases, it is difficult for a personal injury claimant to show that they have suffered prejudice if they themselves have are responsible for bringing the fraudulent claim.
'Second, the Judge failed to take into account a relevant matter, namely the mischief that early discontinuance represents in the hands of unscrupulous claimants and lawyers who engage in bringing false insurance claims'.
Labouring this point further, he contextualised insurance fraud within a deeper discussion on the post-April 2013 costs implications that burden defendant employers and insurers:
'It is clear that the modus operandi of some of those involved in fraudulent insurance claims has been to issue tranches of deliberately low-value claims (sometimes on an industrial scale) for e.g. whiplash, slips and trips etc and when confronted with resistance or evidence of falsity, simply then to drop those particular claims, in anticipation that it would probably not be worth the candle for insurers to pursue the matter further, particularly since recovery of costs can itself be time-consuming and costly and nominal claimants may be impecunious. The problem has become even more acute in recent times because of one-way cost shifting ("QOCS") and the costs of proving "fundamental dishonesty" under CPR 44.16 (and c.f. section 57 of Criminal Justice and Court Act 2015)'.
'Third, the Judge erred and was wrong to conclude that the proposed committal proceedings would not be proportionate'.
Thus, the Court of Appeal judges were able to intervene and 're-make' the original, 'flawed' decision of Goose J. It was in 'the public interest' to do so, not just in this isolated claim, but also in ongoing and future examples of low-value insurance fraud:
'... the message needs to go out to those who might be tempted to bring - or lend their names to - fraudulent claims: that dishonest claimants cannot avoid being liable to committal proceedings merely by discontinuing their original fraudulent claim'.
Davis LJ noted that the substantive hearing will likely test the claimant's contention that he was 'at all material times unaware of what was being said or written by his then solicitors', Asons.
Full text judgment can be accessed here.