On 9 May 2019, results were published on the first-ever survey to assess trauma management, working conditions and prevalence rates of (complex) post-traumatic stress disorder (PTSD) in current, serving police officers and in operational staff roles (e.g. emergency call operators[1]): Policing: The Job & The life (2018).[2] This was part of the Trauma Resilience in UK Policing project, funded by Police Care UK and working in collaboration with the University of Cambridge Department Of Sociology.
The survey sought to address key issues identified in the Police Dependants' Trust's: Injury on Duty Project (Former Police Officers) Final Report (2016), e.g. that the most frequently reported injuries among ex-police force employees were psychological / mental health issues: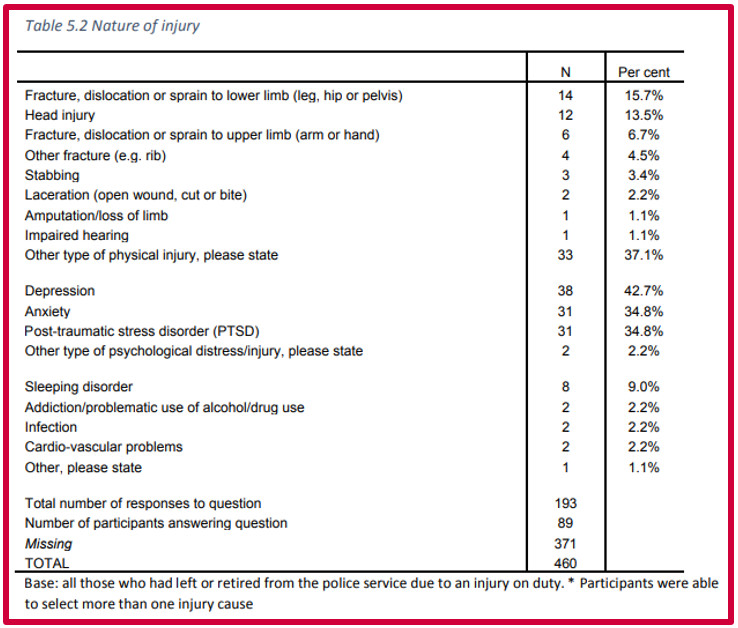 It also sought to build on the Police Federation of England & Wales (PFEW) Demand, Capacity and Welfare Survey (2018), which found that, of the 79.3% respondents that 'acknowledged having experienced stress, low mood, anxiety, or other difficulties with their mental health and wellbeing within the previous 12 months [August/September 2017 – August/September 2018]', 94.2% answered that their mental health issues were 'caused or made worse by work'. Further, 31.9% of the respondents specified that 'at least one day of their sickness absence was attributable to stress, depression, or anxiety'.
Polling for Policing: The Job & The life lasted 8 weeks and closed in December 2018, having reached a total of 18,175 individuals. A sample of 16,857 serving members of staff, from 22 forces across the UK, were selected to undertake a 15-minute online test, inspired by the European Working Conditions Survey (EWCS) (2015).
Initial results show that almost 9 in 10 (89.1%) of the policing population screened had been exposed to trauma at work, with 66% of the sampled study group reporting a psychological or mental health issue which they felt was a direct result of police work.
Around 1 in 5 of the 12,534 members exposed to trauma at work had either PTSD (7.5%) or complex PTSD (11.9%), although only 31% of cases regarded disorders prevalent in the past 12 months.

For the purposes of this survey, definitions of complex PTSD and PTSD were based on the International Classification of Diseases (ICD-11) (11th Ed.):
'PTSD involves re-experiencing, avoidance, and sense of threat. Complex PTSD involves these symptoms plus chronic trauma impacts on sense of self, emotion regulation, and relationships. In addition to the distressing personal impact of PTSD, the condition affects competency in threat perception, situational awareness and memory and this has operational implications for many policing roles'.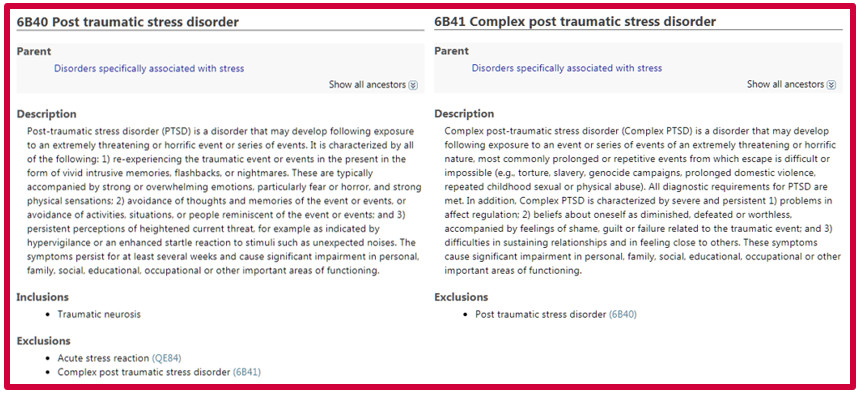 What is more, 27% of those with complex PTSD or PTSD had been told that they were suffering with a medically recognised condition:
'This means that for every 100 police officers (or staff) who have experienced traumatic events, 20 are likely to have a current diagnosis of either PTSD or CPTSD, yet only 5 will have ever been told and only 1 or 2 of those are likely have to have been clinically diagnosed'.
The 20% (chronic) PTSD rate observed in the police force has been branded 'a clinical and public sector crisis' by University of Cambridge Neuropsychologist, Dr Jessica Miller, PhD, with incidence 5-times more common in staff than in the general population:[3]
'Without decent interventions and monitoring for trauma impact, and a national conversation involving the Home Office and Department of Health, the alarming levels of PTSD our study has uncovered will stay the same'.[4]
In respect of co-morbidities, those with complex PTSD had a 3-fold rate of cardiovascular disease (11%), a 2-fold rate of gastrointestinal issues (53%) and a 2-fold rate of immune disorders (11%), when compared against unaffected (no disorder) respondents.
When the respondents were asked how they would react to psychological health issues, including stress, depression and anxiety, 93% said that they would 'go to work as usual ... rather than take time off', while 55% reported 'hardly ever having time to process' their issues before being called out to the next incident. That being said, the longest duration of absence (48 days) was attributed to 'psychological injury as a result of a traumatic incident'.
73% said they accessed formal, or informal, help. Only 16% of formal help [typically cognitive behavioural therapy (CBT), trauma risk management (TRiM) and eye movement desensitization and reprocessing (EMDR)] was provided by the police force, i.e. by Occupational Health or by staff association. The remaining 84% of formal help was pursued independently, often resulting in medicinal, counselling and CBT / mindfulness therapies.
Given that the majority of formal help was consulted independently, it is unsurprising that 65% of the respondents considered that trauma impact was 'not well managed in their force'
This year, the full Police Care UK report will be published, along with peer-reviewed articles in neuropsychology, policing and sociology academic journals. With any hope, analysis will convey how (complex) PTSD in UK policing compares to other jobs and other countries.[5]
It is apparent, from Policing: The Job & The life, that UK police and staff score significantly lower on World Health Organisation (WHO) subjective wellbeing indices than the top 80% of employed persons in other UK sectors (below a score of 48/100 for 60% of police staff and 93% of police staff with complex PTSD).
As a preliminary attempt to tackle mental health issues in policing, the Home Office has invested £7.5 million on a national Police Wellbeing Service. In April, the Service was launched, with the oversight of the College of Policing, to provide expertise to forces across England and Wales on occupational mental health.
Nonetheless, Ché Donald, National Vice-Chair of the Police Federation of England and Wales, has called for more Governmental funding:
'We need significant, centrally-funded investment and we need it now'.[6]
Police Care UK Chief Executive, Gill Scott-Moore, added:
'There is no comprehensive strategy to tackle the issue of mental health in policing, and that has to change. The service has real challenges around recognising and responding to the signs and symptoms of trauma exposure and is heavily reliant upon generic NHS provision that isn't equipped for the specialist treatment needed'.[7]
On 9 May, in the House of Commons, Labour MP, Stephanie Peacock, cited the Police Care UK research:[8]
'A recent study of 17,000 police personnel across the UK found that 95% of officers and two thirds of operational police staff have been exposed to traumatic events, with 20% reporting symptoms consistent with post-traumatic stress disorder. Will the Government consider making a statement on this health crisis in our police service?'
On behalf of the Government, the Leader of the House of Commons, Andrea Leadsom MP, responded as follows:
'The report that came out was extremely concerning, and this is an opportunity to pay tribute to the police for all the amazing work they do to keep us safe. The hon. Lady will know that, as part of our NHS long-term plan, mental health and support for mental health issues are a high priority, as is achieving parity of esteem between mental health and physical health. We will see much more support available in the years to come. Nevertheless, she is right to raise the issue. I encourage her to seek an Adjournment debate perhaps to discuss it directly with Ministers'.
In the coming weeks, we will be looking out for details of an Adjournment debate on the subject.
[1] Ryan Wilkinson & Kirsty Bosley, 'Shocking figures reveal one in five police officers suffer from PTSD' (Manchester Evening News) <https://www.manchestereveningnews.co.uk/news/uk-news/shocking-figures-reveal-one-five-16247598> accessed 17 May 2019.
[2] 'Policing: The Job & The Life' (Police Dependants' Trust) <http://www.thejobthelife.co.uk/> accessed 17 May 2019.
[3] Danny Shaw, 'PTSD 'at crisis levels' among police officers'' (9 May 2019 BBC) <https://www.bbc.co.uk/news/uk-48201088> accessed 17 May 2019.
[4] 'One in five police officers in UK suffer from PTSD, study finds' (9 May 2019 Guardian) <https://www.theguardian.com/uk-news/2019/may/09/one-in-five-police-officers-in-uk-suffer-from-ptsd-study-finds> accessed 17 May 2019.
[5] '"Policing: The Job & The life" Survey 2018' (University of Cambridge) <https://www.policingtrauma.sociology.cam.ac.uk/survey> accessed 17 May 2019.
[6] 'POLICE WORKFORCE: ALMOST ONE IN FIVE SUFFER WITH A FORM OF PTSD' (University of Cambridge) <https://www.cam.ac.uk/policeptsd> accessed 17 May 2019.
[7] 'Cambridge University study reveals PTSD in the police' (9 May 2019 ITV) <https://www.itv.com/news/anglia/2019-05-09/cambridge-university-study-reveals-ptsd-in-the-police/> accessed 17 May 2019.
[8] 'Business of the House' (9 May 2019 TheyWorkForYou) <https://www.theyworkforyou.com/debates/?id=2019-05-09a.669.0> accessed 17 May 2019.