In edition 267 of BC Disease News (here), we first discussed the facts surrounding the 3rd US product liability case (of around 13,400) to assert that glyphosate, the active ingredient in Roundup and Ranger Pro herbicides, causes non-Hodgkin lymphoma (NHL). Of course, this claim is predominantly based on the International Agency for Research on Cancer's (IARC) classification of glyphosate as 'probably carcinogenic to humans' (Group 2A), in 2015.
In US lawsuits, claimants also assert that defendant manufacturer, Monsanto, was aware of the lymphatic cancer risk, but attempted to hide the truth from scientists and regulators over warning consumers.
Bayer, on behalf of Monsanto, has consistently denied these allegations.
The 3rd case was brought by Alva and Alberta Pilliod, who regularly sprayed Roundup on their residential property from 1975 until 2011. In June 2011, Mr. Pilliod was diagnosed with diffuse large B-cell lymphoma (DLBCL), the most common NHL-sub-type that accounts for 25-35% of all NHL cases. Subsequently, in March 2015, Mrs. Pilliod was diagnosed with primary central nervous system lymphoma (PCNSL), a rare sub-type of DLBCL that accounts for 2-3% of all NHL cases.
Although the couple, aged 77 and 75, are currently in remission, they both take 'maintenance' chemotherapy drugs to avoid relapse and prolong their life expectancies.
On 28 March, the trial of liability began in Oakland, California.[i]
This week, proceedings concluded, with the jury finding in favour of the claimants. Bayer AG, the pharmaceutical giant which acquired Monsanto in June 2018 as part of a $63 billion purchase, was ordered to pay more than $2.055 billion (£1.590 billion) in damages – the largest compensation payout since the landmark ruling (reported here), in August 2018 ($289 million).[ii]
However, only $55 million of the total damages in the Pilliod case are compensatory in nature, meaning that the bulk of the damages ($2 billion) constitute punitive damages.
It is likely that the punitive award will be reduced if the decision is appealed to the California Supreme Court, where the ratio of punitive to compensatory damages is 9:1. Based on a $55 million compensation award, the maximum punitive award on appeal would be $495 million.[iii]
Flowchart: The California Judicial System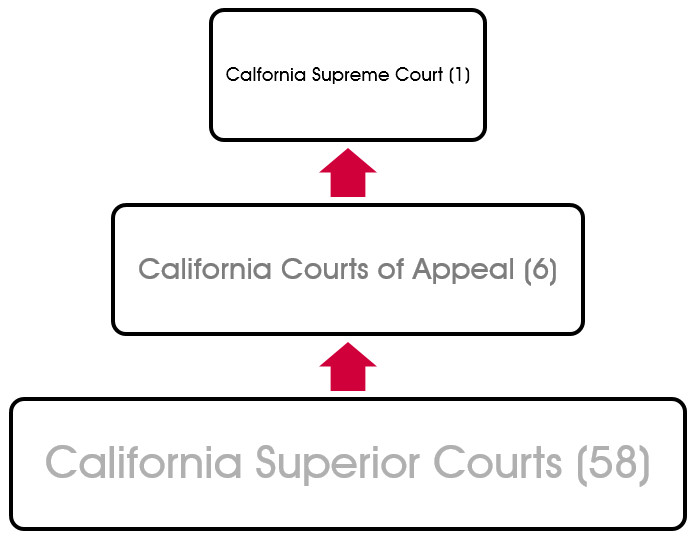 In April, the US Environmental Protection Agency (EPA) re-stated its initial 2017 declaration that glyphosate poses 'no risks of concern' for humans – we reported on the Agency's Glyphosate Proposed Interim Decision in edition 272 (here).
Nevertheless, California Superior Court Judge Winifred Smith referred to the Agency's latest reassurance as mere 'comment' on existing science and thus prevented Bayer from relying on the Interim Decision in Court submissions. Bayer expressed its disappointment, post-verdict, that the decision clearly contravenes the position of federal Government.
'The consensus among leading health regulators worldwide [is] that glyphosate-based products can be used safely and that glyphosate is not carcinogenic ... the evidence in this case was clear that both have long histories of illnesses known to be substantial risk factors for non-Hodgkin's lymphoma ... and there is not reliable scientific evidence to conclude that glyphosate-based herbicides were the 'but for' cause of their illnesses as the jury was required to find in this case'.[iv]
With 3 consecutive US jury verdicts now ruling against Bayer, its share price has suffered dramatically and this has not gone unnoticed by shareholders. Indeed, at the annual general meeting (AGM), in late April (reported here), the Executive Board received an approval rating of just 55%, prompting a Supervisory Board meeting to discuss the 'crisis of confidence' in management leadership.
Figure: Bayer AG Share Price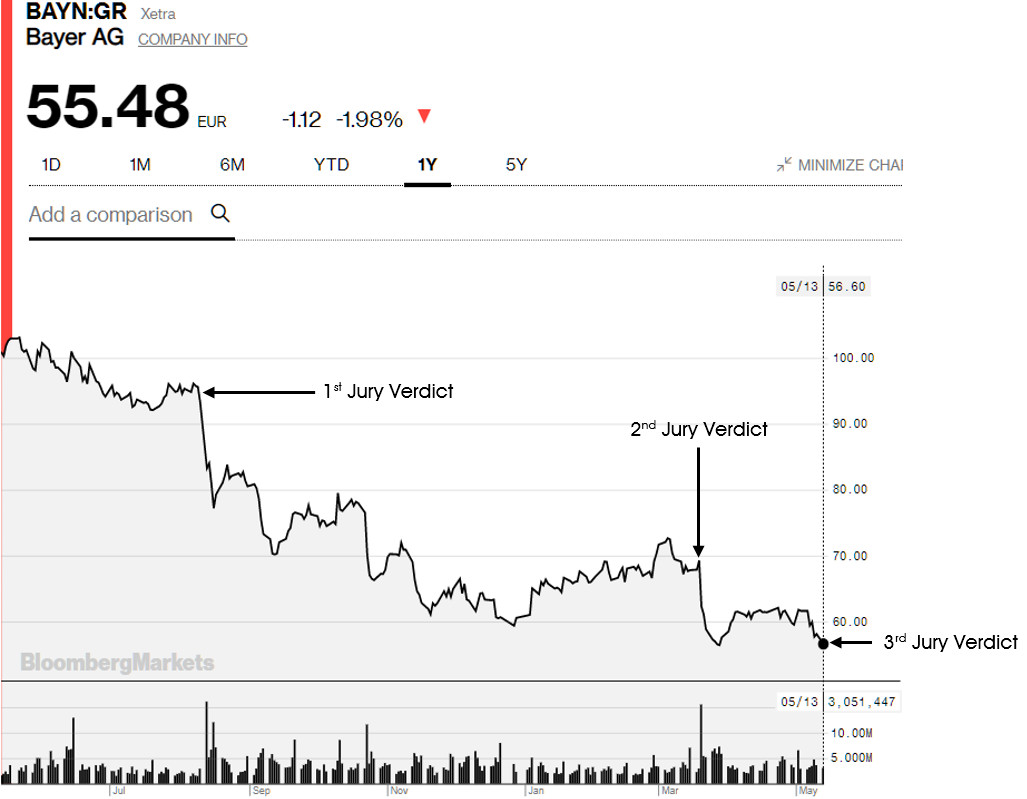 (Source: Bloomberg)
Many UK retailers are still selling Roundup herbicide, both in-store and online, despite ongoing uncertainty over product safety. Wickes, Homebase, B&Q, Sainsbury's, Robert Dyas, Amazon and eBay are among the stockists identified. A Homebase spokesperson told The Sun:
'Following a review of our product range last year, we have added a number of glyphosate alternatives'.[v]
[i] Alva and Alberta Pilliod v. Monsanto Co. (Case No. RG17862702, JCCP No. 4953).
[ii] 'California jury orders Monsanto to pay $2 billion damages to a couple who got cancer from Roundup weedkiller' (14 May 2019 The Telegraph) <https://www.telegraph.co.uk/news/2019/05/14/california-jury-orders-monsanto-pay-2-billion-damages-couple/> accessed 14 May 2019.
[iii] Tina Bellon, 'CORRECTED-UPDATE 4-California jury hits Bayer with $2 bln award in Roundup cancer trial' (13 May 2019 Reuters) <https://uk.reuters.com/article/bayer-glyphosate-lawsuit/update-2-california-jury-hits-bayer-with-2-bln-award-in-roundup-cancer-trial-idUKL2N22P1JO> accessed 14 May 2019.
[iv] Tobias Buck, 'Bayer shares hit after $2bn Roundup weedkiller damages' (12 May 2019 Financial Times) <https://www.ft.com/content/5962f14a-7327-11e9-bf5c-6eeb837566c5> accessed 17 May 2019.
[v] Hana Carter, '"CANCER" RISK Roundup weedkiller still for sale in UK shops despite US court rulings it causes cancer' (16 May 2019 The Sun) <https://www.thesun.co.uk/news/9085423/roundup-weedkiller-sale-cancer/> accessed 17 May 2019.