At the end of March, the Office for National Statistics (ONS) published statistics on mortality in teaching and educational professionals, where the underlying cause was mesothelioma.[i]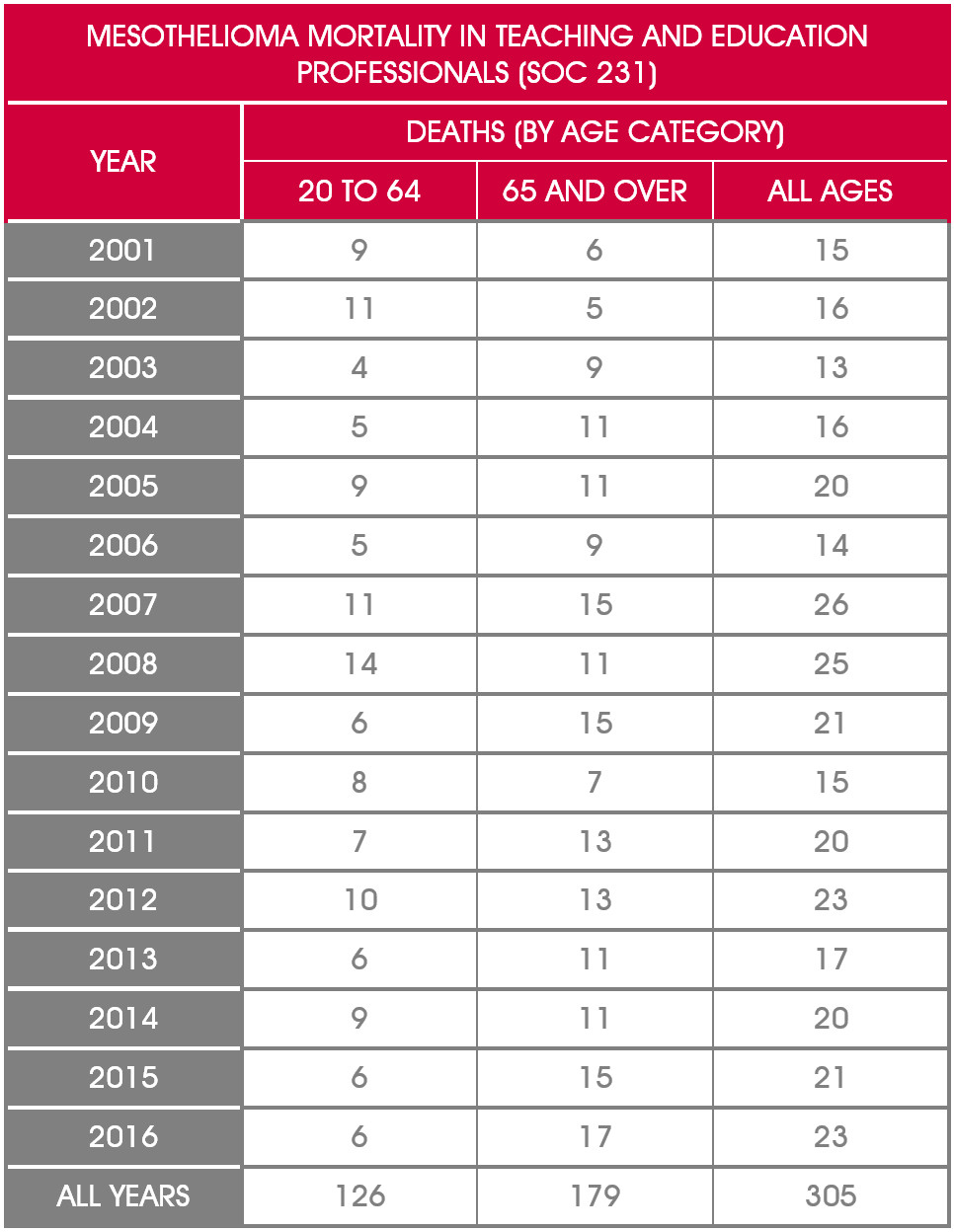 Over the 10-year period, between 2007 and 2016, 211 teachers died of mesothelioma, 128 (61%) of whom were 65-years-old and above. Over the whole period measured (since 2001), 305 teachers were victims of the fatal disease, 179 (59%) of whom fell into the post-retirement age category. The graph below demonstrates how mesothelioma mortality has consistently affected the profession throughout the review period.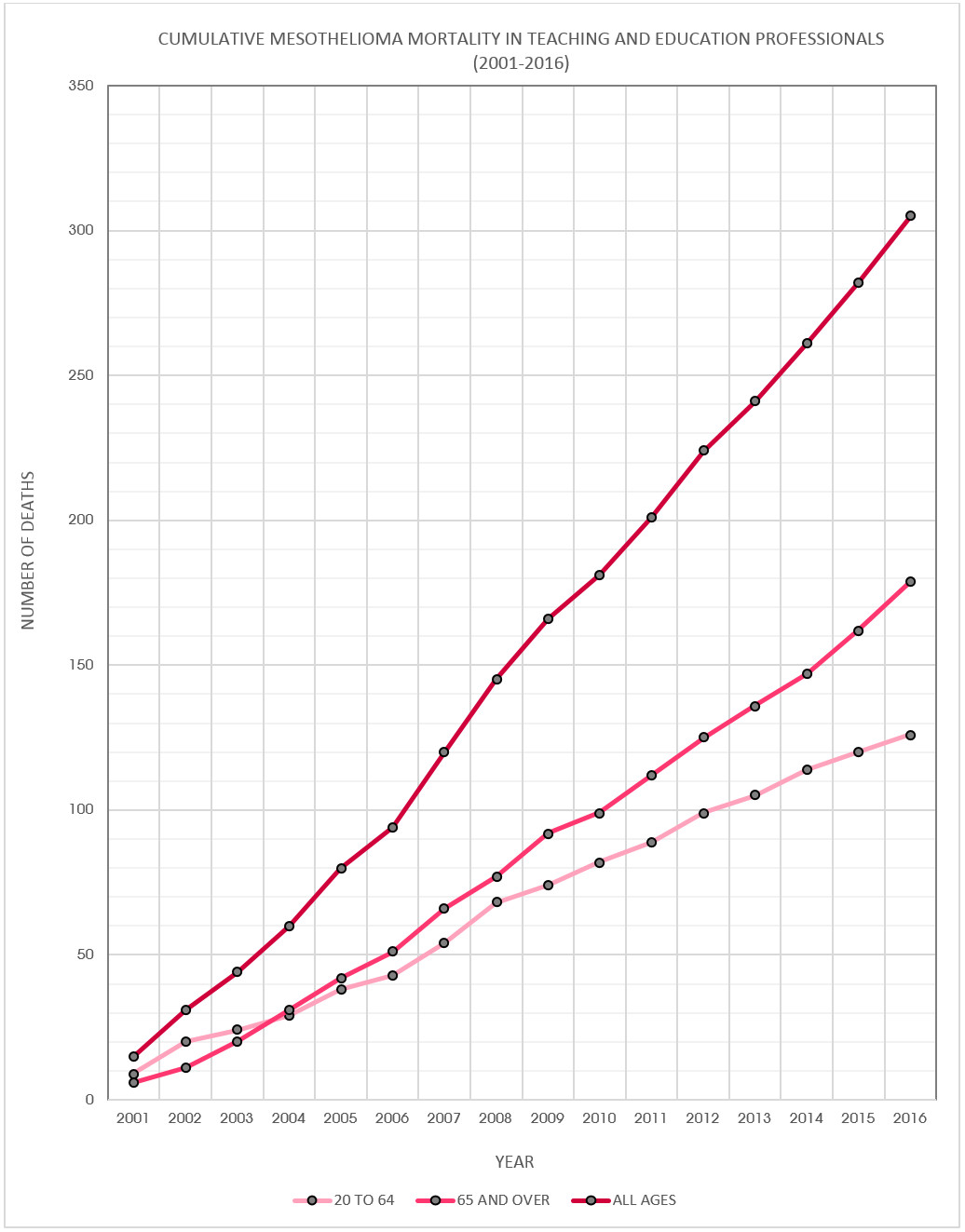 Dr Mary Bousted, Joint General Secretary of the National Education Union (NEU), has described these figures as 'shocking':
'Education staff are at risk but of even greater concern are children, who are more vulnerable to developing mesothelioma if exposed at a young age. The only certain way to prevent future deaths is to rid our educational buildings of this deadly material'.[ii]
Tabloid media broadcasting of occupational asbestos exposure has gained traction with Britain's largest and most influential teachers' unions – an example being The Daily Mirror Asbestos Time Bomb Campaign, which is requesting a national audit of all 23,000 schools in England. The campaign motion, which is supported by 102 ministerial signatures, was first tabled in Parliamentary debate on 10 March 2009, and called for:
'... the reintroduction of compensation for the victims of pleural plaques, the establishment of a centre for asbestos-related diseases to find better treatments, the introduction of an employers' liability insurance bureau for victims who cannot trace their employer or their insurer, the publication of a register of all asbestos surveys carried out on public buildings and more resources for the Health and Safety Executive in order to meet its target for inspecting asbestos removal work'.[iii]
On 18 April, the Government reassured the opposition that it is taking action to ensure that asbestos does not pose a danger in schools. When asked by Labour MP, Stephanie Peacock, 'what recent estimate ... [the Department of Education had] ... made of the cost to the public purse of removing asbestos from school buildings', the Secretary of State for Education, the Rt Hon Nick Gibb MP, gave the following written response:
'The Department has not determined the cost to the public purse of removing asbestos from the entire school estate, as the decision to remove asbestos is made on a case by case basis.
Expert advice from the Health and Safety Executive is that if asbestos is unlikely to be damaged or disturbed, then it is best managed in situ. The Department is clear that if asbestos does pose a safety risk and cannot be effectively managed in situ, then it should be removed from schools.
Since 2015, the Department has allocated over £7.4 billion to those responsible for school buildings to maintain and improve the school estate, including removing asbestos when it is the safest course of action. In addition to this, asbestos is a factor in choosing which buildings to re-build through the Priority School Building Programme'.[iv]
Of course, building materials are not the only recognised asbestos-related risk in schools in recent times. In edition 246 of BC Disease News (here), we reported that the Health and Safety Executive (HSE) had taken action against 2 UK companies that were supplying schools with asbestos-containing gauze mats, commonly used as a platform for heating substances above Bunsen burners in science classes.
[i] The number of deaths where the underlying cause was mesothelioma, for teaching and educational professionals in England, deaths occurring between 2001 and 2016' (28 March 2019 Office for National Statistics) <https://www.ons.gov.uk/peoplepopulationandcommunity/birthsdeathsandmarriages/deaths/adhocs/009791thenumberofdeathswheretheunderlyingcausewasmesotheliomaforteachingandeducationalprofessionalsinenglanddeathsoccurringbetween2001and2016> accessed 9 May 2019.
[ii] Mark Ellis, 'More than 200 teachers died from asbestos – and kids are at risk in the classroom' (5 May 2019 The Mirror) <https://www.mirror.co.uk/news/uk-news/more-200-teachers-die-asbestos-15001788> accessed 9 May 2019.
[iii] THE DAILY MIRROR ASBESTOS TIME BOMB CAMPAIGN, EDM #1052, 2008-09 Session (UK Parliament) <https://edm.parliament.uk/early-day-motion/38150> accessed 9 May 2019.
[iv] 'Daily Report' (18 April 2019 House of Commons) <https://qnadailyreport.blob.core.windows.net/qnadailyreportxml/Written-Questions-Answers-Statements-Daily-Report-Commons-2019-04-18.pdf> accessed 9 May 2019.