In edition 265 of BC Disease News (here), we reported that 39-year-old, ex-Royal Marines Platoon Weapons Instructor, Alistair Inglis, had reached an agreement with the Ministry of Defence (MoD), in respect of liability in a military deafness claim (noise-induced hearing loss and tinnitus).
The claimant had been 'exposed to noise from thousands of rounds of ammunition, thunder flash stun grenades, helicopters and other aircraft and explosive devices'.
At the time, we publicised that issues had been resolved '80:20 in the claimant's favour', which meant that the court would no longer rule on the issue of when military personnel are owed a duty of care, i.e. whether 'combat activity' should be immune from legal action.
However, it was still necessary for Mr. Peter Marquand, sitting as a Deputy High Court Judge, to determine a suitable award of damages. When we first reported on the facts of the Inglis case, in a January edition of BCDN (here), it was disclosed that the claimant was seeking damages of £1,275,899, in his schedule of loss.
In view of the fact that the top Judicial College (JC) Guidelines (14th edition) bracket, labelled 'Severe tinnitus and hearing loss', provides for general damages up to £39,940 (with the 10% uplift), the claim was predominantly made up of special damages.
The claimant was relatively young and asserted that 'problems he had experienced with his hearing' had forced him out of a 'lucrative line of work', including the right to receive a full pension (after 22 years of service):
'[It was] highly unlikely that [Mr. Inglis] would have abandoned his successful military career and those mid-term financial rewards had it not been for his noise-induced hearing problems'.
By contrast, the defendant employer submitted that that, having voluntarily discharged himself, the claimant was still 'fit for all duties', with 'no prospect of being medically discharged'. Thus, there could be no award for future loss of earnings.
In any event, according to the defendant's witness, it was 'likely that [Mr. Inglis] would have been offered employment in a specialisation with reduced noise exposure', had he maintained his role. His subsequent role, in maritime security, was not only 'an occupation that involves exposure to gunfire', but also paid him 'considerably more'. His post-civilian salary (his current Health and Safety Office role) was calculated to be 'broadly similar' to his earnings 'had he not suffered noise-induced hearing loss'.
Much of the High Court judgment, handed down this week, was purely factual – we will therefore only consider the parts of the judgment which concerned contentious legal arguments.
Why Did the Claimant Leave the Royal Marines?
On the balance of probabilities and resolving the issues discussed above, Mr. Marquand accepted the claimant's assertion that he left the Royal Marines as a result of his hearing loss. For completeness, see paragraphs 89 and 90 of the High Court judgment on the claimant's motivations for 'voluntarily' discharging himself:
'As a Royal Marine he was earning £26,000 per annum net but in maritime security he earned in the region of £40,000 a year net at a time with his wife was not working. Whilst the popularity of moving from the Royal Marines to maritime security at the time may raise a suspicion that an individual's motives were financial, on the basis of the Claimant's evidence, which I have already said I accept, it was not the primary motivation or reason in the case of this Claimant ... the Claimant was concerned that his hearing would deteriorate, given what had been told and experienced. The Claimant would have had to weigh up the loss of clear career progression within the Royal Marines, the loss of his potential pension, which I accept he was aware of in general terms and the potential of continued hearing damage by continued noise exposure and the possibility of a medical discharge. Whilst I accept ... that there was career progression within maritime security, I do not accept this is in any way comparable to the career progression within the Royal Marines. There is no evidence that the Claimant was in an immediately precarious financial position and therefore needed to leave the Royal Marines in order to obtain an immediately increased income. The fact that the Claimant chose to go to a more precarious employment supports the conclusion that his primary motivation was to avoid continued damage to his hearing.
I accept the evidence that there was a possibility of the Claimant being redeployed within the Royal Marines in a job that would have had less exposure to damaging noise. However, the Royal Marines were fully staffed at that time and it is unlikely that such a job would have been available for the Claimant, although on the evidence it was a possibility. However, what is relevant is the Claimant's perception of his own position. It is of particular relevance that despite being told to reduce his exposure to noise by medical officers or by that information being sent to his medical officers, there is no evidence that steps were taken to discuss this with the Claimant or to reduce his exposure to noise ... The Claimant was aware of others who had suffered injury, albeit of a different nature and degree, who had not been redeployed. I accept that the Claimant had real fears that he was at risk of a medical discharge'.
Was the Claimant 'Disabled', within the Meaning of the Ogden Tables?
When assessing lump sum future loss awards, it is necessary to establish the multiplicand (the annual shortfall in earnings) and the multiplier (a reflection of the Claimant's future years in employment).
The multiplier is affected, at least in-part, by the question of whether the claimant is disabled or not. There was a discrepancy over whether the claimant met the criteria, found in the Ogden Tables and in s.6 of the Equality Act 2010.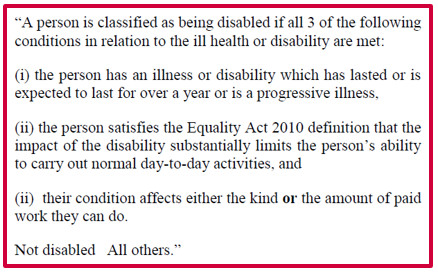 Ultimately, the Judge favoured claimant counsel's contention that the claimant was 'disabled', reasoning, at paragraphs 161 to 163:
'There is no dispute that the Claimant meets the first limb of the test for disability as his hearing loss is permanent ... Even with his hearing aids he has difficulty in his work environment hearing conversations in meetings, speaking on the telephone and in meetings outside including when working on-site. Without his hearing aids those effects would be worse, although not by much as there is not a significant improvement according to the evidence, which I have already accepted. Those are adverse effects which impact on his ability to carry out his normal day-to-day activities, especially in his work place. Some impacts may be trivial on their own, such as not hearing the oven timer or a person speaking from another room at home, however, taking all of the effects together, as per the Equality Act Guidance, I am satisfied the impact of the Claimant's disability is more than trivial and substantially limits his ability to carry out normal day-to-day activities.
The issue in the third limb of the test is not the amount of work that the Claimant can undertake but the "kind of work". On the basis of the agreed expert evidence there is a limitation on the Claimant in the kind of work that he can undertake by virtue of needing to minimise background noise.
Accordingly, my conclusion is that the Claimant's hearing loss and the effect of that on him means that he meets the definition of disability within the Ogden Tables'.
Seeing that the Claimant was 'Disabled', was a Smith v Manchester[i] Award Preferential to Ogden?
As an alternative to the conventional multiplier and multiplicand approach, another method is to award a lump sum for a handicap in the labour market, otherwise known as a Smith v Manchester award.
On this issue, defendant counsel requested that Mr. Marquand follow the approach taken in Billett v Ministry of Defence [2005] EWCA Civ 773, in which the non-freezing cold injury (NFCI) claimant was 'only just' disabled. In that instance, Jackson LJ criticised 'reduction factor' calculations (accounting for disability as a contingency), using Tables A – D, as being:
'... no more scientific than the broad-brush judgement which the court makes when carrying out a Smith v Manchester assessment'.
In Inglis, however, the High Court Judge concluded that this was not an appropriate ('minimal impact' disability) case for a Smith v Manchester award:
'The uncertainties are not so many as to preclude the multiplier/multiplicand method. The Claimant's injury has a more than minimal impact on his work and the evidence is available to determine an adjustment to the RF without making a broad judgment. Future loss of earnings can be calculated on the conventional multiplier/multiplicand method'.
A figure of £257,518 for future loss of earnings was awarded, based on a 'reduction factor' of 0.7.
What about Pain, Suffering and Loss of Amenity?
In regards to general damages, again, Mr. Marquand preferred the submissions of claimant counsel, who argued that the appropriate figure should 'straddle' categories 5 (B)(d)(i) and d(ii) of the JC Guidelines ('Partial Hearing Loss or/and Tinnitus').
The claimant's average estimated NIHL, across 1, 2, and 4 kHz, was 16 dB and 17.7 dB, in the right and left ear, respectively. Further, his need for hearing aids had been advanced by around 30 years.
As such, the High Court Judge made an award of £25,000, offering the following justification:
'The Claimant's hearing is affected in social situations, but this is improved by wearing hearing aids. The impact of his hearing loss is more significant in his working life and is not improved significantly by hearing aids. The impact of noise damage on his hearing was first identified in 2006 when the Claimant was in his mid-20s and he now has the hearing of a 70-year-old. His tinnitus affects his ability to sleep and is intrusive although improved by the hearing aids and may be described as moderate'.
The End Result
Quantum was agreed in full, per the table below (subject to an interest calculation and a further 20% reduction).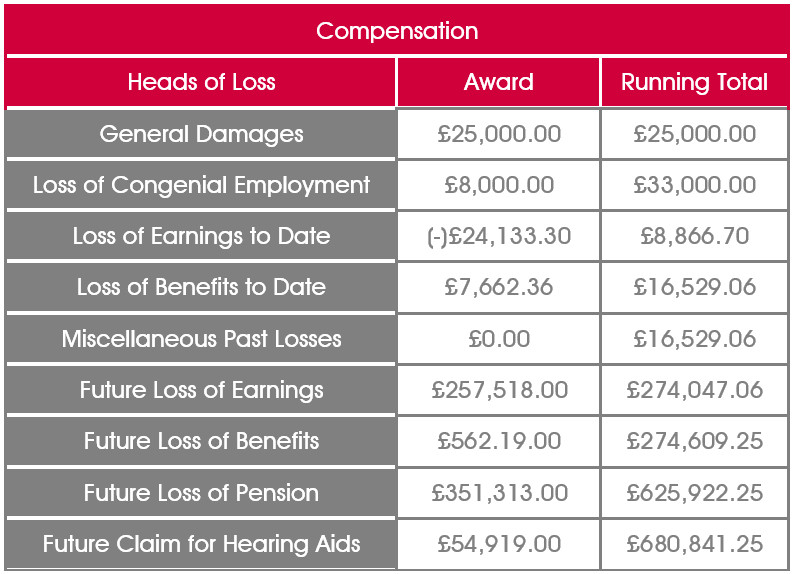 12 King's Bench Walk Chambers revealed that the final total award was £545,766.[ii]
The defendant applied for permission to appeal on both factual and legal grounds, but the application was unsuccessful.
Full text judgment can be accessed here.
Quality of Audiologists
As an aside, it is worthwhile to note that during court discussion on the extent of the claimant's hearing loss, Professor Moore (for the claimant) was preferred to Mr. Byrom (for the defendant), in respect of audiological evidence adduced. This ultimately led to the Court finding that the claimant would benefit from hearing aids. Mr. Marquand referred to Mr. Byrom as being 'defensive and on occasion flippant'. Whereas, the Judge praised Professor Moore's expertise on 'the intelligibility of speech and the design and efficacy of hearing aids', which were central issues arising in Inglis.
The incongruity of expert opinion between efficacy of hearing aids and intelligibility of speech in background noise (speech intelligibility) will undoubtedly continue into subsequent NIHL decisions.
[i] (1974) 17 KIR 1.
[ii] Harry Steinberg QC, 'Former Royal Marine represented by Harry Steinberg QC is awarded over £500,000 for noise-induced hearing loss' (8 May 2019 12 KBW) <https://www.12kbw.co.uk/former-royal-marine-represented-by-harry-steinberg-qc-recovers-over-500000-for-noise-induced-hearing-loss/> accessed 10 May 2019.