Lung cancer is the most common cause of cancer morbidity in the UK. According to the Office for National Statistics, in 2016, the cancer type accounted for 21% of all cancer deaths.[i]
Nevertheless, over the past decade, British lung cancer mortality has decreased by around 9%.[ii]
Cancer Research UK states that 72% of lung cancer cases are caused by smoking cigarettes, citing ionising radiation (5%), workplace exposures (13%) and air pollution (8%) as other causes.
By contrast, in research published last month, a group of respiratory medicine and Public Health England (PHE) experts found that, of all the 'overlapping and ubiquitous' risk factors, smoking contributes towards a higher percentage (86%) of lung cancer cases.
More significantly, the published article, in the Journal of the Royal Society of Medicine,[iii] identified that 6,000 'never-smokers' (people who smoked less than 100 cigarettes in their lifetime) are diagnosed with lung cancer every year. These individuals may be exposed to second-hand smoke (15%), occupational carcinogens (20.5% in men and 4.3% in women), outdoor pollution (8%), X-ray radiation (0.8%) and/or radon (0.5%). Specific reference was also made to solid fuel exposure during indoor cooking.
Ultimately, non-smoking lung cancer has been held out as the 8th most common cause of cancer-related death, affecting women twice (20%) as much as men (10%), and the study authors believe that the condition should be given greater recognition.[iv]
To put this ranking into context, here is a list of annual mortality statistics for other cancer types:
Cervical cancer – 900 deaths;
Lymphoma – 5,200 deaths;
Leukaemia – 4,500 deaths; and
Ovarian cancer – 4,200 deaths.
While smoking remains the 'largest modifiable risk factor' for lung cancer, smoking rates are declining and co-author and Clinical Director of the Centre for Cancer Outcomes at the University College London Hospitals Cancer Collaborative, Professor Mick Peake, predicts that there 'could come a point in the future when lung cancer in non-smokers … overtake smoking-related lung cancers'.
However, PHE receives almost 9 times less funding for every lung cancer death (£400), compared to every breast cancer death (£3,500). Less funding has meant that the survival rate has improved by just 2% since the 1970's. In the same time period, breast cancer survival has improved by 38.5%. Employers' liability (EL) and public liability (PL) lung cancer claims are therefore more likely to be fatal claims if funding does not increase.
Irrespective of 'advances in understanding', lead author, PHE Director for Health Protection & Medical Director, Professor Paul Cosford, attributes stalling survival progress to the traditional stigmatisation of lung cancer as a 'smokers' disease':
'For too long having lung cancer has only been thought of as a smoking related disease. This remains an important association but, as this work shows, the scale of the challenge means there is a need to raise awareness with clinicians and policy makers of the other risk factors including indoor and outdoor air pollution'.
Enhanced awareness must also filter down to the public, who may be under the impression that they cannot develop lung cancer because they have 'never smoked', thereby delaying diagnosis and decreasing the probability of receiving curative treatment.
Given that incidence of lung cancer in non-smokers appears to be on the rise, with surgical procedures among non-smokers having more than doubled (from 13% to 28%) between 2008 and 2014, it may be necessary to change the national perception of lung cancer sooner rather than later.
In editions 263 (here) and 250 (here) of BC Disease News we provided information on the Diesel Exhaust Mitigation Study (DEMiSt), an air pollution project led by Kings College London and funded by the Institute of Occupational Safety and Health (IOSH).
DEMiSt results may be more of more crucial relevance than initially hypothesised, as PHE experts have opined that 'at least 450 people who have never smoked die of lung cancer per year as a result of outdoor air pollution'.
Incidentally, earlier this week, London adopted new measures to reduce vehicle exhaust fumes as a prominent cause of air pollution in the capital.[v] Ultra Low Emissions Zones (ULEZ) became effective from 1 May 2019 and operate within the same areas as the current Congestion Charging Zone (CCZ).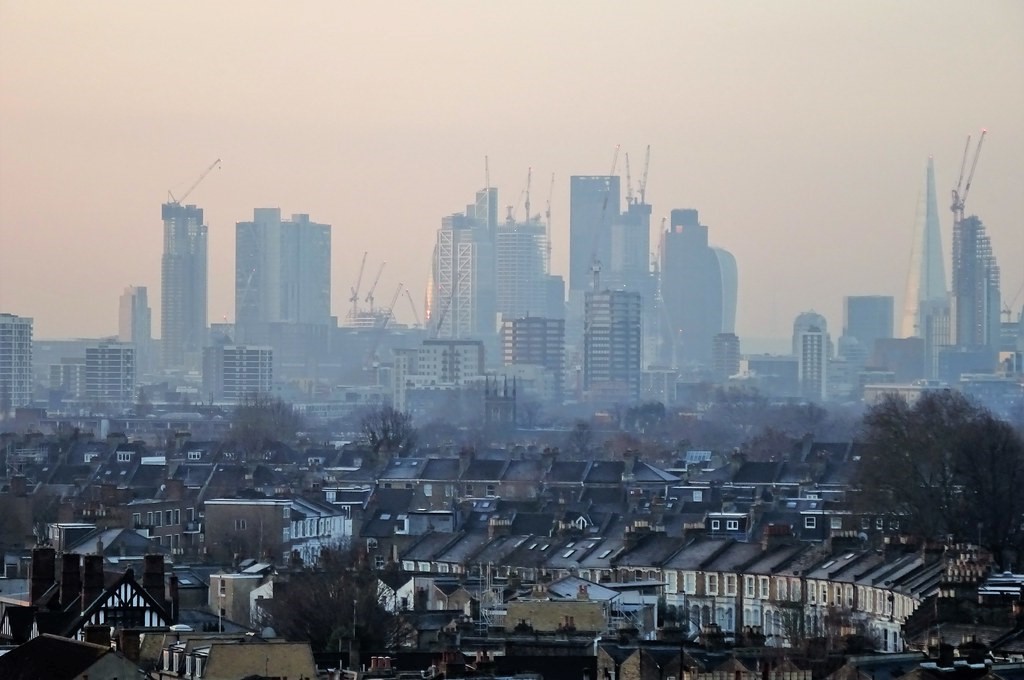 (Source: Flickr)
[i] 'Deaths' (ONS) <http://www.ons.gov.uk/peoplepopulationandcommunity/birthsdeathsandmarriages/deaths> accessed 2 May 2019.
[ii] Lung cancer statistics (Cancer Research UK) <https://www.cancerresearchuk.org/health-professional/cancer-statistics/statistics-by-cancer-type/lung-cancer#heading-One> accessed 2 May 2019.
[iii] Bhopal A. et al, (2019) Lung cancer in never-smokers: a hidden disease. Journal of the Royal Society of Medicine <https://journals.sagepub.com/doi/full/10.1177/0141076819843654> accessed 2 May 2019.
[iv] Sarah Knapton, '6,000 non-smokers die of lung cancer every year, warn Public Health England' (The Telegraph) <https://www.telegraph.co.uk/science/2019/04/25/6000-non-smokers-die-lung-cancer-every-year-warn-public-health/> accessed 2 May 2019.
[v] 'London's Ultra Low Emission Zone is essential to the public's respiratory health' (30 April 2019 Open Access Government) <https://www.openaccessgovernment.org/ulez-publics-respiratory-health/64162/> accessed 3 May 2019.