Today, Bayer AG had its annual general meeting (AGM), in which shareholders had a vote of confidence on the management board's decision-making since the last AGM, where its approval rating stood at 97% - 2% above the norm in Germany.
Whether or not the shareholders pledged their support for the company's executive board was expected to revolve around the handling of the $63 billion acquisition of Monsanto, in June 2018, coined 'the world's biggest and most powerful agribusiness corporation' merger in history.
As a result, this vote 'is seen as a key gauge of shareholder sentiment'.
Even though Linklaters reassured Bayer's supervisory board that management had complied with its fiduciary duties, upon completion of the Monsanto deal,[i] the company is now entangled in more than 11,200 product liability claims, wherein claimants allege that repeated use of Monsanto-produced glyphosate-containing herbicide (trade name Roundup) has caused them to develop non-Hodgkin lymphoma.
The 2nd and latest San Franciscan jury verdict, which we reported in edition 269 of BC Disease News (here), resulted in Bayer being ordered to pay $81 million in damages to Edwin Hardeman, after finding:
That Roundup was a 'substantial factor' in causing Mr Hardeman's cancer; and
That Monsanto had been negligent in failing to warn regulators, scientists, public officials and the general public about the cancer risk.
Although Bayer is still 'vigorously' defending claims, on the basis that glyphosate-based herbicides are not carcinogenic, a Reuters article has revealed that the company's largest shareholder, BlackRock, was not planning to ratify the actions of the Werner Baumann CEO-led board.[ii]
According to the fund manager company, which has 7.2% of Bayer's voting rights, it would either abstain from the vote, or vote against endorsing the board's actions, in order to 'send a message [of unhappiness] ...'
Aside from BlackRock, asset management company and 10th largest shareholder (1% shareholding), Deka Investment, announced that it would also vote against – a reflection of its sharp, public criticism of Bayer in recent weeks.[iii] Ingo Speich, Head of Sustainability and Corporate Governance at Deka, explained:
'It's quite drastic when a takeover triggers such value destruction and reputational damage so quickly. There can be no talk of a successful takeover any more ... What's startling is that things have effectively moved beyond management's control because we're now at a point where the decisions over future development are made in court rooms'.
Meanwhile, shareholder advisory firms, Institutional Shareholder Services (ISS) and Glass Lewis, advised their clients not to approve the board's annual performance.
Moreover, 2nd and 3rd largest shareholders, Singapore State Investor, Temasek, and Norway's Oil Fund, both declined to disclose their voting intentions, as did Frankfurt-based asset managers, DWS and Union Investment.
Around €30 billion of Bayer's market value has been lost since the 1st Roundup ruling, in August 2018, which we reported here.
Yesterday, it was publicised that the company's net profits for Q1 of 2019 had slumped by 36% to €1.24 billion (£1.07 billion).[iv]
Graph: Bayer AG Share Price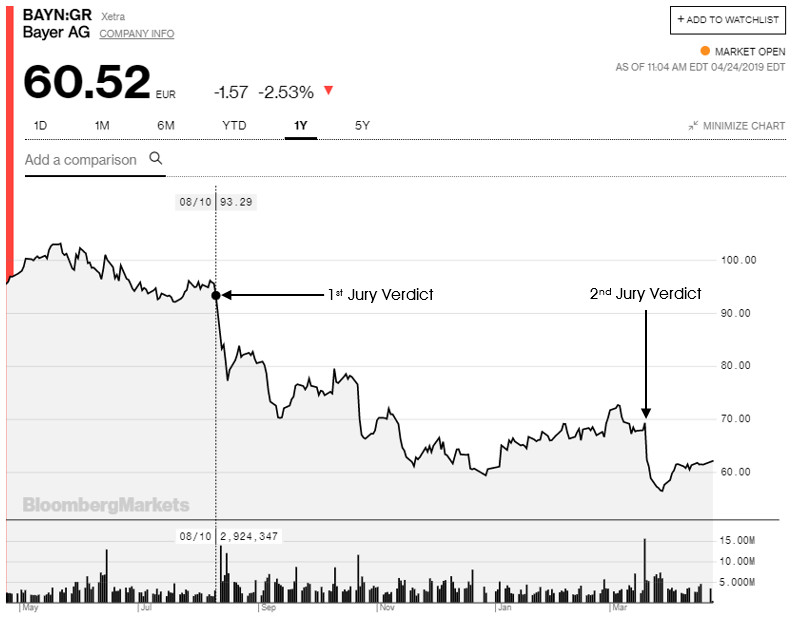 (Source: Bloomberg)
Non-executive Chairman and 'driving force' behind the Monsanto transaction, Werner Wenning, maintains that the executive team was correct to pursue the acquisition, irrespective of consequential share price fluctuation.
Does a majority of shareholders feel the same way?
In the past, low approval ratings in Germany companies, e.g. Deutsche Bank, have resulted in almost instant resignations. Despite the fact that this vote of confidence has no impact on Bayer management's liability, it may open up new positions for executive appointees, trigger corporate restructuring and possibly inspire a refined approach for defending US litigation.
Meanwhile, the 3rd Monsanto cancer case of Alva and Alberta Pilliod, which we previewed in edition 267 (here), is still ongoing in Alameda County Superior Court (Oakland, California). It is expected to last into early May 2019.[v]
Should Bayer Expect More Fatal Claims?
Some claimants, including Mr. and Mrs. Pilliod, are currently in diffuse large B-cell lymphoma (DLBCL) remission. However, new research suggests that Bayer is more likely to face fatal claims.
In a Montpellier University Hospital study, which observed 404 cases of DLBCL, clinicians found that those who had been exposed to pesticides at work had significantly reduced event-free survival and overall survival when treated with anthracycline-based immunochemotherapy. Lead Author, Sylvain Lamure, MD, concluded that:
'... cellular adaptation to damage induced by long-term occupational pesticide exposure, promoting DNA repair pathways and antioxidant defences, hinders chemotherapy efficiency'.[vi]
[i] 'Statement of the Board of Management and the Supervisory Board of Bayer Aktiengesellschaft on the published countermotions' (1 April 2019 Bayer) <https://www.bayer.com/en/statement-on-the-countermotions-2019.pdfx> accessed 24 April 2019.
'Summary of the expert legal opinion of the law firm Linklaters LLP on the question of whether the members of the Board of Management of Bayer AG were acting in line with their duties under German stock corporation law when taking the decision to enter into and to close the merger agreement with Monsanto Company, in particular concerning the liability risks arising from the glyphosate business' (Linklaters) <https://www.bayer.com/en/summary-expert-legal-opinion-management-board-duties-monsanto-acquisition.pdfx?forced=true> accessed 24 April 2019.
[ii] Simon Jessop, Ludwig Burger, 'Top shareholder won't back Bayer management in AGM vote: sources' (23 April 2019 Reuters) https://www.reuters.com/article/us-bayer-shareholder/top-shareholder-wont-back-bayer-management-in-agm-vote-sources-idUSKCN1RZ1A8?feedType=RSS&feedName=businessNews&utm_source=feedburner&utm_medium=feed&utm_campaign=Feed%3A+reuters%2FbusinessNews+%28Business+News%29> accessed 24 April 2019.
[iii] Patricia Weiss and Ludwig Burger, 'Bayer shareholder Deka joins chorus of complaints over Monsanto' (10 April 2019 Reuters) <https://uk.reuters.com/article/uk-bayer-shareholder/bayer-shareholder-deka-joins-chorus-of-complaints-over-monsanto-idUKKCN1RM1UD?il=0> accessed 24 April 2019.
[iv] 'Bayer earnings slump as Monsanto lawsuits pile up' (25 April 2019 France 24) <https://www.france24.com/en/20190425-bayer-earnings-slump-monsanto-lawsuits-pile> accessed 25 April 2019.
[v] Rich Peters, Married couple testifies in third Monsanto cancer case' (22 April 2019 Northern California Record) <https://norcalrecord.com/stories/512448840-married-couple-testifies-in-third-monsanto-cancer-case> accessed 25 May 2019.
[vi] Sylvain Lamure et al, Association of Occupational Pesticide Exposure With Immunochemotherapy Response and Survival Among Patients With Diffuse Large B-Cell Lymphoma JAMA Network 2019;2(4) <https://jamanetwork.com/journals/jamanetworkopen/fullarticle/2730779> accessed 25 April 2019.