Last week (here), we reported that talcum powder manufacturer, Johnson and Johnson (J&J), had had mixed success in ongoing product liability litigation, as the company settled 3 mesothelioma claims and successfully defended a mesothelioma claim at trial.
Tens of trials have been scheduled to be heard in US courts this year, including the latest Californian trial, which concluded on Friday.
At Los Angeles Superior Court, J&J was cleared of liability.[i]
Robert Blinkinsop, a 65-year-old retired teacher, unsuccessfully argued that his pleural mesothelioma, diagnosed in 2017, was caused by J&J Baby Powder and Shower to Shower product application from 1977 to 1994 (on himself) and 1996 to 1996 (on his children).
Despite having failed to convince the jury that J&J's mineral talc-based products contained asbestos, the claimant's legal representative maintained that there is 'no doubt asbestos was, and currently still is in J&Js talc baby powder products':
'Asbestos in baby powder is a huge public health concern that is far bigger than just this case'.[ii]
The above statement may suggest that the verdict will not be appealed.
In this particular instance, J&J argued, not only that 40 years of scientific testing had proven that its products were not contaminated with asbestos, but also that the claimant could have been exposed to asbestos in the course of his former employment on a construction site.
After the decision was announced, J&J's share price showed brief signs of recovery, but it has since returned to year-low levels just above $135.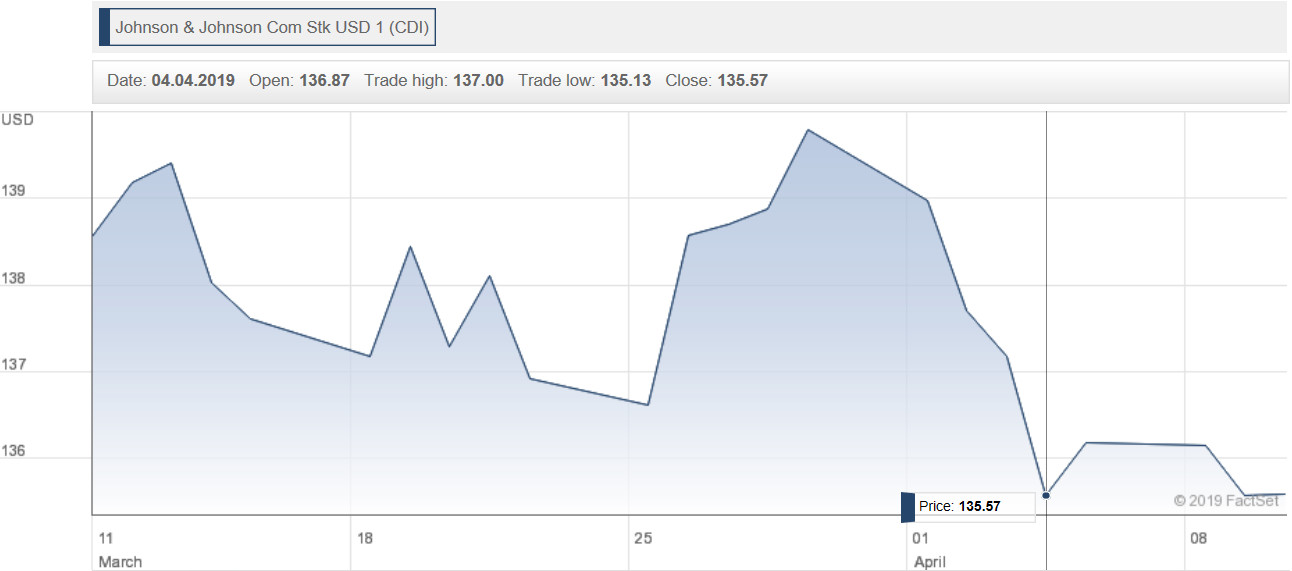 (Source: Hargreaves Lansdown)
In a Reuters investigation, published this week, another aspect of the debate on J&J knowledge of talc-related health risks was advanced.[iii]
Some believe that a 1992 J&J memo explains its choice to copy marketing strategy previously employed by fast-food companies and soft-drink makers. By targeting ethnic minorities (African American / Hispanic) and an overweight target audience, they were able to 'increase sales among heavy users at times of growing public concern about the possible health effects of their products'.
Jim Hood, Mississippi Attorney General, will argue at trial, later this year, that J&J exercised a 'racially targeted strategy' after it became aware of negative publicity, in order to avoid 'stagnating' sales.
Of course, J&J contends that its marketing campaigns have been directed at many demographics and groups over the past century and were not linked with any manner of conspiracy.
'Suggesting that Johnson & Johnson targeted a particular group with a potentially harmful product is incredibly offensive and patently false'.
[i] Blinkinsop v. Albertson Co., BC677764, Superior Court, Los Angeles Co. (Long Beach).
[ii] Margaret Cronin Fisk, Sarah Favot and Jef Feeley, 'J&J Wins Trial Over California Man's Talc-Cancer Claim' (5 April 2019 Bloomberg) <https://www.bloomberg.com/news/articles/2019-04-05/j-j-wins-trial-over-california-man-s-talc-cancer-claim> accessed 8 April 2019.
[iii] Chris Kirkham and Lisa Girion, 'As worries about Baby Powder's safety mounted, J&J focused its pitches on minority, overweight women' (9 April 2019 Reuters) <https://www.reuters.com/investigates/special-report/johnsonandjohnson-marketing/> accessed 12 April 2019.