In edition 267 of BC Disease News (here), we updated our readers on the latest court ruling involving 1 of 13,000 product liability claims, which resulted in Terry Leavitt, a mesothelioma sufferer, obtaining an order for damages against Johnson and Johnson (J&J) in excess of $29 million (£22 million).
At the time, we also introduced the opening statements of a New Jersey trial, involving 58-year-old, Ricardo Rimondi, who attributed his condition to use of asbestos-containing talcum powder.[i]
On Monday of last week, closing arguments were heard[ii] and 2 days later, the jury delivered its verdict, clearing J&J and its Baby Powder and Shower to Shower products of liability.[iii]
On the same day, it was reported that J&J had settled 3 'one off' mesothelioma cases. 2 of these cases were mid-trial in Oklahoma (77-year-old peritoneal mesothelioma victim)[iv] and California (36-year-old pleural mesothelioma victim)[v] state courts, while the remaining case (41-year-old peritoneal mesothelioma victim with evidence of asbestos in her ovarian and fallopian tissue) was awaiting an April trial in New York[vi] state court.[vii]
Several days after the verdict, J&J's share price reached its peak for the year-to-date ($139.88). However, since 29 April, the stock had decreased in value day-by-day: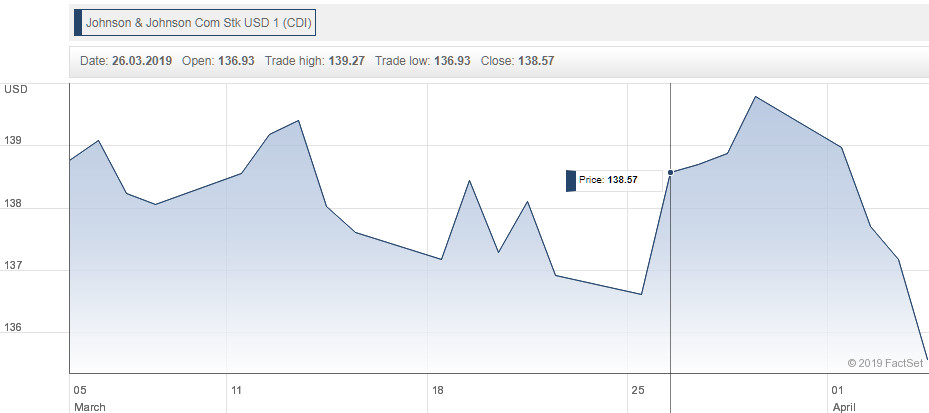 (Source: Hargreaves Lansdown)
In spite of J&J's choice to settle multiple claims, the company cautioned that it does not 'have any organised programme to settle Johnson's Baby Powder cases, nor are we planning a settlement programme'. [viii]
It plans to continue to 'vigorously defend' product safety on the basis of 'decades of [supportive] clinical evidence and scientific studies by medical experts around the world'.
However, at the end of March, a new scientific paper was published in the American Journal of Industrial Medicine, which concluded that talc products sold in Southeast Asia had tested positive for a specific type of asbestos amphibole and therefore pose a public health risk.[ix]
In an initial group of 5 talc products tested using polarizing light microscopy, transmission electron microscopy (TEM), electron diffraction, and X‐ray analysis, 1 was found to contain tremolite asbestos. Then, in a 2nd group of 8 products tested, 6 detected the same asbestos contaminant.
In this latest study, the mining source and location of talc deposits was unknown. However, if the analysed samples were found to have originated from the same sources that J&J use, it could make claims harder to defend.
[i] Ricardo and Pilar Rimondi v. Johnson & Johnson, case number L-2912-17 in Middlesex County Superior Court, before Judge Ana Viscomi.
[ii] David Siegel, 'Closings And Openings Begin Monday In New Jersey And California Johnson & Johnson Cosmetic Talc Trials' (22 March 2019 Courtroom View Network) <https://blog.cvn.com/closings-and-openings-begin-monday-in-new-jersey-and-california-johnson-johnson-cosmetic-talc-trials> accessed 5 April 2019.
[iii] Tina Bellon, 'New Jersey jury finds J&J not liable in talc cancer trial; company settles 3 other cases' (27 March 2019 Reuters) <https://uk.reuters.com/article/uk-johnson-johnson-cancer-lawsuit/new-jersey-jury-finds-jj-not-liable-in-latest-talc-cancer-trial-idUKKCN1R81XX> accessed 5 April 2019.
[iv] Pipes v. Johnson & Johnson, CJ-2017-3487, District Court, Oklahoma Co., Oklahoma (Oklahoma City).
[v] Koretoff v. Arkema Inc., No. BC656506, Superior Court of California for the County of Los Angeles (Santa Monica).
[vi] Shulman v. Brenntag North America Inc., 190025/2017, State Supreme Court for New York Co. (Manhattan).
[vii] Terri Oppenheimer, 'Johnson & Johnson Suddenly Settles Three Mesothelioma Lawsuits' (28 March 2019 Mesothelioma.net) <https://mesothelioma.net/mesothelioma-news/johnson-johnson-suddenly-settles-three-mesothelioma-lawsuits/> accessed 5 April 2019.
[viii] 'J&J settles three mesothelioma talc cases-plaintiffs' lawyer' (27 March 2019 Reuters) <https://www.reuters.com/article/us-johnson-johnson-cancer-lawsuit-settle/jj-settles-three-mesothelioma-talc-cases-plaintiffs-lawyer-idUSKCN1R82ME> accessed 5 April 2019.
[ix] Fitzgerald, S, Harty, E, Joshi, TK, Frank, AL. Asbestos in commercial Indian talc. Am J Ind Med.2019; 1‐ 8. <https://doi.org/10.1002/ajim.22969> accessed 5 April 2019.