Earlier this year (here), we reported that Unite, the trade union, had reiterated its call for a full public inquiry into so-called 'aerotoxic syndrome', after a 'fume event' occurred on British Airways (BA) flight 212 from Boston to London Heathrow, in January 2019.
Engineers completed 'thorough checks' of the grounded Boeing 747-400, which led company bosses to conclude that this specific 'fume event' was caused by residual de-icing chemical exposure. Of course, proponents of aerotoxicity believe that 'fume events' occur when the cabin is filled with toxic 'bleed air', which enters through unsealed jet engine systems.
BC Legal has been monitoring 'aerotoxic syndrome' as an emerging risk for over 4 years and, in anticipation of employers' liability and public liability (EL/PL) claims, we published our expansive collection of articles in edition 265 of BC Disease News (here).
Last week, Unite confirmed that 4 pilots and 47 cabin crew have initiated proceedings against 5 of the UK's largest airlines:
EasyJet;
BA;
Thomas Cook;
Virgin Atlantic; and
Jet2.[i]
80% of these claims affect BA, which has the largest fleet of aircraft of all UK airlines (see the table below).
Unite has specified that 'legal action' has been 'served', though it is unclear whether this refers to service of the Letter of Claim or service of the Claim Form. Regardless, Unite has intimated that it could take 'up to a year' for the cases to be heard at trial, which infers that these 'aerotoxic syndrome' claims will eventually litigate, if they have not already.[ii]
In support of the claimants' legal action, Howard Beckett, Unite's Assistant General Secretary for Legal Services, has stated that:
'Independent expert evidence concludes that air on board jet planes can contain a toxic mix of chemicals and compounds that potentially damage the nervous system and may lead to chronic irreversible health problems in susceptible individuals ... how many more must be put at risk before the airline industry cleans its act up?'[iii]
Reading between the lines, it is likely that the claimants will argue an association between long-term exposure to contaminants in 'bleed air', e.g. the organophosphate compound, tricresyl phosphate (TCP), and the onset of chronic irreversible neurological damage, i.e. symptoms of 'aerotoxic syndrome'.
Accordingly, aerotoxic claims will not focus on occupational exposure in Boeing's 'Dreamliner' (787-9 and 787-8) – a unique feature of this aircraft, as is evident from the table below, is that it boasts a 'no-bleed' electrical systems architecture. [iv] This system was designed to:
Improve consumption and efficiency;
Reduce costs;
Enhance reliability; and
Extend range.
Table: Airline Fleets Facing Aerotoxic Syndrome Claims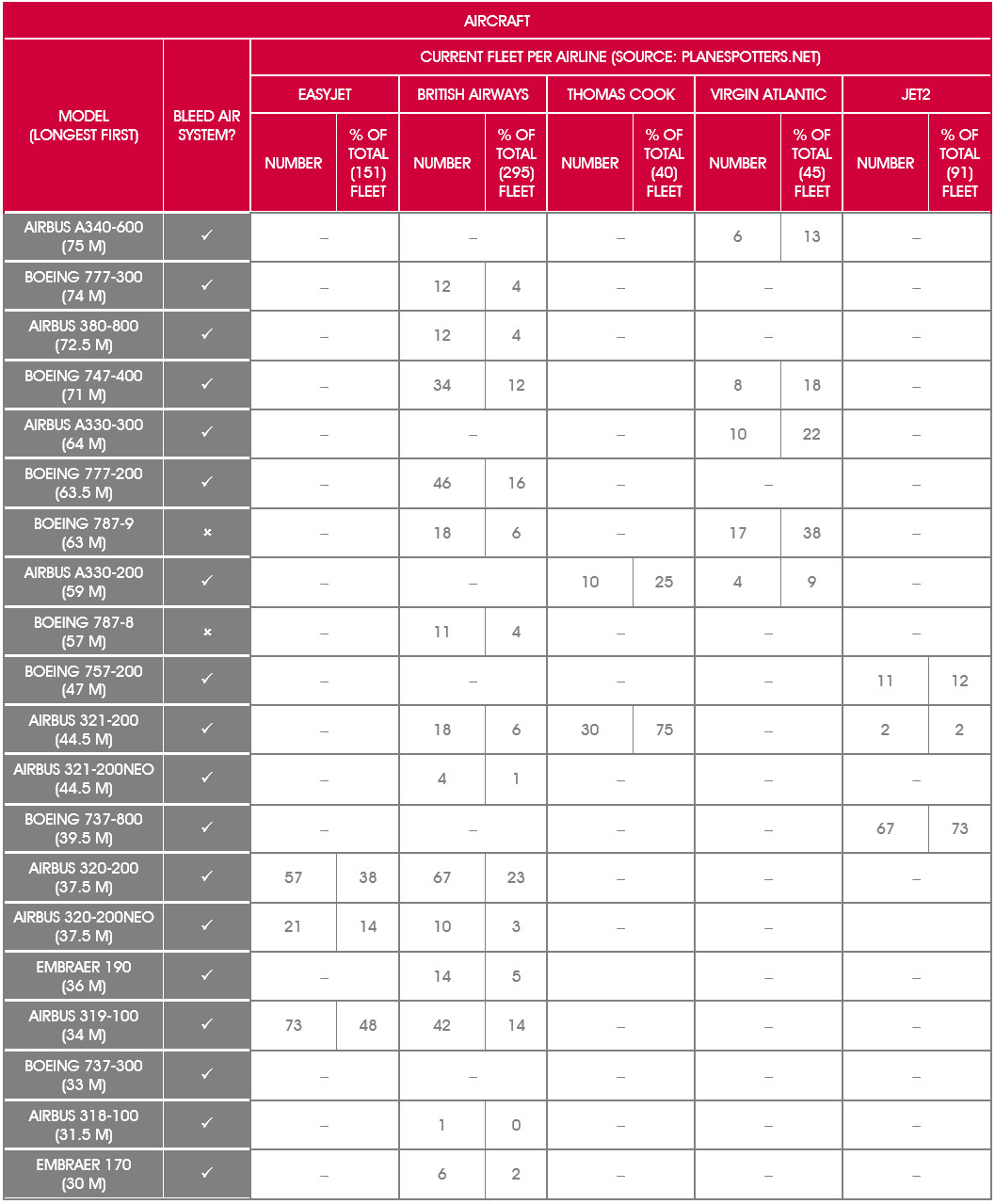 However, claimants may struggle to demonstrate causation on this basis for the following reasons.
In edition 179 (here), we reported that the European Aviation Safety Agency (EASA) had identified that cabin air quality on aeroplanes equipped with engine 'bleed air' systems was similar to (or better than) air quality in normal indoor environments (offices, schools, kindergartens or dwellings) and organophosphate concentration levels were well below the workplace exposure limit.[v] What is more, in a finding that was contrary to expectation, Boeing 'Dreamliner' cabin air samples detected TCP, despite having no 'bleed air' system, implying that bleed air is not the only source of organophosphate exposure.
In another EASA study, analysis of pyrolysed engine oil corroborated the presence of neuroactive products, but concentrations were so low that an intact lung barrier could protect against the risk of neuronal impairment.[vi]
Disagreement over a causative relationship between engine oil fumes and neurotoxicity was further intensified by more recent Manchester Metropolitan University research (reported here), which concluded that engine oil 'does not appear to be the source of ooo-TCP [ortho-substituted tricresylphosphates]', the harmful TCP isomer considered to be the predominant cause of 'aerotoxic syndrome'. The researchers established that less harmful TCP isomers (contained in engine oil) are not converted into ooo-TCP when mixed with palladium catalysts (present in aircraft air conditioning units) in a process called transisomerisation. Hence, it was determined that 'more focus should be placed on investigating other potential sources' than engine oil.
Unite's decision to single out 'bleed air' systems and organophosphate-containing engine oil fume exposure as the underlying cause of airline employees' personal injuries seems, in the face of scientific uncertainty, to be presumptuously premature. It will be interesting to see whether the 'independent expert evidence' it claims to have obtained is new supportive evidence, or merely an alternative interpretation of previously reviewed scientific research.
In response to news of 'aerotoxic claims', EasyJet has expressed confidence in its operation of 'one of the world's most modern fleets', with 'fully compliant' air quality and air-conditioning standards. While the company admitted that minor acute symptoms had been associated with 'one-off fume events', it submitted that there is 'no proof that long term health issues arise from cabin air quality'. BA reacted by citing the EASA study as evidence of 'substantial research conducted over many years', which shows that exposure to cabin air (it did not specify 'bleed air') does not cause long-term ill health.[vii]
Elsewhere, a spokesperson for Virgin Atlantic has assured that:
'As with all British airlines we operate to the strict regulations and standards set out by the UK CAA and the European Aviation Safety Agency'.
All 3 airlines have guaranteed that the safety of their flight crews are their priority and maintained that any health concerns raised are taken seriously. Further, they certify that any aircraft posing a health and safety risk to passengers or crew would be non-operational.
If the Government succumbs to Unite's request for an open investigation, we may soon be in a better position to confirm or deny the benefits of 'using different oils to lubricate jet engines, better monitoring of cabin air, installing air filters and manufacturing planes that bring compressed air straight from the atmosphere'. By consequence, we may also be in a better position to predict the success or failure of aerotoxic claims which, at present, would appear to have a strong defence.
[i] 'Airlines face lawsuits over 'toxic' cabin air' (28 March 2019 BBC) <https://www.bbc.co.uk/news/business-47740523> accessed 2 April 2019.
[ii] Alex Flynn, 'Pilots and cabin crew launch court action against airlines in toxic air dispute' (28 March 2019 Unite) <https://unitetheunion.org/news-events/news/2019/march/pilots-and-cabin-crew-launch-court-action-against-airlines-in-toxic-air-dispute/?fbclid=IwAR1RfG95dneciIpSKCYoWXP01uGP0YY8Q43ieZtxhjvHvoPJCC01aDPxXTE> accessed 2 April 2019.
[iii] Kara Godfrey, 'LOAD OF HOT AIR? Five major UK airlines are being sued over deadly 'toxic air' in cabins linked to long term health problems – but the carriers insist the fumes don't exist' (29 March 2019 The Sun) <https://www.thesun.co.uk/travel/8746399/uk-airlines-easy-jet-ryanair-british-airways-sued-toxic-air/> accessed 2 April 2019.
[iv] Mike Sinnett, '787 No-Bleed Systems: Saving Fuel and Enhancing Operational Efficiencies' (Q4 2007 Boeing) <https://www.boeing.com/commercial/aeromagazine/articles/qtr_4_07/article_02_1.html> accessed 2 April 2019.
[v] EASA Final Report EASA_REP_RESEA_2014_4 Research Project: CAQ Preliminary cabin air quality measurement campaign <https://www.easa.europa.eu/system/files/dfu/EASA%20CAQ%20Study%20Final%20Report_21.03.2017.pdf> (Accessed 2 April 2019).
[vi] EASA Final Report EASA_REP_RESEA_2015_2 Research Project: AVOIL Characterisation of the toxicity of aviation turbine engine oils after pyrolysis <https://www.easa.europa.eu/system/files/dfu/EASA%20AVOIL_final%20report_final%20version_160217.pdf> (Accessed 2 April 2019)
[vii] Andy Bounds, 'Five airlines face toxic cabin air claims in UK, union says' (28 March 2019 Financial Times) <https://www.ft.com/content/329368b6-5161-11e9-b401-8d9ef1626294> 1 April 2019.