Reactec, the UK leader in hand-arm vibration (HAV) risk management, has collaborated with radio frequency identification specialist, CoreRFID, to produce new automated software that can track and report HAV in real-time and 'reduce the guesswork when managing vibration exposure'.
HAVWEAR is a wrist-worn device, which can inform the wearer of their total exposure risk and alert the wearer if their personalised exposure thresholds have been exceeded. It can also log the vibration magnitudes of specific tools over an unspecified time period.
Figure: HAVWEAR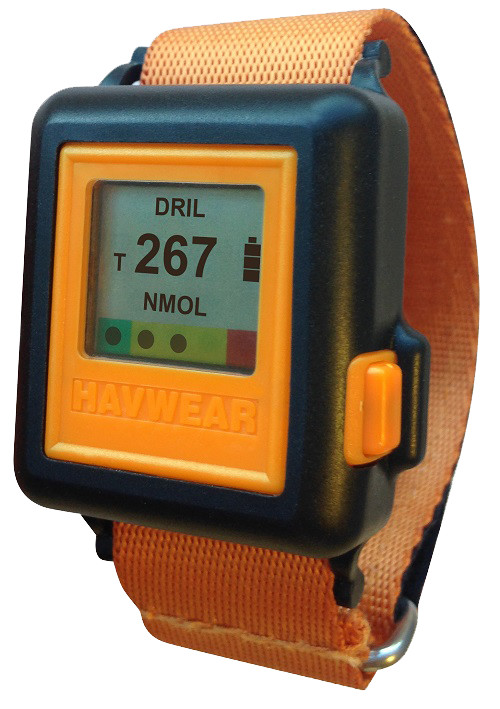 Use of HAVWEAR is designed to induce proactive behavioural changes in employees, while the automatic transmission of data allows workforce managers to act on Reactec Analytics Reports by deploying appropriate risk control mechanisms.
Leif Anderson, Reactec CTO, has stated that:
'The technology used in the HAVWEAR is unique and robust. It offers a reliable and easy to use system to monitor levels of vibration exposure in some of the most demanding industry environments with informative analytics to drive risk reduction controls'.[i]
In last week's edition of BC Disease News (here), we reported that the Building Safety Group (BSG) had observed a 33% increase in construction-related HAV breaches over the past year.
According to Planning, Building Information Modelling & Construction Today, businesses in the construction, automotive, marine, energy and utilities sectors have taken receipt of HAVWEAR.
Take-up of HAVWEAR could help to decrease growing incidence of HAV breaches and, in-turn, reduce the number of HAVS claims, i.e. for vibration white finger and vibration-induced carpal tunnel syndrome.
[i] 'New innovation to fight vibration injuries in heavy industries' (8 March 2019 PBC Today) <https://www.pbctoday.co.uk/news/health-safety-news/fight-vibration-injuries/53666/> accessed 11 March 2019.