A French public interest organisation (EUROGIP) has been analysing cancer incidence across 9 European countries, between 2005 and 2016, to ascertain the risk posed by workplace exposure sources. Prior to this study, it was generally assumed that 'there is a phenomenon of under-reporting of occupational cancers'.[1]
EUROGIP was established in 1991, by the French National Health Insurance Fund for Employees (CNAMTS) and the National Institute for Research and Safety (INRS),[2] to investigate issues relating to insurance and industrial accident/disease prevention, both at a European and an International level.[3]
The results of EUROGIP's latest investigation have been compiled in a December 2018 Study Report, entitled: Incidence and detection of occupational cancers in nine European countries (see here).
The 9 countries studied were:
Germany;
Austria;
Belgium;
Denmark;
Finland;
France;
Italy;
Sweden; and
Switzerland.
Over a decade of surveillance, the organisation observed relatively stable numbers of reported and recognised cancer cases in Denmark, Belgium, France, Italy and Sweden. Often, the discrepancy between recognised and unrecognised cancer cases is caused by the 'multifactorial' nature of cancer (though mesothelioma is believed to be caused almost exclusively by asbestos exposure).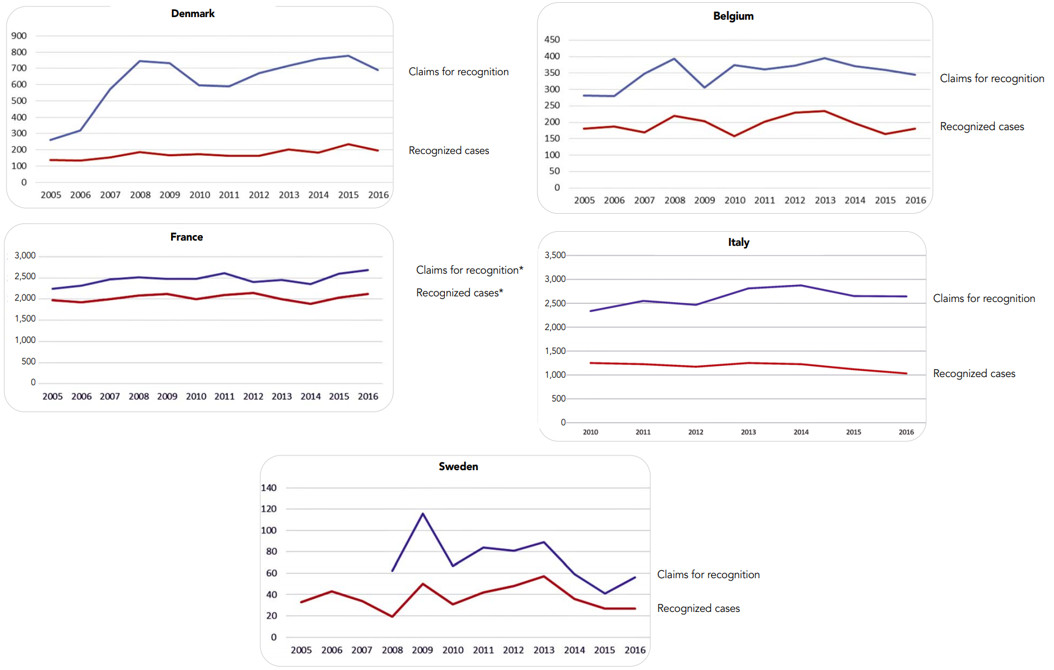 However, there was an increase in the number of cases in Austria, Germany and Switzerland.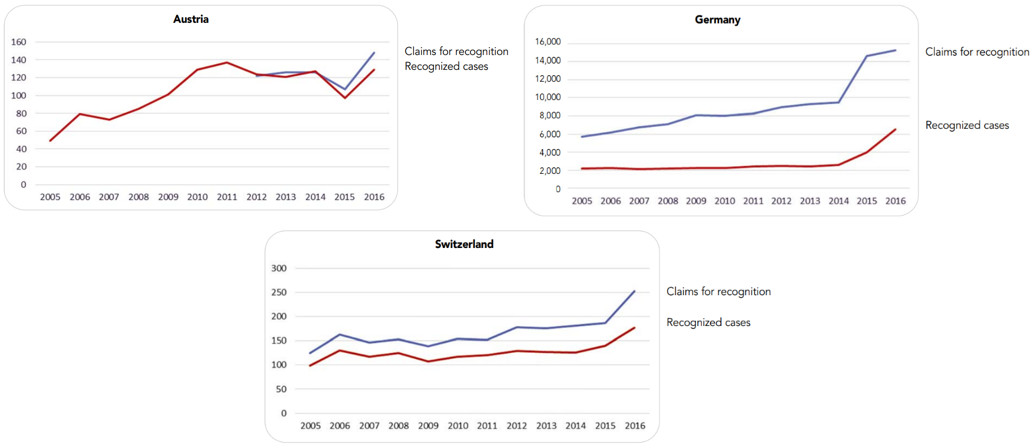 Further, only a slight downward trend could be seen in the number of recognised cases in Finland.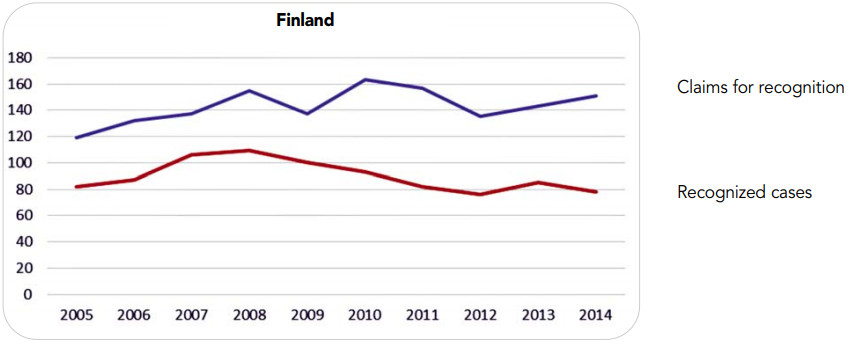 With the exception of Germany, which witnessed a surge in UV-induced skin cancer cases following occupational disease recognition, in 2015, EUROGIP identified asbestos-related disease as the most common type of occupational cancer in 2016 (this is why the majority of incidence rates have either stayed the same or increased between 2005 and 2016):
'... mesotheliomas (cancers of the pleura, the peritoneum and the pericardium) account for more than one-third of cancers in Denmark, more than half in Austria and in Italy, two-thirds in Belgium, almost 90% in Switzerland and virtually all cancers in Sweden
Asbestos-related lung cancers are also predominant in Belgium (25% of the total), in Italy (23%), in Austria (28%) and especially in France (over half of occupational cancers). They are probably also predominant in Denmark; the Danish statistical classification is organized according to the organ affected and covers a number of possible exposures, which makes it impossible to know the exact number of asbestos-related lung cancers'.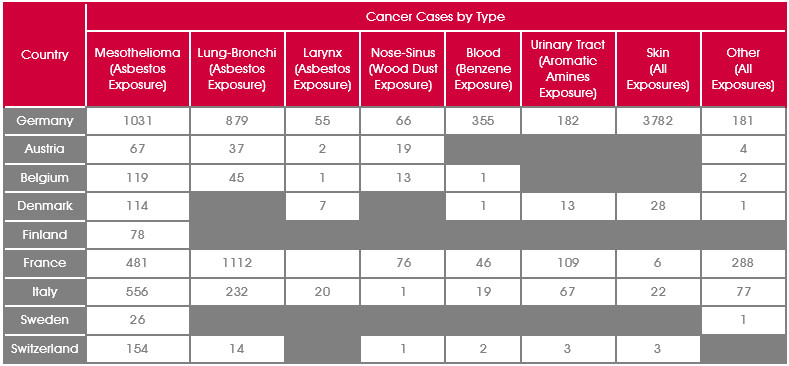 In addition, EUROGIP warned of other carcinogens in the workplace, such as:
Heavy metals;
Mineral oils;
Wood dusts;
Crystalline silica;
Benzene;
Tar;
Radiation (from radiology);
UV Radiation;
Electromagnetic fields; and
Viruses.
As such, employees in the construction, metallurgy, chemical, leather, rubber, wood, oil and agriculture industries are most at risk.
The Report concludes that cancer detection and reporting is improved by national initiatives that are designed to detect cancer at an early stage, but they are 'still scarce, limited ... costly' and 'not easily transposable from one country to another'. As a result, EUROGIP recommends:
'... to further raise the awareness of general practitioners and hospital doctors of the search for occupational causes of cancers, either by enhancing their knowledge as part of their initial or continuous training, or by providing them with tools facilitating detection of the work-related origin of the cases that they diagnose and medically monitor'.
Many of the carcinogenic exposure risks listed in this Report have been targeted by reform of EU Directive 2004/37/EC (The Carcinogens and Mutagens Directive), which we last discussed in edition 260 of BC Disease News (here).
[1] 'Incidence and detection of occupational cancers in nine European countries' (December 2018 EUROGIP) <https://www.eurogip.fr/en/projects/publications-d-eurogip/5185-incidence-and-detection-of-occupational-cancers-in-nine-european-countries-2> accessed 5 March 2019.
[2] Who are we? (EUROGIP) <https://www.eurogip.fr/en/2012-12-17-10-52-33/who-are-we> accessed 5 March 2019.
[3] 'Understanding occupational risks in Europe' (EUROGIP) <https://www.eurogip.fr/images/Qui-sommes-nous/EUROGIP_2014_web_E.pdf> accessed 5 March 2019.