After the Legal Aid, Sentencing and Punishment of Offenders Act (LASPO) 2012 came into force, a finding of 'fundamental dishonesty' in post-April 2013 personal injury claims is the best eventuality for Defendants, in respect of costs. Perhaps second only to an order for wasted costs, enforceable against the claimant's solicitors, which provides the added security that costs orders are recoverable one way or another. Helpfully, if early warning is provided to the claimant's solicitors, as to the evidence of fundamental dishonesty, the door is also left open for wasted costs.
'Fundamental dishonesty', under s.57 of the Criminal Justice and Courts Act 2015, is typically determined at trial. By this stage of proceedings, a defendant will likely have incurred significant costs and the order for costs that they achieve against an uninsured claimant, often with no means to pay, can hardly be described as a good result. Put frankly, it would be cheaper to settle the claim than incur the additional costs.

Naturally, discrepancies in lay evidence often need to be tested at trial and there is very little a defendant can do, except wait for a claimant to expose themself as fundamentally dishonest on cross-examination. For example, if there is an exaggeration of the injury suffered (see last week's article on the case of Smith[1] here), or the past/future losses incurred (see the LOCOG[2] case here).
However, what about circumstances where there is 'clear evidence' of fundamental dishonesty from the beginning, which do not need to be tested at trial? For example, if evidence of a prior claim invalidates the claimant's date of knowledge, for the purpose of bringing a claim within the relevant limitation period. Alternatively, if the defendant obtains video footage, which shows that the injury is a total fabrication.
It could be seen as an oversight that the CPR provides no obvious low-cost vehicle for bringing the issue of 'fundamental dishonesty' to the Court's attention pre-trial. None of the CPR 3.4(2) criteria are obviously met.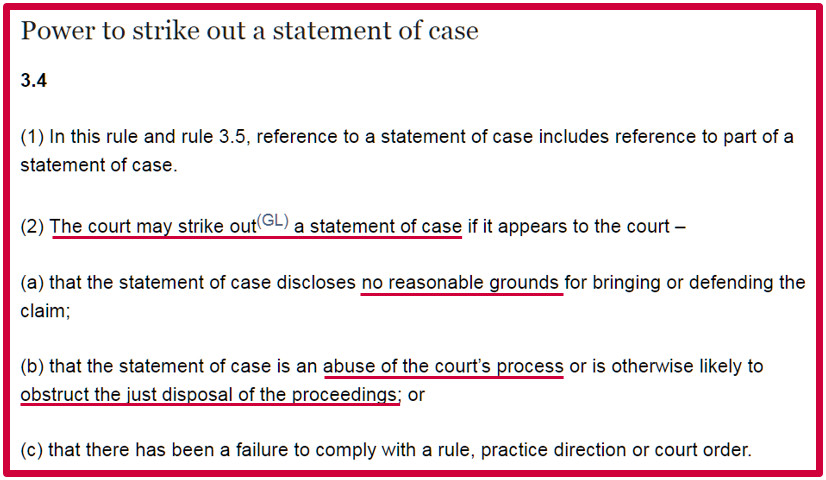 On the basis of 'fundamental dishonesty', it cannot be said that the claim has 'no reasonable grounds'. It could be argued that the statement of case containing the 'fundamental dishonesty' is an 'abuse of process', but would the Court ever be prepared to make such a finding before the claimant has had an opportunity to give evidence? Clearly, there is no breach of a rule, practice direction, or court order.
Accordingly, defendants are almost invariably forced to file a Defence and reserve all discussion on fundamental dishonesty until the trial on liability.
What is more, summary judgment does not avoid a defendant's obligation to file a defence, which will likely trigger an absolving reply or an application from the claimant to amend the Particulars of Claim.
Recently, BC Legal were instructed to act in a claim with a pleading of knowledge within the past 3 years. However, there was unquestionable evidence of the same claim, albeit abandoned pre-litigation, having been presented over 10 years ago. In this instance, we questioned how this claim could be disposed of quickly and in the most cost-effective manner for our client.
Despite presenting inconvertible evidence of the previous claim to the claimant's solicitors, our threats of 'fundamental dishonesty' and wasted costs failed to secure a discontinuance. Subsequently, we advised our client to tackle this issue head-on, with a strike out application.
This week, we report that BC Legal were successful in achieving a finding of 'fundamental dishonesty' at an application hearing, without having to file a Defence and without incurring much in the way of costs. To our knowledge, this is the first example of a Judge finding 'fundamental dishonesty' before trial.
Our application to contest jurisdiction relied upon s.57 and the dicta of Mr Justice Knowles, in LOCOG. We commenced a 'two pronged' approach, with a request for the claim to be struck out, in accordance with CPR 3.4(a). If there is 'fundamental dishonesty' upon any issue that goes to the 'heart' or 'root' of the claim, then the 2015 Act has the effect of dismissing not just that one issue, but the entire claim. We considered that if dishonesty over gardening expenses surpassed this threshold, then dishonesty over limitation would be sufficient.
In essence, our two-fold argument was as follows; in view of the fact that the entire claim would eventually be dismissed, by virtue of s.57, there were 'no reasonable grounds' for bringing the claim, which meant that the claim could be struck out immediately. The District Judge, sitting at Birmingham County Court, was satisfied that the application was appropriately presented and made a finding of 'fundamental dishonesty', in the absence of evidence from the Claimant.
It is fair to say that in achieving such a result, the evidence of 'fundamental dishonesty' had to be unquestionable, to the extent that the Judge was prepared to make the finding without contribution from the claimant. With that being said, the Court has case management powers to call a claimant to give oral evidence at an application hearing [see CPR 3.1(2)(d)], which would be a significantly more cost-effective option than proceeding to trial.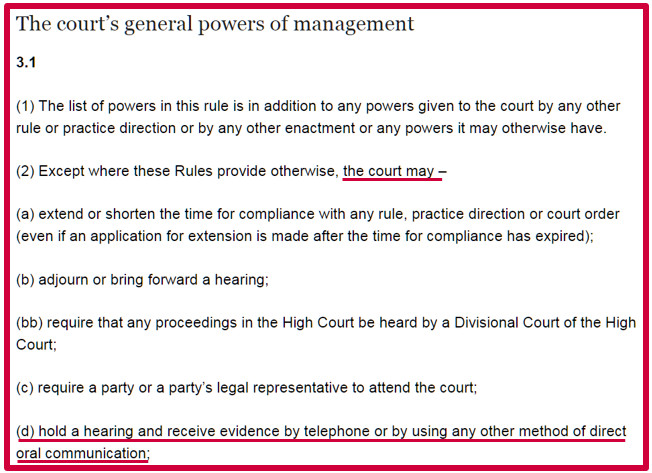 It is important to highlight that this is a 1st instance decision, though no permission to appeal was given. Regardless, this dual-limbed application appears to be indisputable and we are confident that it can be deployed in any case with 'clear evidence' of 'fundamental dishonesty', even if suspicion of 'fundamental dishonesty' comes to light part-way through the proceedings.
Plainly, caution should be applied when determining the standard of 'clear evidence', as Judges are only likely to dismiss the most obvious of cases. We predict that 'fundamental dishonesty' relating to factual disputes, ambiguous evidence, withheld evidence and inconsistent evidence will still need to be tackled in the usual way, i.e. at trial.
As a result of this finding, our client's costs were assessed on an indemnity basis, with no reductions applied to the Schedule of Costs. Since the claimant's solicitors appear to have failed to act upon the warnings of 'fundamental dishonesty' and left it until the day before the hearing to serve a discontinuance, the Judge gave leave for the defendant to seek an order for wasted costs if the claimant does not pay within 14 days.
We consider this result to be exactly the sort of windfall that a defendant deserves, where the 'fundamental dishonesty' is a black and white issue.
The case was handled by Stuart Bacon, Head of BC Legal's Southend Office. Please do not hesitate to contact Stuart by This email address is being protected from spambots. You need JavaScript enabled to view it. if you have a similar case, or indeed any procedural irregularities that you would like to discuss.
[1] Smith v Ashwell Maintenance Limited (Leicester County Court, 2019).
[2] London Organising Committee for the Olympic and Paralympic Games (in Liquidation) v Sinfield [2018] EWHC 51 (QB).