In BC Disease News, we frequently report on pharmaceutical advancements, especially those which affect claims for special damages in occupational mesothelioma claims, e.g. the future costs associated with private medical care.
Many of our readers will be aware that multiple clinical trials of pioneering immunotherapy drugs have improved progression-free survival rates, but mesothelioma is still ultimately recognised as a fatal disease because of recurrent malignancy and metastatic (spreading) tendencies.
This week, we report that a British mesothelioma sufferer is alive 6-year post-diagnosis and attributes his recovery to an immunotherapy drug, called IMM-101.[i]
Immunotherapy drugs are often referred to as 'checkpoint inhibitors' because they target immunosuppressant 'checkpoint proteins', released by malignant tumour cells. Thus, the purpose of 'checkpoint inhibitor' drugs is to facilitate the body's natural response to destroy cancer cells and IMM-101 is no different.
Compared to chemotherapy, the toxicity of immunotherapy is 'minimal'.
In September 2013, Ralph Corderoy underwent an X-Ray and was subsequently diagnosed with pleural mesothelioma. At the time, he was given a life expectancy of 12 months. According to the latest Office for National Statistics (ONS) publication on cancer survival in England, the 12-month net survival for male mesothelioma cases, between 2012 and 2016, was just 43.2%.[ii]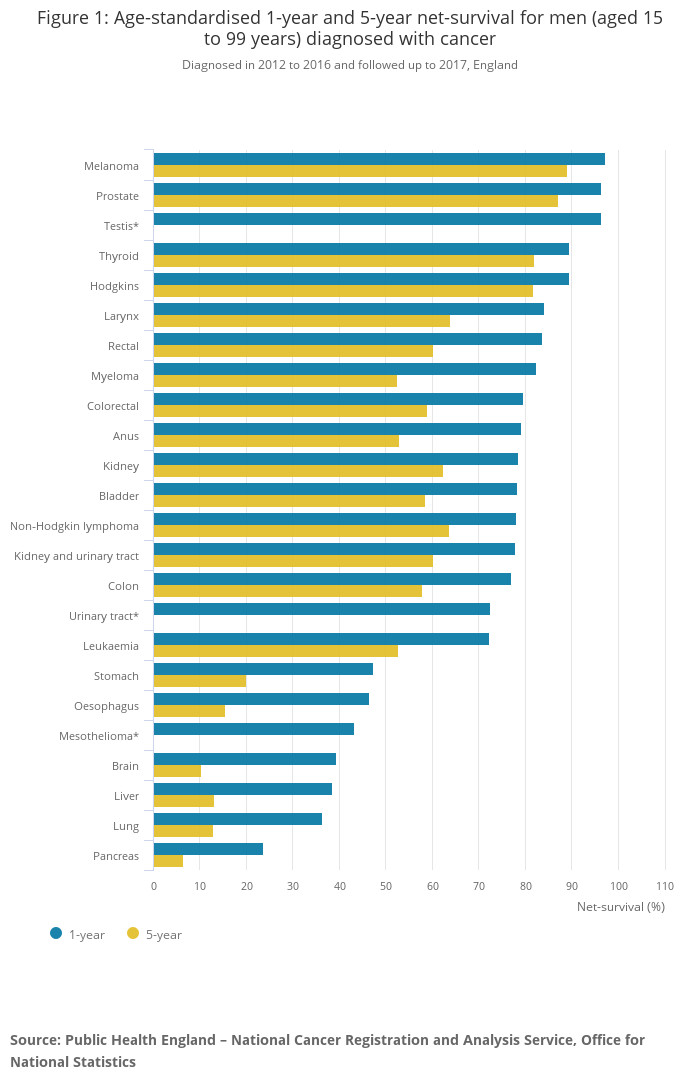 The retired plumber was advised to undergo pleurectomy decortication, which involves the removal of lung lining, as well as chemotherapy, but he refused both of these treatment options.
Instead, Mr Corderoy was placed on an IMM-101 trial, led by Professor Angus Dalgleish. The trial is funded by the Institute for Cancer Vaccines and Immunotherapy charity.
At the Churchill Hospital, Oxford, he received injections of IMM-101 every 4 to 6 months, alongside regular scans. He was also administered a low dose of Naltrexone, a drug commonly prescribed to alcohol/opioid dependant patients, which has shown promise with cancer patient survival.[iii]
The 70-year-old surpassed his prognosis of 6 to 18 month maximum survival and is yet to relapse.
Professor Dalgleish has called for increased funding of clinical research to establish immunotherapy as a 1st line treatment method together with chemotherapy and radiotherapy.
[i] Karolina Kaminska, 'Lung cancer: British man now cancer free after trialling immunotherapy vaccine' (24 February 2019 The Express) <https://www.express.co.uk/life-style/health/1091754/lung-cancer-treatment-cure-drug-trial-vaccine-immunotherapy> accessed 26 February 2019.
[ii] 'Cancer survival in England: national estimates for patients followed up to 2017' (24 January 2019 ONS) <https://www.ons.gov.uk/peoplepopulationandcommunity/healthandsocialcare/conditionsanddiseases/bulletins/cancersurvivalinengland/nationalestimatesforpatientsfollowedupto2017> accessed 26 February 2019.
[iii] Wai Liu et. al, Naltrexone at low doses upregulates a unique gene expression not seen with normal doses: Implications for its use in cancer therapy. International Journal of Oncology, 2016; <DOI:10.3892/ijo.2016.3567> accessed 26 February 2019.