After 2 years of discussions, Harcus Sinclair, the private client law firm, is preparing a claim against Watchstone Group plc (formerly Quindell) on behalf of investors, who lost money during the Quindell accounting scandal:[i]
'We have particulars of claim drafted and are ready to go with a group of institutions and some large ­retail shareholders, so the next stage is finalising the detail of the funding package'.
The accounting scandal regarded revised accounts for the year ending 31 December 2014, which revealed that the Quindell's pre-tax profits were overstated by £312 million (£175 million profit = £137 million loss).
In edition 204 of BC Disease News (here), we reported that Watchstone had filed a defence in respect of separate proceedings issued by Slater and Gordon (S&G), which purchased Quindell's Professional Services Division for £637 million, in 2015.
The claimant law firm argues that it was induced into the transaction as a result of 'fraudulent misrepresentation', which ultimately caused the listed company's share price to collapse and disconnected the UK operations (Slater and Gordon Lawyers and Slater and Gordon Solutions) from the Australian parent business.
In January, Watchstone dismissed S&G's 'allegations of deceit and the associated breach of warranty claim' as being 'wholly without merit and should never have been advanced'.
The trial is expected to take place in October of this year and Watchstone has announced that it is prepared to continue to 'bolster the provision for legal costs', having already set aside £4.3 million to fund its defence.[ii]
Aside from the S&G lawsuit, valued at up to £637 million, Watchstone is also part of an ongoing Serious Fraud Office (SFO) criminal investigation, in relation to its historic business and accounting practices.
The latest shareholder class-action claim has been backed by specialist litigation investor, Terium, though Watchstone has declined to comment on its legal position.
Watchstone was once worth over £2.6 billion and was the most valuable company listed on AIM. In spite of a genuine threat of legal action, its share price has remained fairly stable since mid-October 2017. Nevertheless, if potential liabilities continue to mount, increasing financial uncertainty could put the solvency of the business at risk and, in turn, risk the recovery of multi-million pound compensation sought.
Figure: Watchstone Group plc Share Price (London Stock Exchange)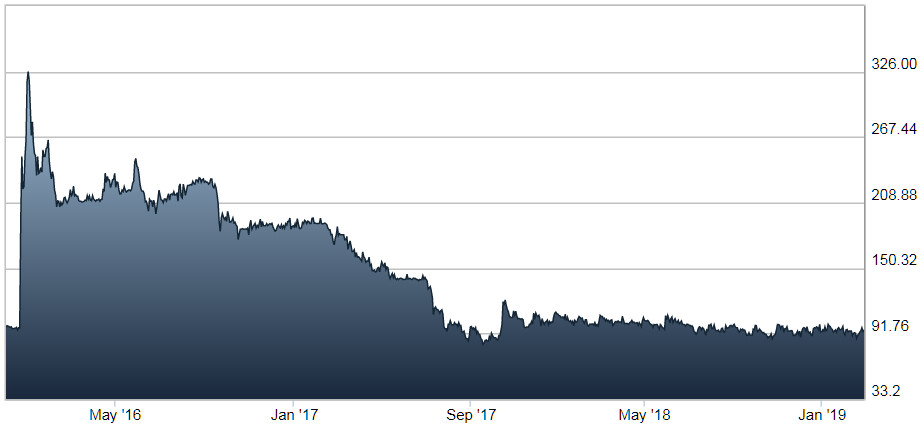 [i] Lucy Burton, 'Watchstone faces court over Quindell-era investor losses' (24 February 2019 The Telegraph) <https://www.telegraph.co.uk/business/2019/02/24/watchstone-faces-court-quindell-era-investor-losses/> accessed 27 February 2019.
[ii] 'Watchstone revenues driven lower by ingenie car insurance arm as challenges continue' (13 January 2019 Proactive Investors) <https://www.proactiveinvestors.co.uk/companies/news/213717/watchstone-revenues-driven-lower-by-ingenie-car-insurance-arm-as-challenges-continue-213717.html> accessed 27 February 2019.