In this article, we revisit the Asons-Coops saga, as judgment has recently been handed down from the Solicitors Disciplinary Tribunal (SDT) regarding the former Coops head of legal practice and Asons head of industrial disease, Munir Majid.
Asons Solicitors, the claimant firm, entered into liquidation on 24 March 2017 and was intervened by the SRA 6 days later, on suspicion of 'breaches of the SRA Principles and breaches of the SRA Code of Conduct'. In edition 179 (here), we notified our readers that Asons had ceased trading and all employees had been TUPE transferred across to Coops Law. Shortly after this, in edition 190 (here), we reported that the regulator had shut down Coops, on the grounds that it had 'reason to suspect dishonesty'.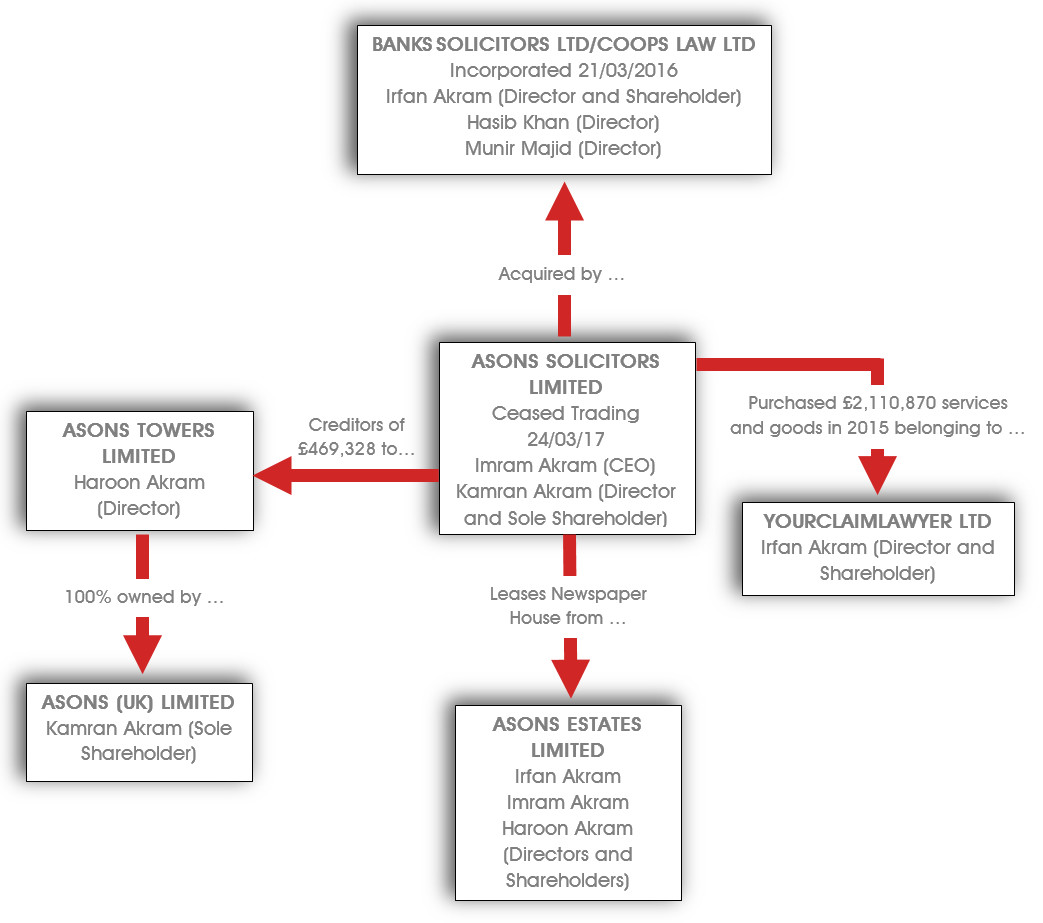 In edition 238 (here), we gave an account of the SRA's ongoing investigation into Mr Majid, based on allegations that he:
Caused or allowed the transfer of 6,000 client files from Asons to Coops where no authority was provided by clients;
Allowed staff to access confidential client details from Asons' client database without their permission;
Placed undue pressure on at least one client to give authority 'urgently';
Failed to ensure clients were given sufficient information enabling them to make an informed choice about instructing Coops;
Allowed Asons client account funds to be transferred without authority to Coops client bank accounts;
Shared clients' email addresses with other clients and;
Failed to carry out adequate due diligence before and after accepting the role of lawyer manage/head of legal practice at Coops.[i]
One week later (here), we summarised the SDT hearing of the former Chief of Asons Solicitors, Kamran Akram, who was suspended from practice for 18 months and was ordered to pay £115,000 in costs. The Tribunal discovered that Mr Akram had advised clients to discontinue claims, or abandon clients just before a hearing, when exaggerated fees or special damages were queried by insurers and admitted to billing for work that had been undertaken by other members of staff.
On 6 January, the SDT hearing, in respect of Mr Majid, took place.[ii]
Full text judgment can be accessed here.
The upshot of the hearing is that Mr Majid, who has not held a practising certificate since 17 November 2017, but remained on the roll as a non-practising solicitor, has been formally suspended from practice for 6 months and agreed to pay costs of £17,987.71. This was deemed to be a sufficient and proportionate punishment to match the seriousness of the admitted misconduct.
Breach of Confidentiality
On 23 March 2017, a £229,534.57 sale and purchase agreement was signed. Soon after, 6,000 Asons files were transferred over to Coops, albeit without client authority (by 9 May 2017, 5,743 verbal client authorities had been made retrospectively). Mr Majid had failed to make adequate enquiries as to whether client consent had been obtained prior to the transfer of the files. To obtain retrospective authority, Mr Majid had allowed or caused Coops to access confidential information of Asons clients using Asons' client database without obtaining the clients' prior knowledge or consent. After receiving retrospective verbal authority, clients were sent a follow up letter which would provide signed form of authority for Coops to take over the claim:
'... It is vital you do this urgently, to enable us to ensure that your claim is not delayed in any way ...'
An attached client authority letter also stated:
'We need this [form of authority] now and today'.
Mr Majid had failed to act with integrity or trustworthiness and failed to act in the best interests of client, allowing under pressure to be put on clients to secure their authority. As such, he had breached SRA Principles 2, 4 and 6.
Failure to Obtain Informed Consent
Many Asons clients were informed that the transfer of files to Coops would be reflected solely by a different name on the letterhead. Given Mr Majid's connection to Asons, he failed to ensure that clients could make an informed choice about whether to instruct Coops. This constituted a breach of SRA Principle 4.
Mishandling of Client Money
Between March and April 2017, £596,302.69 of client money was paid into Coops' client bank account without authority, even though many cheques were made payable to Asons. Thus Mr Majid had breached Rules 14.2 and 19.4 of the Accounts Rules and SRA Principle 10.
Data Breach
On 31 March, an Asons client received a generic Coops email which disclosed the contact details of over 100 of Asons' clients. This data breach, which Mr Majid caused or allowed to occur, constituted a breach of SRA Principle 4.
Due Diligence
Mr Majid failed to carry out due diligence before and after accepting his job at Coops. Specifically, he failed to make himself aware of the conditions attached to the Firm's licence, which precluded the acceptance of paid referrals. This constituted breaches of SRA Principles 6 and 8.
The tribunal ultimately concluded, at paragraph 79, that:
'The motivation for the misconduct was to secure retrospective authority for the improper transfer of client files from Asons to the Firm and thus to obtain for the Firm the profit costs / fee income associated with those files'.
Although Mr Majid's actions reflected 'a serious departure from the integrity and probity expected of a solicitor', they were not so serious as to warrant striking him off the roll.
[i] John Hyde, 'Ex-director facing SDT over Asons-Coops file transfer' (Law Gazette, 11 July 2018) https://www.lawgazette.co.uk/practice/ex-director-facing-sdt-over-asons-coops-file-transfer/5066827.article accessed 11 July 2018
[ii] Neil Rose, 'Suspension of Coops solicitor sheds light on Asons deal' (28 February 2019 Legal Futures) <https://www.legalfutures.co.uk/latest-news/suspension-of-coops-solicitor-sheds-light-on-asons-deal> accessed 28 February 2019.