The introduction of a budget discussion report (or Precedent R – see here) has allowed parties to comment on their opponents' costs budgets (or Precedent H – see here) in claims litigated post-6 April 2016.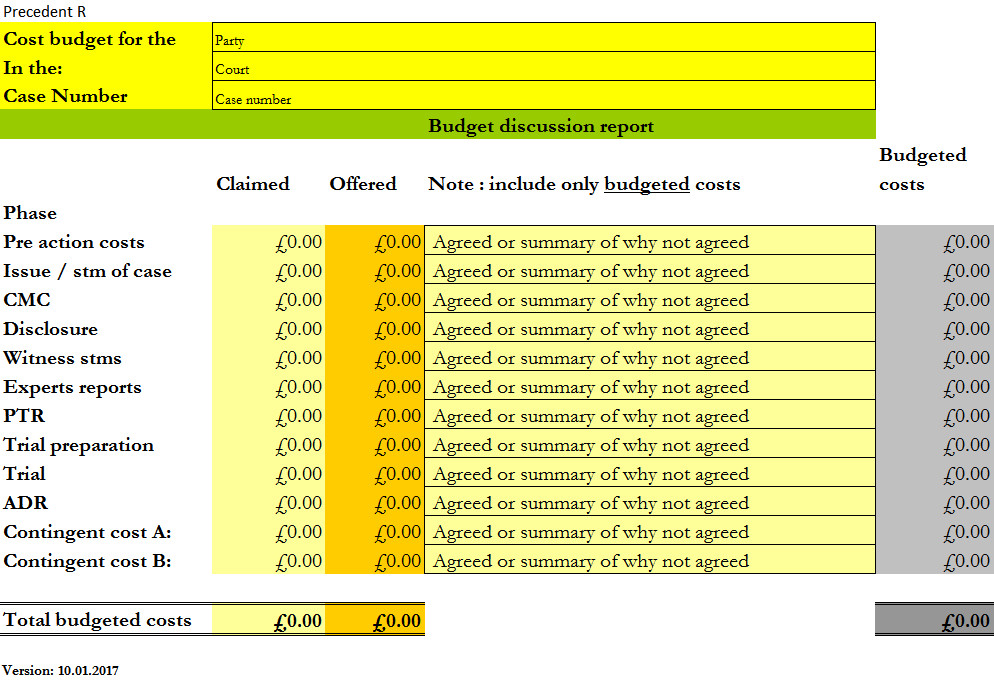 Enforcement of Precedent R is reflected in CPR 3.13(2):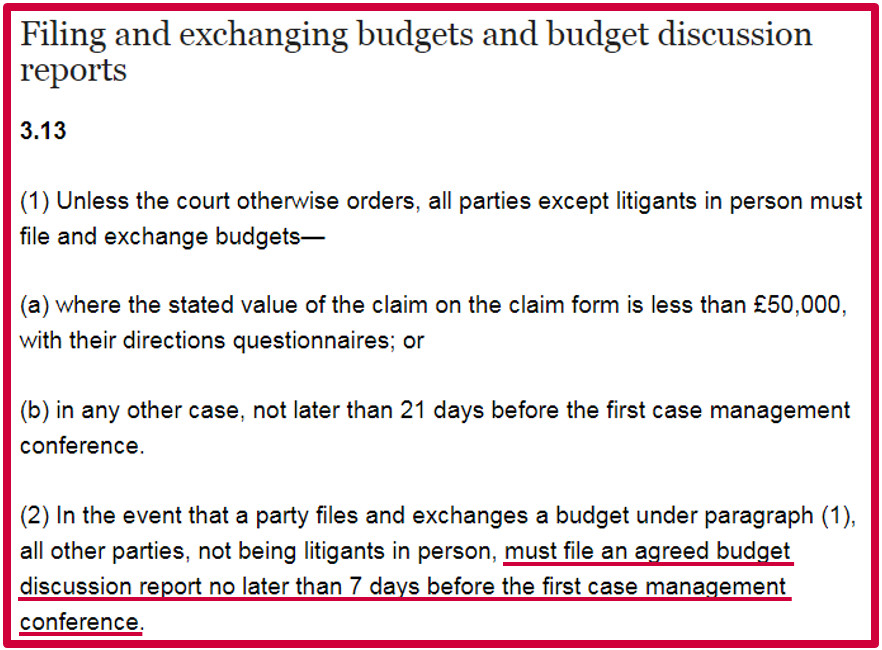 Pursuant to Practice Direction 3E Paragraph 6A, Precedent R registers figures that are agreed, figures that are not, and summarises the grounds of dispute.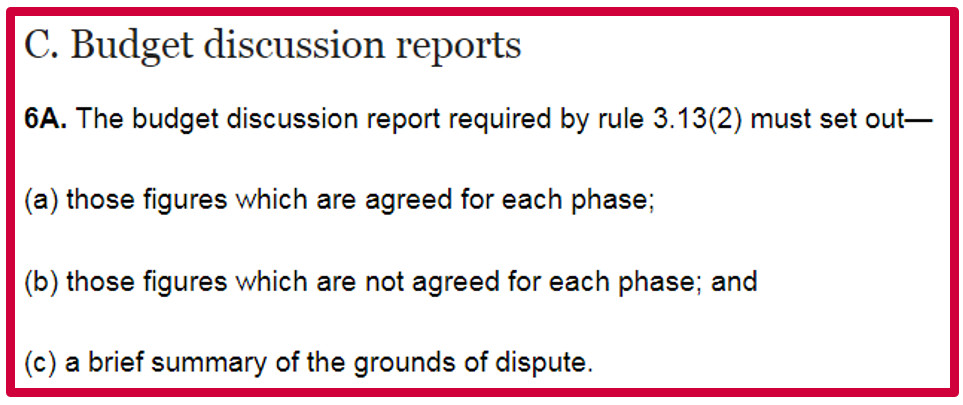 According to CPR 3.15(2), judges at costs management may 'at any time' make a 'costs management order'. An order of this kind has the following objectives, namely to:

The purpose of Precedent R, therefore, is to assist judges with the making of 'costs management orders' at case and costs management conferences (CCMC).
In edition 185 of BC Disease News (here), we reported on the case of Findcharm Ltd v Churchill Group Ltd [2017] EWHC 1109 (TCC), which highlighted how Precedent R can be exploited in its present form.
In Findcharm, Mr Justice Coulson found that the defendant had offered unrealistic, unjustifiable and 'very low figures in their Precedent R [£79,371.23], in the hope that the court may be tempted to calculate its own amount, somewhere between the wildly different sets of figures [£244,676.30] put forward by' the claimant.
The defendant was hoping to obtain a 'tactical advantage' by driving down its own costs assessment, but the claimant's cost budget was proportionate and reasonable.
As a result, the defendant's conduct amounted to an 'abuse of the costs budgeting process'.
Coulson J emphasised a 'critical need to ensure that the Precedent R process is carefully and properly adhered to by the parties to civil litigation'.
This week, Legal Costs & Funding Specialist, Sean Linley, announced by LinkedIn post that from 25 April 2019, an expanded Precedent R will come into effect and replace the current version, which is annexed to PD 3E.[i]
Within the amended Precedent R spreadsheet, which can be found on page 34 of the 104th Update – Practice Directions Update (see here), there is a new column for incurred costs, which can be recorded, but not approved, at the CCMC [see CPR 3.15(2)(c)].
In addition, the 'claimed' (budgeted costs) and 'offered' (paying party's response to budgeted costs) will be broken down by time spent and disbursements.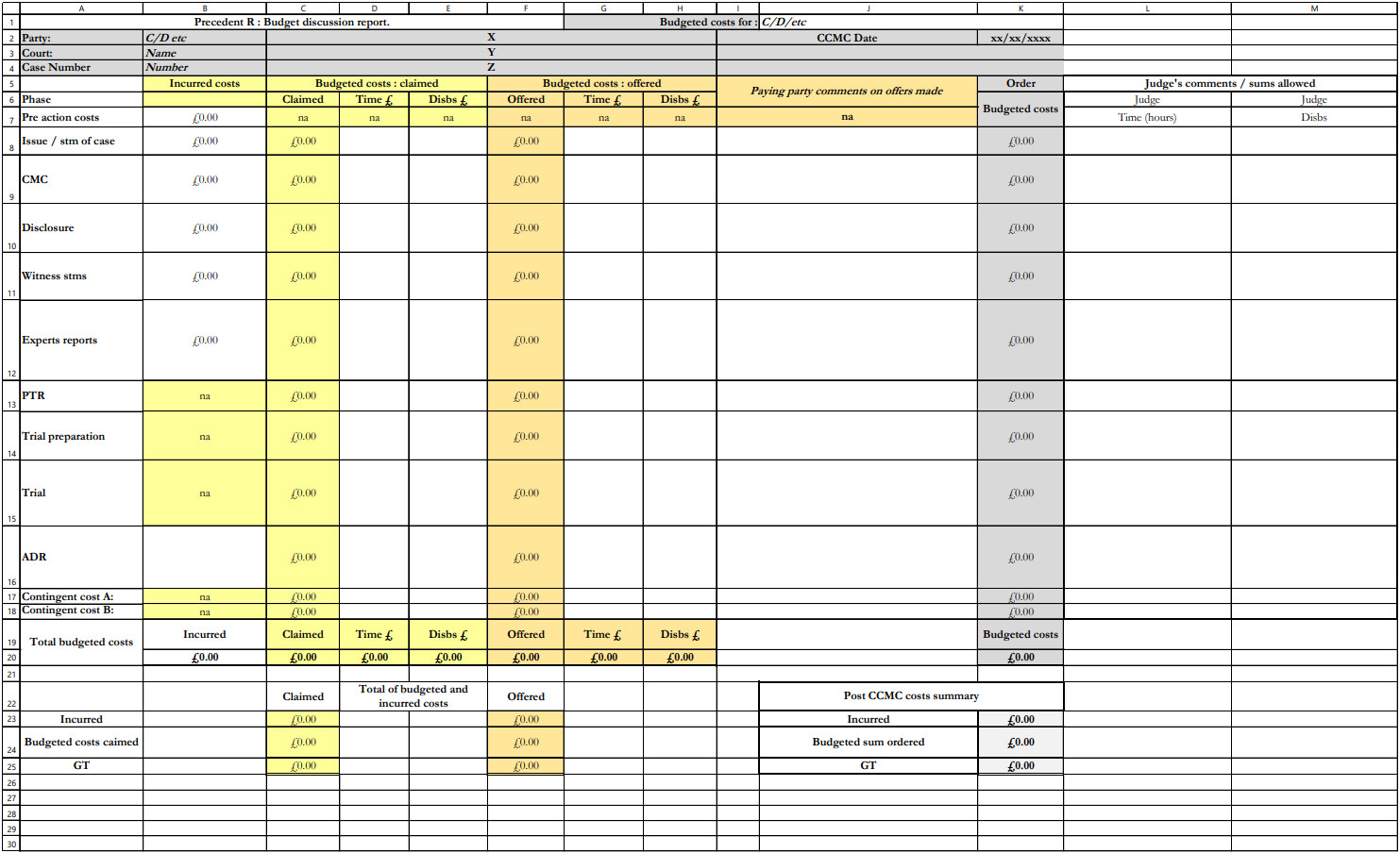 However, Mr Justice Jacobs, in Yirenki v Ministry of Defence [2018] EWHC 3102 (QB), forewarned against the costs budgeting process becoming a 'micromanaged' operation, leaving hourly rates 'open' to be debated by the costs judge at detailed assessment:
'... the process of setting the budget, and then the question at a detailed assessment of comparing how the budget was spent, becomes something which is being micromanaged by the court. That is something to be avoided. Paragraph 7.3 of the Practice Direction indicates that the ultimate aim is to arrive at budgeted costs which fall within the range of reasonable and proportionate costs. None of that means, of course, that it is not appropriate for the Master, when setting the budget and approving the figures, to look at the constituent parts. Indeed, it is impossible to see how a Master can sensibly come to figures without looking to see how they have been calculated by the party putting them forward. In so doing, the Master would use his or her experience as to how much time should be spent, the type of people who should be doing the relevant work, and his or her experience of hourly rates. However, all of those matters feed in to the identification of all of a reasonable and proportionate figure. They do not feed in to a finding as to the specific number of hours which are to be spent in the future, or a finding as to specific figure for disbursements to be incurred in the future'.
Such an approach is explicated by PD 3E Paragraph 7.10, though the new Precedent R includes a column for the judge to comment on, or approve, 'Time (hours)'.

It is possible that the new Precedent R could force CCMC judges into a 'detailed assessment in advance', which Deputy Master Campbell sought to avoid in RNB v London Borough of Newham [2017] EWHC B15 (Costs) – reported here.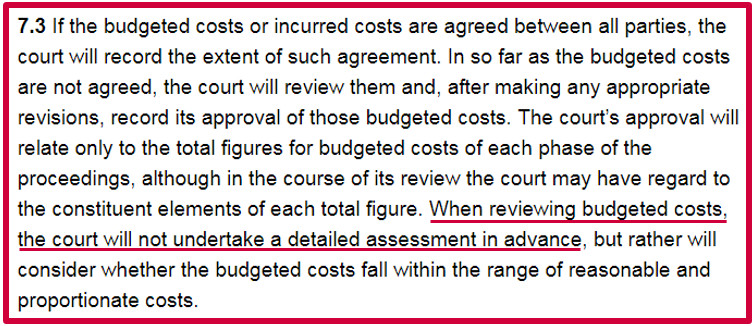 [i] Sean Linley (25 February 2019 LinkedIn) <https://www.linkedin.com/feed/update/urn:li:activity:6505787809566199808> accessed 26 February 2019.