In an October 2018 edition of BC Disease News (here), we reported on the Diesel Exhaust Mitigation Study (DEMiSt). DEMiSt is Kings College London-led research, with funding from the Institute of Occupational Safety and Health (IOSH), which seeks to investigate the effects of pollution on professional drivers.
More recently, in related news, Scottish researchers have found a 'causal relationship' between very high levels of occupational exposure to noxious vehicle exhaust emissions and breast cancer.[i]
The Faculty of Health Sciences and Sport, at the University of Stirling, undertook a case study of a US border guard, who was diagnosed with the condition after 20 years of employment (40 hours per week), aged 44, and relapsed 6 years later, aged 51. Results were published in the New Solutions journal.[ii]
Significantly, 5 border guards (including the woman who took part in the UK case study) developed breast cancer within 30 months of each other at a commercial border crossing between North America and Canada. At another crossing, 4 miles away, there were 7 reported cases of breast cancer among border staff.
The test subject in this particular case study worked in a booth on the Ambassador Bridge, a crossing which carries 27,000 vehicles (12,000 trucks and 15,000 cars) per day from Ontario to Michigan and vice versa. It is possible that she was exposed to the fumes of up to 46.8 million vehicles.[iii]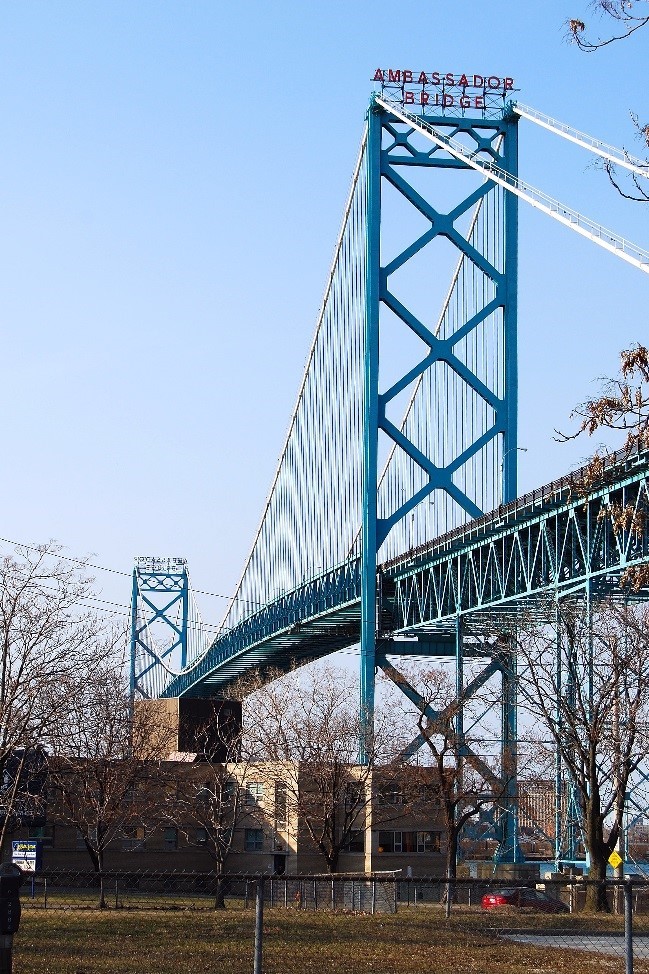 (Source: Wikimedia Commons)
Lead researchers, Dr Michael Gilbertson and Dr Jim Brophy, compared the prevalence of cancer in the general population with the border guards in Detroit, recording that:
'The cluster of cases in staff at the bridge was 16-times higher than the rate in the rest of the country – there is less than a one in 10,000 probability that this could have occurred by chance'.
This statistically significant finding was compounded by a further observation that these cancer clusters were 'early-onset and pre-menopausal with recurrences'.
Although her claim for compensation was denied at a Workplace Safety and Insurance Appeals Tribunal (WSIAT), the Scottish academics have declared that 'outbreaks of breast cancer [in the traffic regulation industry] represent a new occupational disease' and called for more forensic research to be undertaken in an 'unfamiliar area'.
They argue that components of exhaust fumes, such as aldehydes, dioxins and aromatic hydrocarbons, inhibit BRCA1 and BRCA2 genes, which has the effect of suppressing tumour growth[iv] - the border guard did not inherit her genetic disposition.
As such, this 'new occupational disease' has been tentatively labelled 'occupational BRCAness'.
The research paper also acknowledged that irregular working patterns, such as night-shift work, contributed towards the high incidence of breast cancer. Thus, it was concluded that:
'With this new knowledge, industry and government can plan for new designs for industrial and commercial facilities to cut down on the occupational exposures to traffic-related air pollution and for scheduling shift work to minimise disruption of sleep patterns'.
[i] Martin Hannan, 'Scots university study discovers link between air pollution and cancer' (23 November 2018 The National Scot) <https://www.thenational.scot/news/17242560.scots-university-study-discovers-link-between-air-pollution-and-cancer/> accessed 22 February 2019.
[ii] Gilbertson, M., & Brophy, J. (2019). Causality Advocacy: Workers' Compensation Cases as Resources for Identifying and Preventing Diseases of Modernity. NEW SOLUTIONS: A Journal of Environmental and Occupational Health Policy, 28(4), 704–725. <https://doi.org/10.1177/1048291118810900> accessed 22 February 2019.
[iii] Caroline Finnegan, 'Breast Cancer Risk: New Study Says Long-Term Exposure To Vehicle Exhaust Fumes Results In Breast Cancer' (25 November 2018 Chief Observer) <http://thechiefobserver.com/797/breast-cancer-risk-new-study-says-long-term-exposure-to-vehicle-exhaust-fumes-results-in-breast-cancer/> accessed 22 February 2019.
[iv] University of Stirling, 'Occupational health study links air pollution and cancer' (22 November 2018 Eurek Alert!) <https://www.eurekalert.org/pub_releases/2018-11/uos-ohs112218.php> accessed 22 February 2019.