In a High Court judgment, handed down on 15 February 2019, Andrew Henshaw QC proposed a threshold for success in applications for relief from sanctions.
In civil litigation, sanctions are automatically imposed when a party fails to comply with a rule, practice direction, or court order – see CPR 3.8(1).

However, sanctions will not be imposed if the party in default makes a successful application for relief from sanctions, under CPR 3.9(1).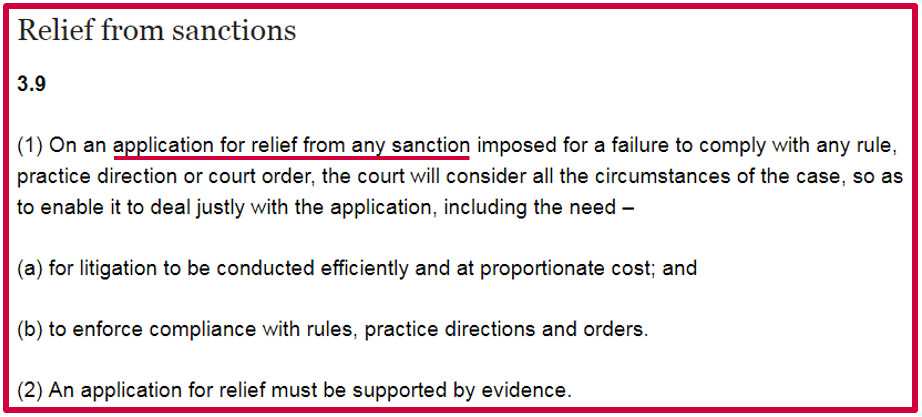 Typically, an application for relief is assessed against the 3-stage test, established in Denton v TH White Ltd [2014] EWCA Civ 906:
Is the breach 'serious or significant'? – WHAT
Is there 'good reason' for the breach? – WHY
Evaluate 'all the circumstances of the case'.
It would be accurate to say that the Denton test is fact specific (a subjective test). However, at paragraph 29 of the Consult II ruling, Mr Henshaw QC introduced a criterion, in relation to the 2nd stage of Denton, which would appear to have universal effect:
'... when a party seeks relief from a sanction, the applicable standard of evidence required to explain its failure to comply with the obligation in question should be no lower than the standard that applies when the court decides whether to impose a sanction in the first place. It would be illogical and contrary to the underlying policy mentioned above for a party to be relieved from a sanction based on a lower standard of evidence than would have been required to avoid the imposition of the sanction'.
Could it be interpreted that this 'applicable standard' also applies to the intentions of the Civil Procedure Rule Committee (CPRC) when it instituted sanctions for non-compliance with rules and practice directions?
It may be a stretch too far to extend this 'applicable standard' to capture all sanctionable conduct.
However, this approach would appear to create a more objective mechanism by which judges can evaluate the consequences of non-compliance with court orders, e.g. unless orders, on a case-by-case basis.
Regardless, Consult II offers a practical analysis of what 'good reason', under Denton, means.
Full text judgment can be accessed here.