Last week, Unite, the trade union, reiterated its call for a full public inquiry into so-called 'aerotoxic syndrome'.[i]
Various experts believe that long-term exposure to contaminated air, which enters aircraft cabins through unsealed jet engines (also known as 'bleed air') during 'fume events' causes 'aerotoxic syndrome'. The Civil Aviation Authority (CAA) recognises the condition as 'aerotoxicity'.
Common symptoms of 'aerotoxic syndrome' include itching or soreness of the eyes, nasal discharge, sore throat, coughing, nausea, dizziness and cognitive impairment, while some consider the condition to be potentially fatal.
Throughout the inquest into the death of former British Airways (BA) pilot, Richard Westgate, it was submitted that 'aerotoxic syndrome' was the lethal cause, though these accusations were not tested by the Coroner at Swindon Coroners Court, in April 2017.
Following a more recent post-mortem inquest into BA cabin crew member, Matt Bass, who died aged 34, the Senior Coroner overseeing the inquest wrote an unprecedented letter of concern to the Chief Coroner. As a result, all coroners are now obliged to call for additional tests in suspected cases of 'aerotoxic syndrome'.
On 29 January 2019, Unite was prompted to call for a public inquiry into the controversial industrial disease, when news surfaced that a 'fume event' had occurred on a return flight from Boston to London Heathrow (BA212), one week-prior.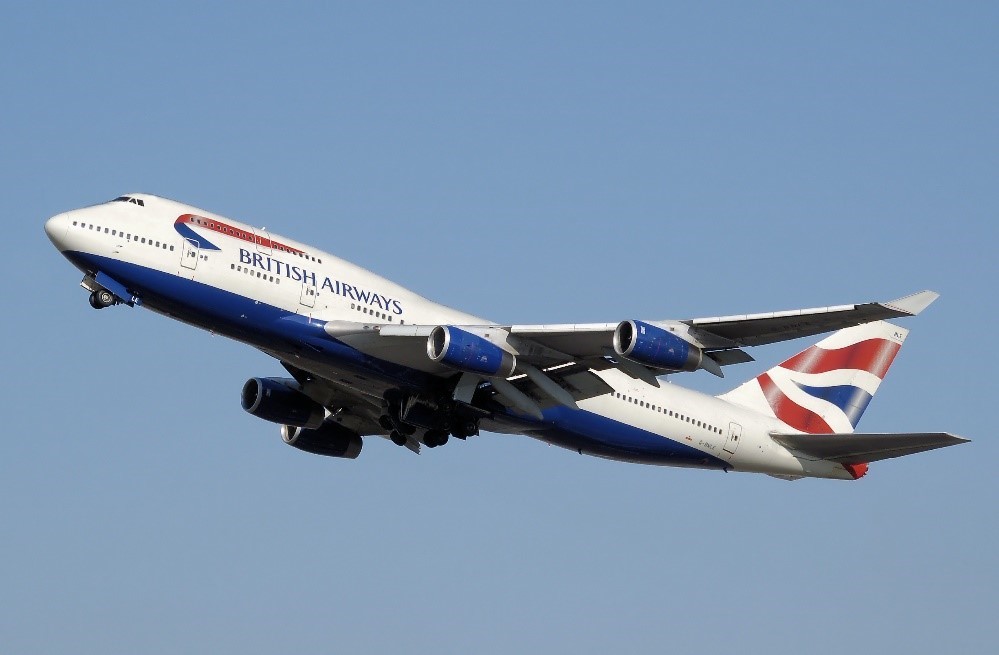 Figure: British Airways Boeing 747-400 (Source: Wikipedia)
On the outbound BA flight from Heathrow (BA213), cabin crew complained of a 'strange toxic smell' when the plane landed on US soil. An official Air Safety Report logged this incident, but the aircraft was pronounced 'safe for take-off' by BA engineers in Boston, after having completed 'thorough checks'.
However, 1 hour and 41 minutes post-departure, flight BA212 was forced to divert back to Boston, after smoke flooded the cabin at 30,000 ft. The pilot declared a 'May Day' emergency.[ii]
10 crew members were taken to hospital for medical assessment, of whom 2 crew members were 'seriously ill' and 1 was 'violently unwell'.
The Boeing 747-400 remained grounded for 3 days, while it was probed by a team of experts. Subsequently, it was flown back to London without passengers. Almost immediately after arrival, the aircraft was cleared to embark on a commercial flight to New York.
'Fume events', like the incident on flight BA212, are not uncommon. As a matter of fact, in the past year alone, there have been multiple reported 'fume events' on BA flights. In August 2018, a 'fume event' occurred at 20,000 ft, 20 minutes into an Airbus A320 flight (BA345) from London Heathrow to Nice.[iii] Just one month later, another 'fume event' occurred at on an A320 flight (BA2960) from London Gatwick to Glasgow.[iv]
It is accepted that toxic organophosphates, known as ortho-substituted tricresylphosphates (ooo-TCPs), are found in toxic 'bleed air'. What is not accepted, however, is the source of contaminants in 'bleed air'.
Toxic organophosphates are not detected in engine oil itself and, in edition 258 of BC Disease News (here), we analysed the results of Manchester Metropolitan University research, which discovered that transisomerisation, a process that occurs in aircraft air conditioning systems, does not convert harmless organophosphates into ooo-TCPs. Ultimately, the study findings suggest that more emphasis should be placed on identifying alternative 'bleed air' pollutants, such as hydraulic fuel and anti-freezing fluid.
BA bosses have attributed the 'fume event' during flight BA212 to de-icing chemicals, used on the Boston runway in negative 15°C temperatures.
According to a BA spokesperson, employees are encouraged to report safety incidents on flights and details of these incidents are passed on to the CAA. However, the spokesperson told Sun Online Travel that:
'There has been substantial research into questions around cabin air quality over many years. In summary, the research has not shown that exposure to potential chemicals in the cabin causes long-term ill health'.[v]
Not all airlines have downplayed the effects of 'aerotoxic syndrome', however, with EasyJet announcing, in 2017, that it would be installing new Pall Aerospace air filters on its fleet to reduce the risk of exposure to 'toxic air'.[vi]
Amid fears that 'fume events' have been under-reported, Unite has created a 'Fume Event Register' (see here).
Will the Government submit to unrelenting trade union pressure and launch a public enquiry into 'aerotoxic syndrome'?
As an emerging employers' liability (EL) and public liability (PL) risk, readers can expect sustained scrutiny of 'aerotoxic' developments in future editions of BC Disease News.
[i] Hajera Blagg, 'Toxic cabin air 'damaging lives'' (29 January 2019 Unite Live) <http://unitelive.org/aerotoxic-public-inquiry-fume-event/> accessed 5 February 2019.
[ii] Stephen Moyes and Sam Christie, 'MID-AIR MAYDAY British Airways flight declares emergency at 30,000ft as 'toxic smell' leaves ten crew in hospital' (28 January 2019 The Sun) <https://www.thesun.co.uk/news/7172405/british-airways-cabin-crew-smoke-hoods-toxic-fumes-nice-flight/> accessed 5 February 2019.
[iii] Stephen Moyes and Sam Christie, ''UTTER PANIC' British Airways passengers shocked as cabin crew don smoke hoods at 20,000 ft over 'toxic odour'' (4 September 2018 The Sun) <https://www.thesun.co.uk/news/7172405/british-airways-cabin-crew-smoke-hoods-toxic-fumes-nice-flight/> accessed 5 February 2019.
[iv] Terri-Ann Williams, 'British Airways pilot 'used oxygen mask and five crew were sent to hospital over fears toxic fumes had leaked into plane cabin'' (9 September 2018 The Daily Mail) <https://www.dailymail.co.uk/news/article-6147913/British-Airways-pilot-used-oxygen-mask-five-crew-sent-hospital-toxic-fume-fears.html> accessed 5 February 2019.
[v] Kara Godfrey, 'AIR-MERGENCY Fears that air passengers could be breathing in deadly 'toxic fumes' spark calls for public inquiry
Toxic fumes on plane' (30 January 2019 The Sun) <https://www.thesun.co.uk/travel/8316704/deadly-toxic-fumes-on-planes-investigation/> accessed 6 February 2019.
[vi] Andrew Gilligan, 'EasyJet to filter toxic air in cabins' (17 September 2017 The Sunday Times) <https://www.thetimes.co.uk/article/easyjet-to-filter-toxic-air-in-cabins-6qzrf6sjx> accessed 6 February 2019.