In edition 257 of BC Disease News (here), we reported that an African soldier was seeking compensation for non-freezing cold-injury (NFCI), which developed in the course of employment with acting employer, the Ministry of Defence (MoD). This week, we report on another military negligence claim, as a British soldier contracts Q fever in Afghanistan.[i]
Typically, farm animals, e.g. sheep, cattle and goats are the first source of Q fever infection, which is caused by Coxiella burnetii bacteria. It is common for animal-to-human transmission to occur by inhalation of dust which has been in contact with contaminated host materials, such as:
Placenta and amniotic fluid;
Blood;
Urine;
Faeces; and
Hides, fur and wool.[ii]
Bacterial infection can also be spread by consumption of unpasteurised milk.
Figure: Magnified Animal Cell Vacuole Infected with Coxiella Burnetti Bacteria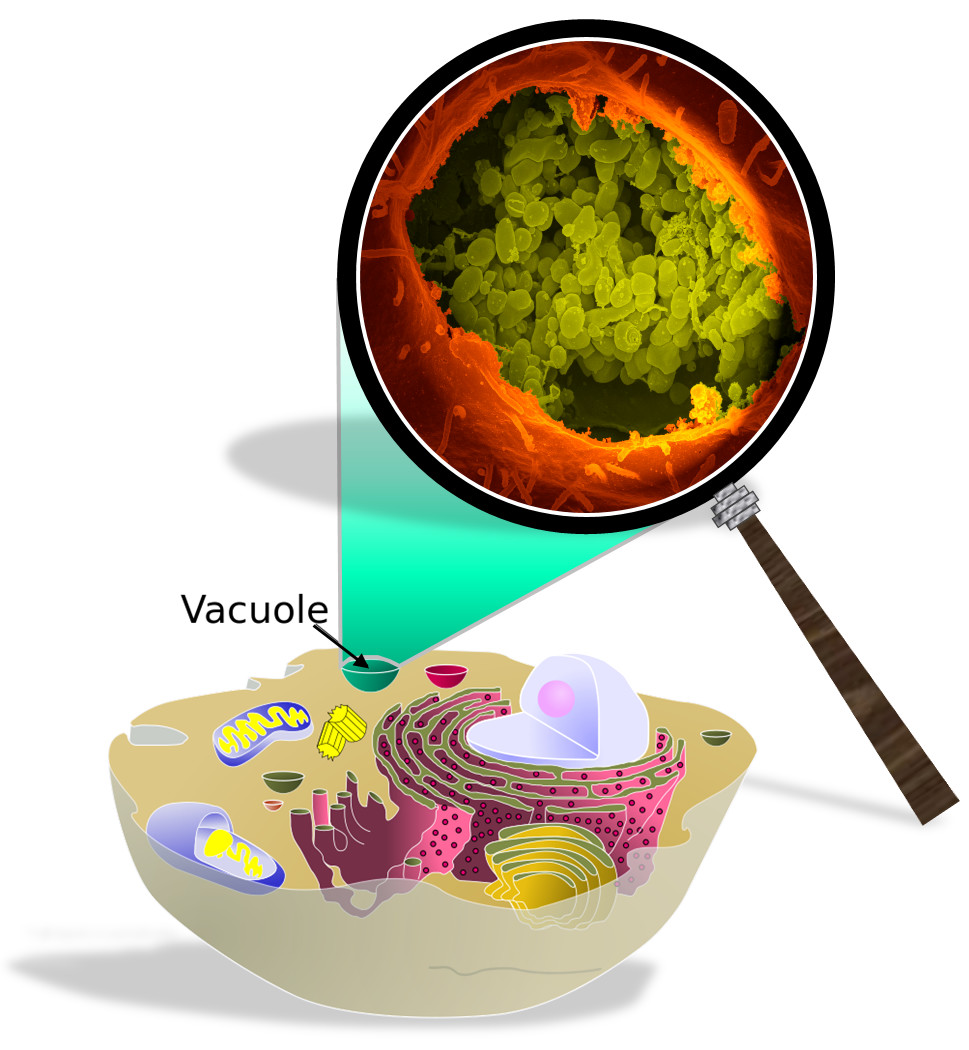 Source: Wikimedia Commons (Edited by BC Legal)
Farmers, veterinarians, stablehands and abattoir workers are employees carrying the greatest risk of infection.
Mild forms of the disease may cause flu-like symptoms, but cases are 'usually harmless' and are often asymptomatic. In rarer cases (5% of infected patients), the infection may be chronic and develop into a more serious form of the disease, which can last for up to six months and may be recurrent.
Chronic Q fever is more prevalent in those with existing heart valve problems, blood vessel abnormalities and immune deficiency. It can cause damage to vital organs, including the:
Heart;
Liver;
Brain; and
Lungs.[iii]
The most serious complication of chronic Q fever is bacterial endocarditis, which is when the inside lining of the heart chambers and heart valves become inflamed. If left untreated, this can be fatal.
Wayne Bass, an ex-army Private, formerly of the 2nd Battalion, Mercian Regiment, claims that he developed Q fever, a type of 'Helmand fever', while serving in Helmand province, in 2011. His platoon was responsible for reconnaissance and protection from heavy Taliban presence:
'To avoid enemy fire I was constantly having to dive into ditches on the ground where farm animals had been, there were animals all over the place'. [iv]
Mr Bass was given anti-malarial medication a fortnight prior to deployment in Afghanistan, which he took 50% of the time. Yet he was not briefed about malaria, or its effects, nor was he informed of the potential risk of Q fever. Malaria is another type of 'Helmand fever':
'The tablets were handed to us in a big pile and put we put them into our kit ready for kit checks.'
Following his tour of duty in Helmand, the 34 year-old infantryman was repatriated to the UK. He then spent 24 hours in Cyprus, before flying back to his military base in Northern Ireland. Returning home in May 2012, he fell ill and collapsed.[v]
He was later diagnosed with Q fever and was administered emergency intravenous doxycycline antibiotics at the Queen Elizabeth hospital and MoD's Headley Court Rehabilitation Centre. However, this treatment was unsuccessful and due to deteriorating health, he was discharged from the army, in 2014. It was impossible to determine which side-effects were due to doxycycline and which were due to Q fever. Mr Bass subsequently developed chronic fatigue syndrome (CFS).
He claims to suffer from breathlessness, aches and nerve pain, which inhibits his mobility and his capacity to work. He also claims that his condition has caused him to suffer anxiety, night terrors and depression and exacerbated existing post-traumatic stress disorder (PTSD).
Over the course of a 5-day trial, which began this Monday, the Central London County Court has considered the extent of the duty owed by the MoD to the claimant soldier, on assessment of any material breach.
Counsel for the claimant has argued that the MoD was aware of Coxiella burnetii presence in southern Afghanistan. Therefore, Q fever was a 'well-established' known risk, which the MoD failed to identify and remove/minimise. Consequently, the MoD failed to protect the claimant from preventing serious illness. Theo Huckle QC told the court:
'In essence, the complaint that the complainant makes is that the MoD failed to address the relevant risks, concerned itself with its policy on anti-malarial protection, it did not properly address the risk of Helmand group fevers to the men, and having failed to address the risk, unsurprisingly failed to take any steps to deal with that risk'.[vi]
He went on to say that doxycycline tablets would have been a more appropriate course of medication to vaccinate soldiers against both 'Helmand fevers', i.e. malaria and Q fever. Simon Clarke, Associate Professor of Cellular Biology at Reading University, advised:
'Doxycycline is an anti-malarial. If given it could have protected against both malaria and Q fever. I am puzzled that the army did not give it as a prophylactic'.
It is the claimant's submission that 'the Ministry of Defence adhered to national advice for travellers', without considering how contact with 'Helmand fevers' might differ between tourists and soldiers.
Despite counsel's acknowledgement that the risk of infection was foreseeable, the MoD denies that any action could have been taken to avoid the claimant's contraction of Q fever. In their defence, it is revealed that 200 military personnel per year tested positive for the condition between 2008 and 2011, of which only one third of cases were symptomatic.
Adopting the recommendations of the Joint Committee on Vaccination and Immunisation, the defendant submitted that it would not have been reasonable to administer doxycycline, due to its side effects and its compromising impact on anti-malarial drugs taken by the troops. Australian Government-approved Q-Vax, a specific vaccine targeted at immunising against Q fever, is not licensed in the UK.[vii]
A Partner at the claimant firm, instructed on behalf of Mr Bass, stated:
'This is the first case in which the question will be asked whether the MoD had a duty to protect soldiers against this known risk of Q fever, which we say was a preventable risk, and what steps it ought to have taken to protect them. There are other similar cases being prepared'.
In 2016, a Royal Marine was awarded compensation by the MoD in a landmark Q fever court case. A large proportion of the multi-million pound award was in respect of future care damages. Then, in 2017, a veteran soldier received a 5-figure settlement fee out of court. He recounted that his Q fever was initially treated with paracetamol.
We await judgment in the present case, which is expected to be reserved until a later date.
[i] 'Former soldier who contracted Q fever in Afghanistan sues MoD' (21 January 2019 The Guardian) <https://www.theguardian.com/uk-news/2019/jan/21/soldier-contracted-q-fever-afghanistan-sues-ministry-defence-mod> accessed 21 January 2019.
[ii] 'Q Fever' (18 January 2018 NHS) <https://www.nhs.uk/conditions/q-fever/> accessed 21 January 2019.
[iii] 'Q Fever' (Health Line) <https://www.healthline.com/health/q-fever> accessed 21 January 2019.
[iv] Clive Coleman, 'British soldier sues Army over Q fever chronic fatigue' (21 January 2019 BBC) <https://www.bbc.co.uk/news/education-46919853> accessed 21 January 2019.
[v] Sophie Law, 'Former soldier who caught Q fever after taking cover in a ditch filled with goat faeces in Afghanistan sues MoD for failing to give him antibiotics' (21 January 2019 The Daily Mail) <https://www.dailymail.co.uk/news/article-6614581/Former-soldier-sues-MoD-failing-antibiotics-Q-fever.html> accessed 21 January 2019.
[vi] MOD 'Failed To Address' Q Fever Risk To Soldiers, Court Told' (21 January 2019 Forces Network) <https://www.forces.net/news/former-soldier-suing-army-after-contracting-q-fever> accessed 21 January 2019.
[vii] Dominic Nicholls, 'Former soldier sues MoD after contracting Q fever from animal bacteria in Afghanistan' (21 January 2019 The Telegraph) <https://www.telegraph.co.uk/news/2019/01/21/former-soldier-sues-mod-contracting-q-fever-animal-bacteria/> accessed 22 January 2019.