In Australia, State Law may be amended to create a Notifiable Dust Lung Disease Register in Queensland. If successful, this will mean that all cases of coal workers' pneumoconiosis (CWP), silicosis and other lung conditions, caused by occupational exposure to inorganic dust, will be recorded.[i]
The Public Health Act 2005, as amended by the Health and Other Legislation Amendment Bill, would require medical professionals to notify Queensland Health of patients diagnosed with dust-related lung diseases.
Minister for Natural Resources, Mines and Energy, Dr Anthony Lynham, explained:
'This new register has been proposed to capture incidences of lung diseases from all working environments in which employees are exposed to inorganic dust. This will enable health authorities to monitor emerging occupational lung diseases such as CWP and silicosis'.
Minister for Industrial Relations, Grace Grace, identified that the Queensland Government has consulted with clinical groups, unions, and other key stakeholders on suggested legislative reform.
Having accepted that, for example, past and present stonemason employees are advised to undergo health screening to determine the effects of exposure to respirable crystalline silica dust, Minister Grace added:
'We believe this is foremost a workplace health and safety issue that requires a nationally coordinated response'.
In edition 223 of BC Disease News (here), we reported on a House of Commons debate on CWP (or 'Black Lung Disease'). In the course of the debate, Ben Bradley MP expressed a desire for the 'Department for Work and Pensions to work with the Department of Health and Social Care to review the diagnostic tools that are used to assess miners for signs for pneumoconiosis'.
Chest physicians, participating in the Surveillance of Work-related and Occupational Respiratory Disease (SWORD) scheme with The Health and Occupation Reporting (THOR) network, have attempted to measure incidence of CWP and silicosis cases. It is estimated that around 25 new cases of each condition are diagnosed every year, occurring in the following industries:
Stonemasons and bricklayers (26%);
Other construction-related occupations (25%);
Mining and quarrying (20%); and
Foundry-related occupations (13%).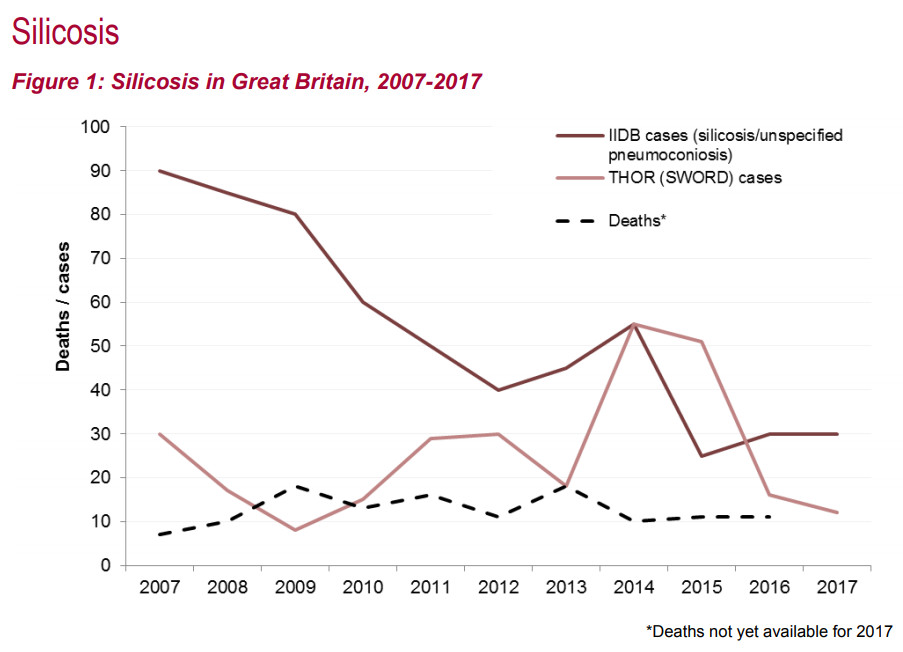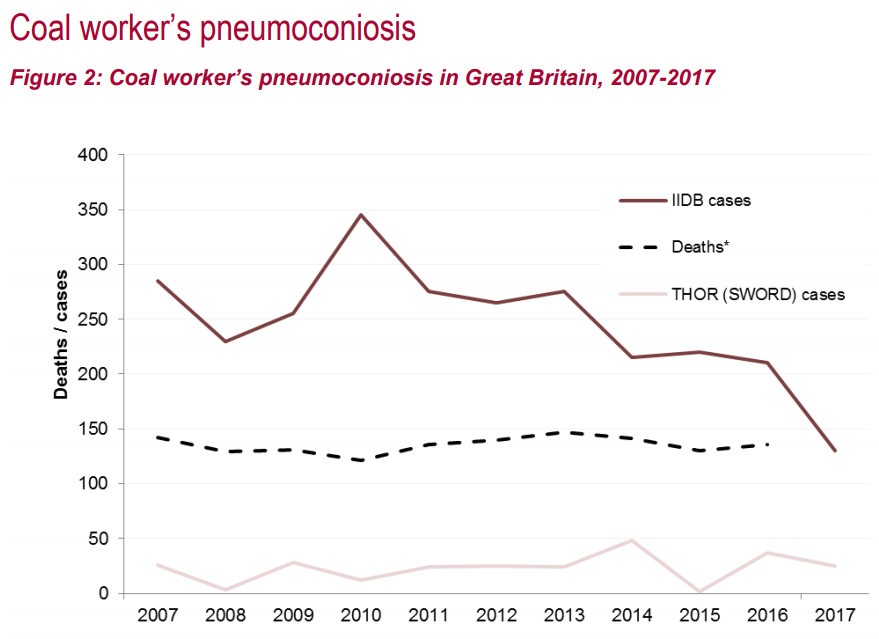 However, the HSE states, in its publication: Silicosis and coal workers coal worker's pneumoconiosis in Great Britain, 2018 (here), that:
'Available sources are likely to substantially underestimate the annual incidence of silicosis'.
Given that estimates suggest there are 800 new cases of silica-related lung disease every year, this further implies that there may be an underestimation of CWP and silicosis cases in THOR statistics.
As knowledge of widely unknown dust-related lung diseases grows, the British Government may decide that it is necessary to devise and implement a similar legislative measure to the Queensland Government, in order to monitor emerging occupational lung disease in the UK.
[i] 'Queensland health expands surveillance of dust-related diseases' (14 November 2018 Mirage News) <https://www.miragenews.com/queensland-health-expands-surveillance-of-dust-related-diseases/> accessed 19 November 2018.