A claimant, who brought a mesothelioma lawsuit against talc-based product manufacturer, Johnson & Johnson (J&J), has been unsuccessful at trial. Last Wednesday, a County Superior Court jury, in the state of California, cleared J&J of all liability.[i] One day later, a South Carolina jury failed to reach a unanimous verdict in similar case.[ii]
In the California trial, the claimant submitted that her mesothelioma diagnosis was the result of asbestos exposure when applying J&J baby powder. It was alleged that the company had been aware of asbestos fibres in cosmetic talc since 1970 and failed to warn consumers of the associated health risks.
In defending claims, J&J argues that scientific testing and regulatory approvals have shown talc to be asbestos-free and safe for human use.[iii]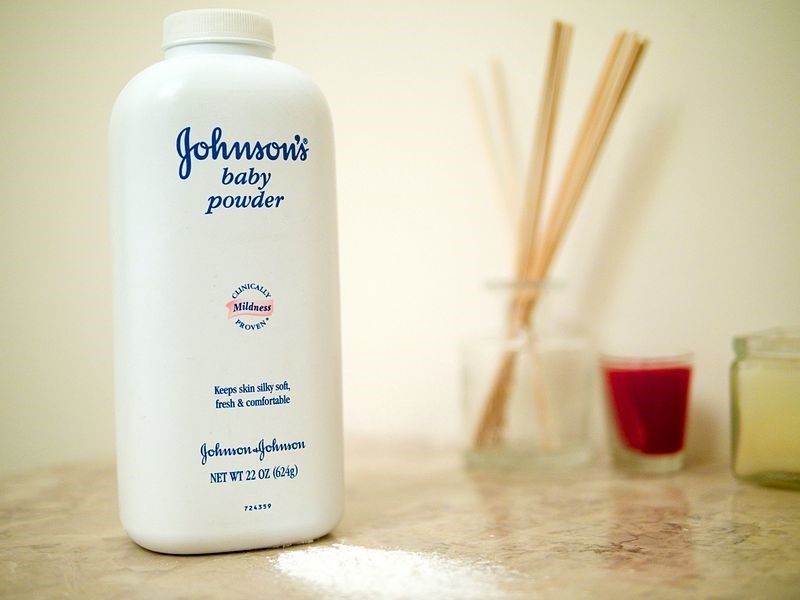 (Source: Wikimedia Commons)
Following a 7-week trial by jury, J&J was cleared of liability. Jurors found that the claimant was exposed to asbestos, but this was not a 'substantial factor' in her mesothelioma development.[iv]
Spokesperson for J&J, Kim Montagnino, said:
'... the science and facts show that ... [the claimant's] ... disease was not caused by her use of our talcum-based products ... decades of clinical evidence and scientific studies by medical experts around the world support the safety of Johnson's Baby Powder'.
In the South Carolina trial, the jury was presented with a claim, which had been brought by the spouse of a 30-year-old mesothelioma victim. This was a re-trial of the preliminary trial, in May 2018, which resulted in a hung jury. The claimant sought $62 million in damages.
Nonetheless, on Thursday of last week, Darlington County Court Judge Jean Toal ordered another mistrial. Despite having been sent back multiple times to deliberate the claimant's case, the jury was deadlocked by 11-1.
According to a report, published in October, J&J is currently facing 11,700 talc cancer lawsuits, of which more than 9,700 are ovarian cancer claims.
To-date, J&J has been cleared of liability in 3 mesothelioma and has been ordered to pay a total of $142 million in 2 mesothelioma cases. The New Jersey and California rulings which resulted in liability are both in the process of being appealed by J&J.
In respect of talc-related ovarian cancer claims, on Wednesday of this week, J&J began its appeal of a Missouri verdict, in which 22 women were awarded $4.7 billion in compensation. J&J called the compensation 'excessive and unconstitutional'.[v]
[i] Tina Bellon, 'Jury clears J&J of liability in California talc cancer case' (14 November 2018 Reuters) <https://www.reuters.com/article/us-johnson-johnson-cancer-lawsuit/jury-clears-jj-of-liability-in-california-talc-cancer-case-idUSKCN1NJ2XB> accessed 19 November 2018.
[ii] Margaret Cronin Fisk, Jef Feeley and Chris Dixon, 'J&J Trial Over Cancer Tied to Baby Powder Deadlocked Again' (16 November 2018 Bloomberg) <https://www.bloomberg.com/news/articles/2018-11-16/j-j-talc-cancer-case-in-south-carolina-ends-with-deadlocked-jury> accessed 19 November 2018.
[iii] 'Johnson & Johnson wins trial over cancer claims linked to baby powder' (15 November 2018 RT International) <https://www.rt.com/business/444048-johnson-johnson-wins-cancer/> accessed 19 November 2018.
[iv] Jef Feeley, 'J&J Wins Trial Over Asbestos Cancer Claims Linked to Baby Powder' (14 November 2018 Bloomberg) <https://www.bloomberg.com/news/articles/2018-11-14/j-j-wins-trial-over-asbestos-cancer-claims-linked-to-baby-powder> accessed 19 November 2018.
[v] Julie Steinberg, 'J&J Fights $4.7B Verdict Finding Talc Caused Ovarian Cancer' (19 November 2018 Bloomberg BNA) <https://www.bna.com/jj-fights-47b-n57982093993/> accessed 20 November 2018.