In edition 252 of BC Disease News (here), we reported that San Francisco Superior Court Judge Suzanne Bolanos upheld the original trial verdict, which found that agrochemical producer, Monsanto, had been negligent in selling glyphosate-containing Roundup herbicide. Punitive damages were reduced, on appeal, to $78 million.
Claimant farmers, landscapers and consumers have attributed glyphosate exposure to non-Hodgkin lymphoma, which can be fatal.
In a post-verdict statement, Bayer AG, the pharmaceutical company which bought Monsanto in June of this year, announced that a further appeal was planned.
Bayer's Chief Executive Officer (CEO), Werner Bauman, maintains that the business will continue to 'resolutely' defend claims that Monsanto products cause cancer, relying on litigation experience and 'decades of scientific studies and real-world use' which proves that glyphosate does not pose a hazard to human health.
He also played down Bayer's 'inexpensive' $12 million settlement of 4,000 contraceptive device lawsuits, which was agreed in April 2018.[i]
However, last week, Mr Bauman announced that the company may consider settling glyphosate lawsuits, of which there are now 8,700, if rising court fees disincentivise the financial motivation for defending claims brought against Monsanto:[ii]
'If we can settle nuisances at some point where the defence costs in preparing cases are higher than potential settlement amounts, we will of course consider it from an economic standpoint'.
Since the original trial verdict was given, on 10 August 2018, Bayer's share price has continued to fall in value.
Table: Bayer AG Share Price (Sourced from the Financial Times[iii]):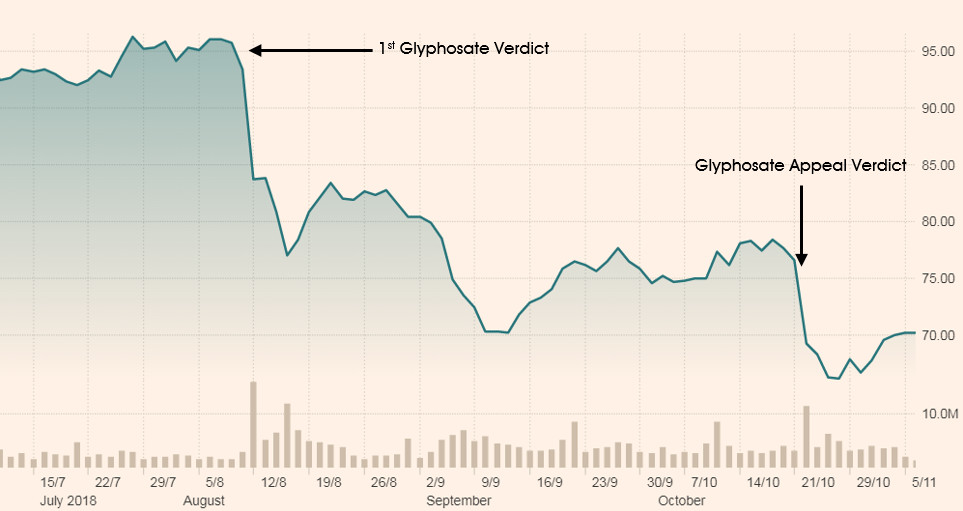 A new glyphosate trial is scheduled to begin on 25 February 2019, before District Judge Vince Chhabria, who is overseeing this case (and some 580 others). Bayer has requested that the jury pool for the February trial should be extended and that prospective jurors be questioned about their knowledge of Monsanto-related litigation.
Mr Baumann admitted that Bayer's legal strategy has changed, especially on juror selection, attributing this to the fact that the 'jury pool likely has grown more hostile' in the wake of negative media coverage.
[i] Curtis Weyant, 'Mirena Lawsuit' (Consumer Safety) <https://www.consumersafety.org/legal/mirena-lawsuit/> accessed 9 November 2018.
[ii] Tina Bellon, 'Bayer Monsanto Open to Weedkiller Settlement But Denies Cancer Claims' (2 November 2018 Insurance Journal) <https://www.insurancejournal.com/news/national/2018/11/02/506528.htm> accessed 6 November 2018.
[iii] 'Equities: Bayer AG' (6 November 2018 Financial Times) <https://markets.ft.com/data/equities/tearsheet/summary?s=BAYX.N:GER> accessed 6 November 2018.