In edition 213 of BC Disease News (here), we reported that the Court of Appeal had upheld a County Court decision to disallow the claimant's costs, in respect of 14 personal injury claims, on the basis of '"unreasonable or improper" conduct in connection with the assessment of costs'.
In without prejudice cost schedules, the claimant, a claimant law firm, had sought higher hourly rates (i.e. rates which did not match the status of the persons who carried out the work); claimed profit costs for work that had not been done; claimed additional liabilities which were not payable at all / less than the amounts claimed; and claimed a 'drafting fee' that did not exist. If these attempts had succeeded, 'GSD would have been personally enriched'.
Further, the Court of Appeal ruled that the claimant firm should pay the defendant's costs of the detailed assessment proceedings on the indemnity basis, pursuant to CPR 44.11.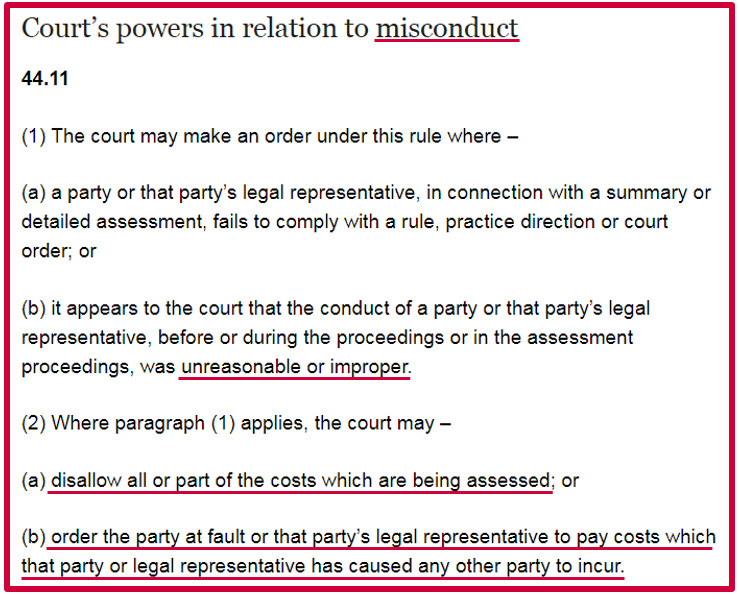 Full text judgment of GSD Law Ltd v Craig Wardman of St Gobain Building Distribution & Ors [2017] EWCA Civ 2144 can be accessed here.
Following judgment, GSD Law stated that there was no clear judicial guidance on how to deal with misconduct allegations in the context of costs.
The firm subsequently appealed to the Supreme Court, on the grounds that 'the district judge did not act appropriately, fairly or within his jurisdiction under CPR 44.11 in entertaining the allegations that its conduct was dishonest or fraudulent, as opposed to unreasonable or improper, when assessing costs, and that the district judge had not acted fairly in adopting the procedure which he used'.[i]
This week, however, the claimant firm was informed that its application had been unsuccessful.[ii]
Lord Kerr, Lord Lloyd Jones and Lord Briggs refused the challenge, as 'the application does not raise an arguable point of law of general public importance which ought to be considered at this time bearing in mind that the case has already been subject of judicial decision and reviewed on appeal'.
As a result of this refusal, defendant parties to personal injury claims may be in a stronger position to challenge claimant firms, if it is suspected that claimed costs have been unfairly inflated.
[i] Neil Rose, 'Supreme Court refuses to hear appeal over 'dishonest' costs claims' (19 September 2018 Litigation Futures) <https://www.litigationfutures.com/news/supreme-court-refuses-to-hear-appeal-over-dishonest-costs-claims> accessed 20 September 2018.
[ii] John Hyde, 'Supreme Court refuses appeal bid from firm denied PI costs' (20 September 2018 Law Gazette) <https://www.lawgazette.co.uk/law/supreme-court-refuses-appeal-bid-from-firm-denied-pi-costs/5067617.article> accessed 20 September 2018.