If a defendant is unsuccessful in bringing a Part 20 claim, is it entitled to benefit from QOCS protection, pursuant to CPR 44.13? This issue was considered in the recent County Court case of Ketchion v McEwan (Newcastle County Court, 28 June 2018).
Here, the appellant commenced proceedings against the respondent for financial loss, arising out of a RTA, which occurred on 10 August 2015. The respondent brought a Part 20 claim in the same proceedings, seeking damages for personal injuries.
At the fast-track trial, on 3 August 2017, the appellant's claim was successful, while the respondent's Part 20 claim was dismissed.
Deputy District Judge Thorn, however, refused the appellant permission to enforce an order for fixed costs against the respondent. The respondent was protected by QOCS, pursuant to CPR 44.13(2). DDJ Thorn concluded that 'proceedings', in CPR 44.13(1), included both the claim and the Part 20 claim.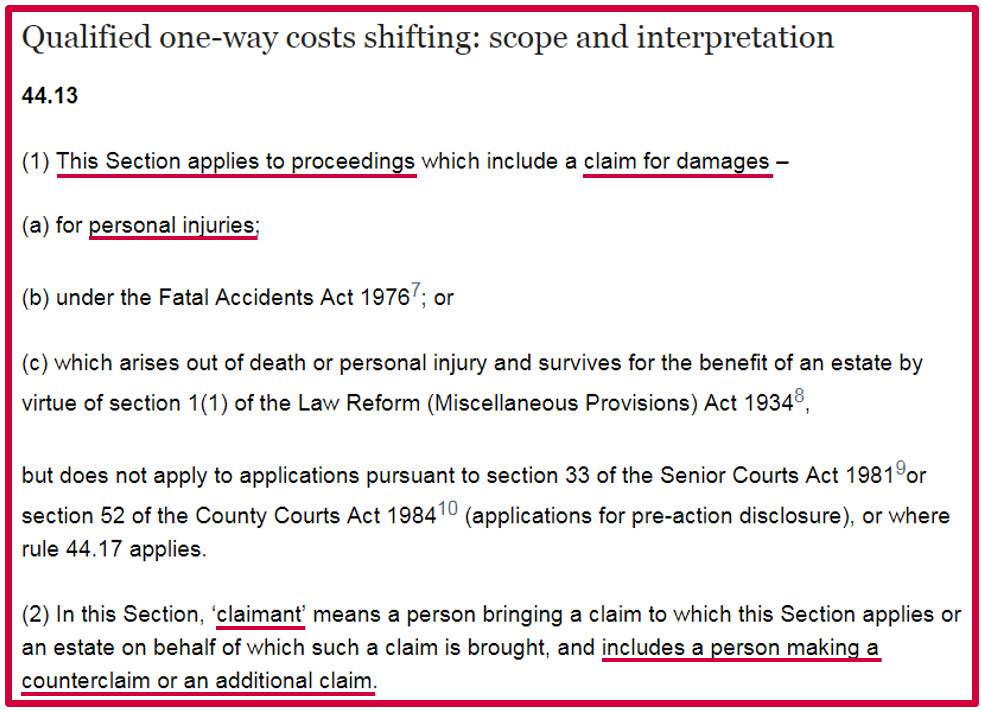 The appellant sought permission to appeal.
The appeal was heard on 23 June 2018. Shortly before this date, however, His Honour Judge Freedman was informed that the Court of Appeal was expected to hand down judgment on Cartwright v Venduct Engineering Ltd [2018] EWCA Civ 1654, which we reported in edition 239 of BC Disease News (here).
In Cartwright, the claimant was ordered to pay the costs of a discontinued co-defendant (for whom BC Legal acted), up to the level of damages that it received from an unsuccessful defendant at trial. In this way, QOCS was dis-applied.
Given the presumed impact of Cartwright on present proceedings, permission was given for the parties to file further written submissions.
So, is a Part 20 claim construed as 'proceedings', for the purposes of CPR 44.13, or should it be construed as 'separate proceedings'?
Appellant counsel submitted that a Part 20 claim should be construed as 'separate proceedings', citing the following cases as consistent with this interpretation: Wagenaar v Weekend Travel Ltd [2014] EWCA Civ 1105, Plevin Paragon Personal Finance [2017] UKSC 23 and Bowman v Norfran Aluminium Ltd (unreported).
Moreover, counsel for the appellant submitted that Cartwright remained supportive of the appellant's case and could be distinguished. Where Cartwright was concerned with a multi-defendant case with partial co-defendant success, Ketchion concerned simultaneous proceedings brought by a claimant and a Part 20 claimant.
As a result of Ketchion, a respondent insurance company was able to avoid its obligation to pay the appellant's costs after succeeding in the main action. It was the appellant's argument that this was inconsistent with the intended scope of QOCS application:
'There should be no incentive for any party to bring a hopeless claim'.
Nevertheless, at paragraph 26 of Cartwright, Coulson LJ described the language of CPR 44.14(1) as 'wide'. He went on to cite Howe v Motor Insurers' Bureau (No 2) [2017] EWCA Civ 2523, at paragraph 30, for adopting a 'wide meaning' of 'proceedings', in relation to CPR 44.15(1).
It was therefore the submission of respondent counsel that there was 'no basis whatsoever for a narrow interpretation of the word proceedings'. If a claim with multiple defendants could be construed as a single set of proceedings, it was necessary for a Part 20 claim, arising out of the same facts as the main claim, to be construed in the same way. This is reflected by the absence of any express provision in the Civil Procedure Rules that Part 20 claimants should only benefit from partial QOCS protection.
What is more, counsel for the respondent contested any suggestion that the 1st instance judge's ruling served as encouragement for Part 20 claimants to bring 'frivolous' or 'vexatious' claims with QOCS protection in mind. If a claim was 'totally devoid of merit' or used as a 'vehicle' for QOCS protection, then it would be struck out for 'being an abuse of a process or disclosing no reasonable grounds'.
Prior to Cartwright, HHJ Freedman considered the merits of this appeal to be 'arguable' with 'some chance of success'. Post-Cartwright, this appeal no longer stood a 'real prospect of success'. He reasoned, at paragraphs 21 and 22:
'Until the judgment in Cartwright was handed down, it seemed to me that, it was at least arguable that it would be possible to divide up proceedings into, on the one hand, a claim and, on the other, a Part 20 claim, i.e. two sets of proceedings, albeit that the decision in Howe tended to suggest otherwise. However, in the light of the decision in Cartwright, it seems to me that proceedings must be given a wide definition'.
Accordingly, I accept the submission, without hesitation, that it would be patently absurd and illogical if the word proceedings is deemed to cover all of the claims brought against six separate defendants, but not a claim and Part 20 claim, both of which arise out of the same accident and are joined in one action. Whilst, on one view, it may seem unjust that the defendant can avoid payment of costs in the main action, purely as a result of bringing Part 20 proceedings for damages for personal injuries, it seems to me that that is an inevitable result of the wording of CPR44.13 and 44.14. I agree with Mr Lyons that if the intention was to limit a Part 20 claimant's protection in costs, such would have been expressly set out in the rules'.
Accordingly, HHJ Freedman concluded, at paragraph 23:
'In my judgment, therefore, the proper interpretation of CPR44.13 is that the reference to proceedings is to both the claim and the counterclaim; and that since it is expressly stated that a Claimant includes a person who brings a counterclaim/additional claim, it follows that the Defendant/Part 20 Claimant has the protection of QOCS. For the reasons advanced by Mr Lyons, I reject the submission that to interpret the provisions in this way will encourage spurious or hopeless claims for damages for Personal Injuries'.
DDJ Thorn was therefore correct in refusing to enforce costs against the Part 20 claimant. Permission to appeal was subsequently refused.
Full text judgment can be accessed here.