The Health and Safety Executive (HSE) is investigating two UK companies that have supplied metal gauze mats, containing asbestos, to schools and potentially other users. A gauze mat is commonly used as a platform for heating substances above a Bunsen burner.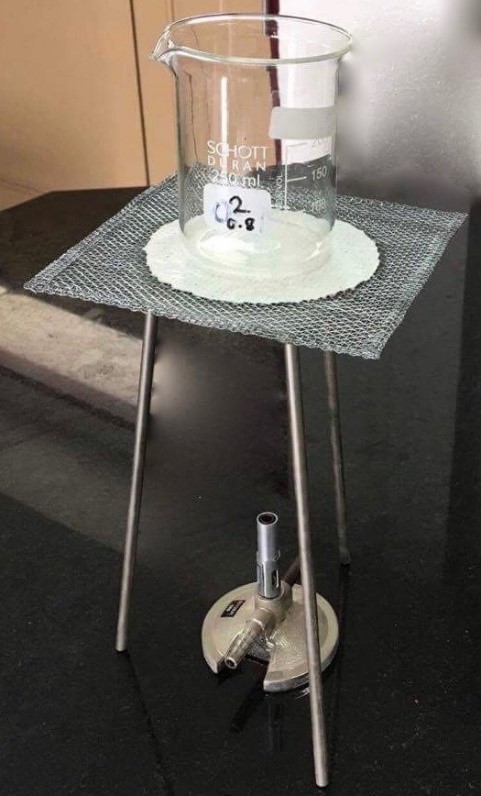 (Source: Wikipedia)
Those potentially exposed to asbestos found in the gauze mats include pupils, teachers, and other school staff, such as technicians and cleaners.
The HSE has released the following statement, following action taken against the two suppliers:[i]
'Although the risk of exposure is low, we took action as soon as we were informed. HSE inspectors ensured supply of the asbestos-containing gauze mats stopped immediately. We got the message out as soon as possible and altered schools, colleges and others to the issue, providing precautionary advice on how to check if they are affected and if so what to do next. Our investigation into the circumstances that led to these particular gauze mats coming into circulation is on-going. As part of this, HSE inspectors have served enforcement notices on both companies to ensure that all affected mats are disposed of safely'.
Following this announcement, the HSE of Northern Ireland has begun investigating whether the affected gauze mats could have been circulated in Northern Irish schools.[ii] The President of the National Association of Schoolmasters Union of Women Teachers (NASUWT) trade union has asked the Department of Education to release the names of the two suppliers to the public:
'The NASUWT believes that is it essential the government investigates why it has taken so long for it to be identified that these suppliers are using hazardous materials'.
In previous editions of BC Disease News, we have reported on the risk of asbestos exposure in schools, especially as school buildings constructed before 1946 often still contain asbestos. Indeed, in 2013, the Government's Committee on Carcinogenicity estimated that, of the 24,372 schools in England at the time, more than 75% had buildings which contained asbestos containing materials (ACMs).[iii] Figures published earlier this month showed that deaths from asbestos-related disease in teachers and school staff rose by a third between 2015 and 2016 and are still rising.[iv]
Knowsley MBC v Willmore [2011] UKSC 10 and Garner v Salford City Council [2013] EWHC 1573 (QB) both regarded asbestos-related disease and assumed school exposures and were reported in editions 6 (here) and 7 (here) of BC Disease News.
In Willmore, asbestos ceiling tiles were removed, handled and disturbed in the girl's bathroom and school corridors, resulting in the claimant's exposure and successful claim.
In the subsequent case of Garner, the claimant's exposure was allegedly caused by the demolition of school swimming baths. It was submitted that this disturbed asbestos lagging around pipes, resulting in a large cloud of dust.
Even minimal exposure can be material, for legal purposes. Although a 'material increase in risk' was not proven in Garner; elimination of any other possible source of exposure does not mean that whatever exposure remained must have been the cause.
The removal of asbestos containing gauze mats from schools is therefore imperative if the risk of asbestos-related disease is to be reduced, both in (ex-)students and in (ex-)staff.
The HSE have recently launched the Education & Volunteers Sector (PAEV) Work Plan 2018-19.[v] 50 interventions (20 Engagement and Policy Directorate and 30 Field Operations Directorate visits) are planned, with a view to building a 'clearer picture of the level of compliance with the duty to manage asbestos in schools'.
[i] HSE investigating supply to schools of metal gauze mats which contain asbestos. Health and Safety Executive, 30 August 2018. http://press.hse.gov.uk/2018/hse-investigating-supply-to-schools-of-metal-gauze-mats-which-contain-asbestos/ (Accessed 7 September 2018)
[ii] Asbestos: Bunsen burner gauze mats investigated over fears. 6 September 2018. https://www.bbc.co.uk/news/uk-northern-ireland-45426533 (Accessed 7 September 2018)
[iii] Committee on Carcinogenicity, 'Statement of the Relative Vulnerability of Children to Asbestos Compared to Adults' (7 June 2013) <http://www.iacoc.org.uk/statements/documents/Asbestosinschoolsstatement_000.pdf> accessed 26 June 2013.
[iv] Alex Strauss, 'New Report Highlights Mesothelioma Danger in British Classrooms' (4 September 2018 Surviving Mesothelioma) <https://survivingmesothelioma.com/new-report-highlights-mesothelioma-danger-in-british-classrooms/> accessed 11 September 2018.
[v] 'Public Administration, Education & Volunteers Sector (PAEV) Work Plan 2018-19: Proactive inspection of schools to assess the management of asbestos in buildings.' (HSE) <http://www.hse.gov.uk/foi/internalops/og/og-00104.pdf> accessed 11 September 2018.