In July 2018, IRN Research, the market research consultancy, released a report: UK Personal Injury Market 2018: Market Trends Report.[i] In this article, we select the relevant employers' liability disease data, which was presented within the publication.
Firstly, there has been an especially rapid fall in disablement benefit claims for prescribed diseases. The table below displays the numbers of claims received by the Industrial Injuries Scheme between 2012 and 2017.

From the graph below, a clear downward trend can be observed, despite a brief 4-year period (2013 – 2016) of claims stability. Although the number of claims decreased by 13% over the past year, there has only been a 20% fall over the 6-year period since 2012.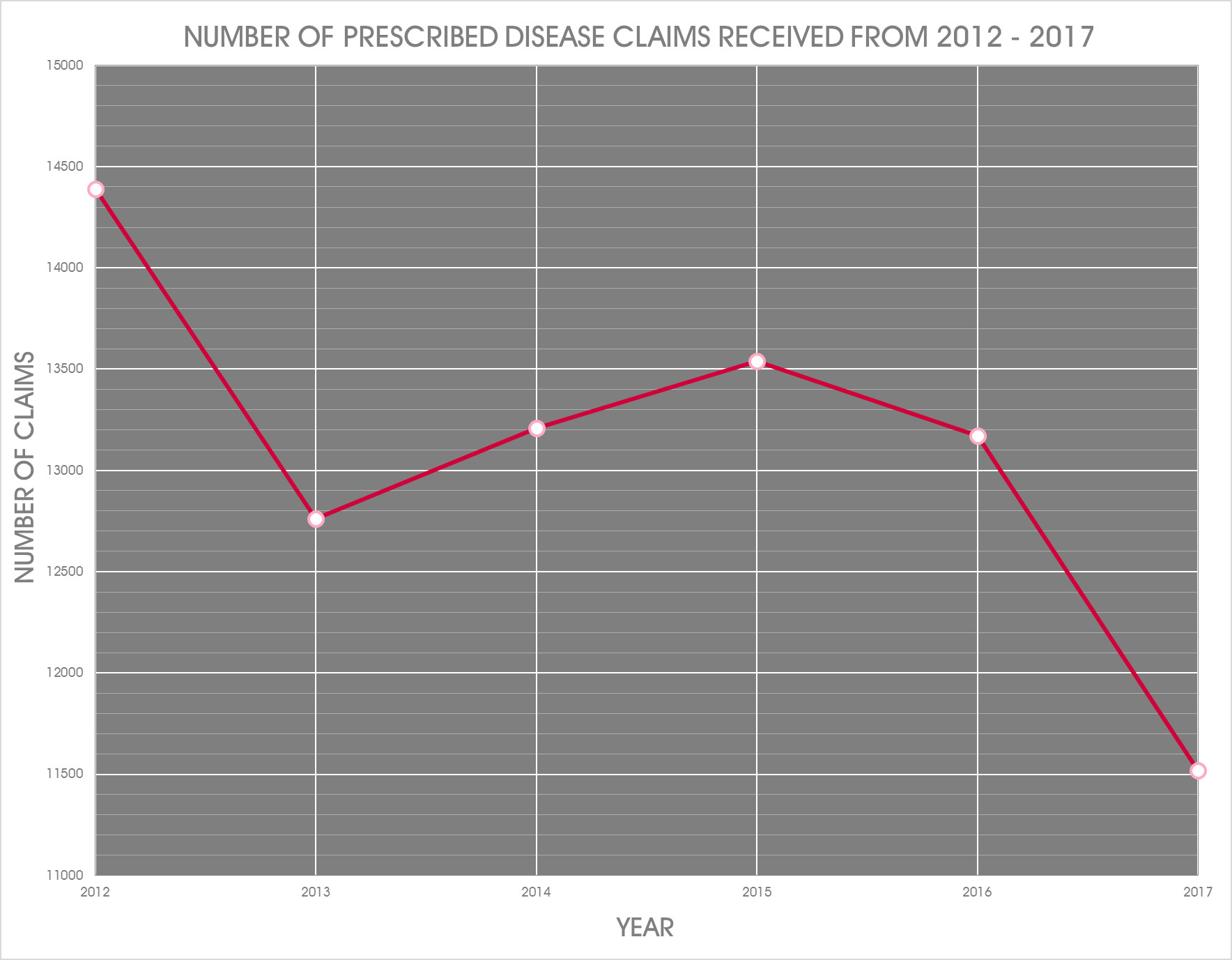 There are over 70 prescribed diseases covered by the Industrial Injuries Scheme. Broken down by disease type, the number of claims pursued between Q3 of 2015 and Q3 of 2017 are shown in the table below.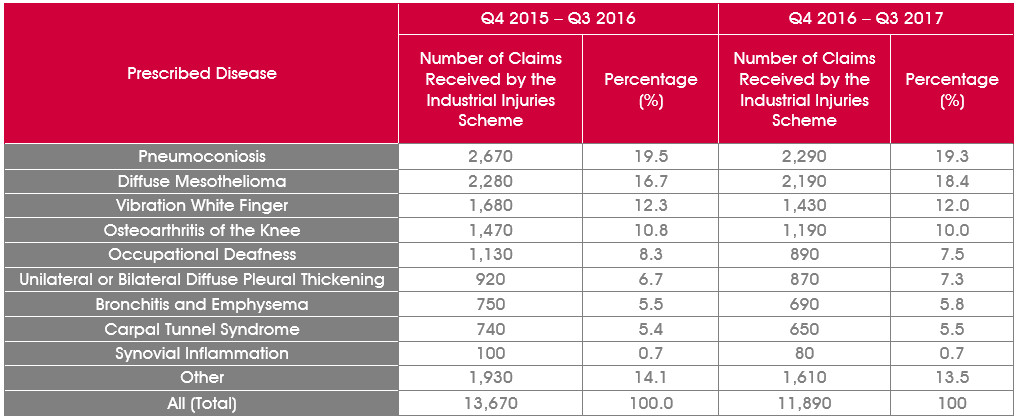 Sorted by highest to lowest claims numbers, it is clear that in both years, the prime diseases resulting in claims are pneumoconiosis and diffuse mesothelioma. In fact, in both years, all 9 listed diseases retained the same ranking, in terms of the proportion of claims received.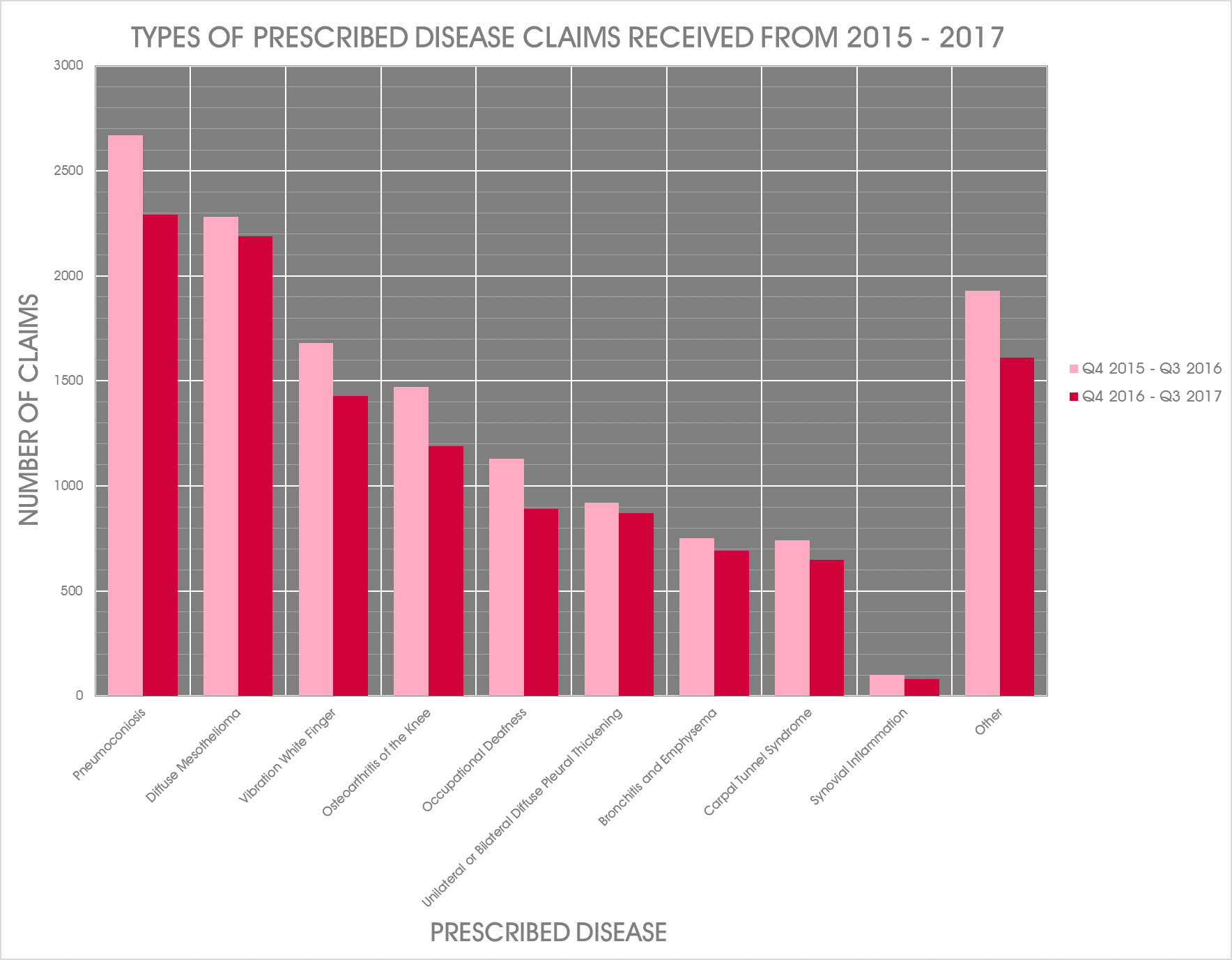 It is apparent, from the bar chart above, that the number of claims for each disease decreased last year. The biggest drop was seen in occupational deafness claims, which shrunk by 21.2%. By contrast, the smallest drop was seen in diffuse mesothelioma claims, which decreased by just 4.0%.
With the exception of the first year of Portal Claims, the number of EL disease claim settlements reached under the Claims Portal (year ending April) has lessened. Since 2015/16, settlements have fallen by 54.3%. In the same time period, general damages have been cut, on average, by 4.0%.

[i] 'UK Personal Injury Market 2018: Market Trends Report' (IRN 2018), accessed 4 September 2018.