INTRODUCTION
This week, we introduce a new feature series, which focuses primarily on investigations conducted during the course of industrial disease claims.
In forthcoming editions of BC Disease News, we will provide separate schedules of investigations for each occupational disease, accompanied by general background information, specific to the relevant disease. Investigations are either conducted by Claims Inspectors (CI's), or fee-earners themselves, over the course of a claim.
Typically, investigations and the taking of witness statements consider the genuine issues in dispute and ensure the efficient use of time and resources.
Accordingly, forthcoming editions will consider investigations into:
Noise-Induced Hearing Loss (NIHL) Claims (in this week's edition);
Cumulative Back Claims;
Dermatitis Claims;
Asthma Claims; and
Work Related Upper Limb (WRULD) Claims:-
CTS;
Rotator Cuff Tendonitis & Shoulder Impingement;
Epicondylitis;
Stenosing Tenosynovitis;
De Quervain's Disease.
Upon completion of our feature series, publication of our Investigations in Disease Claims Guide will follow.
GENERAL BACKGROUND TO NIHL CLAIMS
Noise is deemed as any unwanted/undesirable sound, arising from any vibrating source of energy. The 3 factors that determine the loudness of noise are proximity, frequency and intensity.
Proximity to the source of the noise is important to bear in mind when conducting investigations e.g. how close to the source would the Claimant have been situated?
Noise levels are measured using a conventional noise meter or dose-meter and are 'A' weighted. 'A' weighting is designed to reflect the response of the human ear to noise, at high and low frequencies, the human air is not very sensitive.
Evidence provided by the Claimant is often subjective e.g. 'I had to shout to the person next to me'. This is an example of a Claimant estimating how high the noise levels were by reference to needing to shout over a certain distance. Department for Employment's 1972 Code of Practice – noise limits have been exceeded and should surveyed where 'it was necessary to shout in order to be audible to a person about one meter distant'.
The 2005 Guidance ('the Guidance') provides the following table: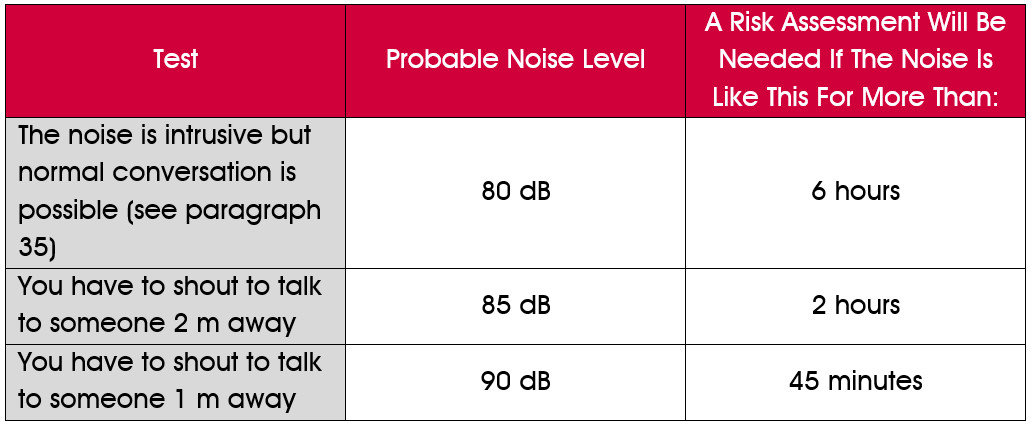 Importantly, noise levels and daily noise level dose are not the same thing. The daily noise level dose takes into account noise exposure throughout the Claimant's working day. Lep,d is a worker's daily exposure to noise at (normalised to an 8 hour day), taking into account the average levels of noise and the time spent in each area.
The table below shows the combinations of noise and exposure times required to give a 'daily dose' of 85 dB(A)Lep,d (8 hours).

Controlling noise/reducing the risks of noise is an important aspect of the insured's duty. Such measures include:
Using quieter equipment or a different, quieter process;
Engineering/technical controls to reduce, at source, the noise produced by a machine or process e.g. a silencer, dampeners;
Using screens, barriers, enclosures and absorbent materials to reduce the noise on its path to the people exposed e.g. 'hush huts';
Designing and laying out the workplace to create quiet workstations;
Improved working techniques to reduce noise levels;
Limiting the time people spend in noisy areas;
Automation.
A low-noise purchasing policy for machinery and equipment;
Proper and regular maintenance of machinery and equipment that takes account of noise so it does not get louder over time.
Installation arrangements, e.g. methods of mounting and location, to ensure machinery operates as quietly as possible; and
How different ways of operating the machine affect the noise it produces.
Different types of hearing protection provide varying strengths of attenuation. This must be taken into consideration and the attenuation value to be subtracted from the Lep,d value. Ear plugs range from 10–30 dB and ear muffs range from 20–30 dB. However, these are only valid when they are fitted properly and the equipment is in good working order. If the equipment is worn, there needs to be provision of new equipment and steps for the claimant to be able to obtain such.
Important to obtain information (if available) regarding the frequency of usage. If hearing protection is removed in noisy areas, even for short periods, the amount of protection provided will be severely limited.
As wear time is decreased from 100% of time exposed, the effective protection offered decreases. A significant reduction in protection is found even if the wear time is 90%. If the hearing protection is worn for 50% of time exposed, the attenuation offered is only about 3 dB.
Common Law
The first general regulations in the UK to protect employees' hearing from exposure to loud noise were only introduced in 1990.[1] Prior to this, common law negligence is relevant - did the reasonable employer, having positive thought for the safety of its employees, know, or ought to have known about the dangers associated with excessive noise? When did employers gain this knowledge of risk? What was considered to be dangerous noise exposure which would put employees at risk?
For many larger employers in the UK, 1963 is taken as the date when they knew, or ought to have known, that employees who were being exposed to a daily noise dose of 90 dB(A) LEP,d were at risk of potential hearing loss.
For small and medium-sized employers, this date may be too early; knowledge would only be acquired in April 1972 with the issue of a Department of Employment Code of Practice. Even then, employers would probably have 18 months-two years to implement hearing conservation measures. Therefore, the 'actionable' or 'guilty' date of knowledge for such employers is probably April 1974. This would be viewed as the constructive date of knowledge.
Exposures before 1963 or 1974 (dependent upon the relevant date of knowledge) would be 'non-negligent exposure' for which the employer cannot be liable because it could not foresee the risk of injury before this date.
Statutory Duties
The first generally applicable statutory duties were set out in the Noise at Work Regulations 1989, which came into force on 1 January 1990.
Employers' duties are 'triggered' when certain 'action levels' are reached.
Under the 1989 Regulations the actions levels were as follows:
1st Action Level: 85-89 LEP,d
2nd Action Level: 90+ LEP,d
3rd Action Level: 'Peak Action Level' – triggered if noise levels reach 140 dB irrespective of the exposure time.
1st Action Level
Carry out noise assessment to determine noise levels and employees' daily noise dose.
The employer has to warn the employee that there is a risk to hearing from the noise exposure.
The employer should strongly recommend the wearing of hearing protection to conserve hearing.
If the employee elects to wear hearing protection, then the employer must provide proper and adequate protection and training on how to use it correctly and how to maintain and replace it.
The wearing of hearing protection is not mandatory.
2nd Action Level
Reduce noise levels at source by engineering means or reducing exposure by changes to systems of work, or limiting the time spent in noisy areas.
If the above does not reduce exposure sufficiently, then provide and enforce the wearing of proper and adequate hearing protection - the mandatory wearing of protection must be supported by signage.
Provide training on how to correctly use the protection and maintain and replace it.
Table: Employer action required at the different action levels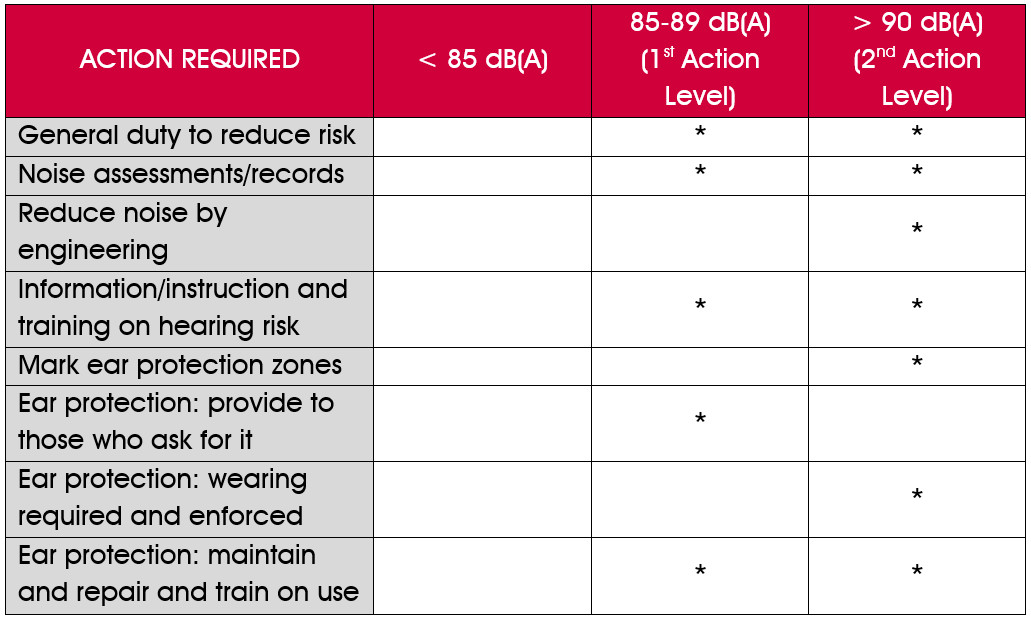 The current Control of Noise at Work Regulations 2005 came into force on 6 April 2006 and reduced the action levels. The actions levels are now known as the Lower Exposure Action Value (LEAV) and the Upper Exposure Action Value (UEAV). The duties under the LEAV and the UEAV correspond with the 1st and 2nd Action Levels of the 1989 regulations, but each is now reduced by 5 dB:
LEAV: 80 dB(A) LEP,d
UEAV: 85 dB(A) LEP,d
There is also a new maximum exposure limit of 87 dB(A) LEP,d. This limit takes into account the reduction in noise by hearing protection. Taking into account the attenuating effects of the protection, then no-one should be exposed to daily noise exceeding this limit.
A table showing a timeline of key dates relevant to breach of duty is shown below.
Table: Timeline of key dates relevant to breach of duty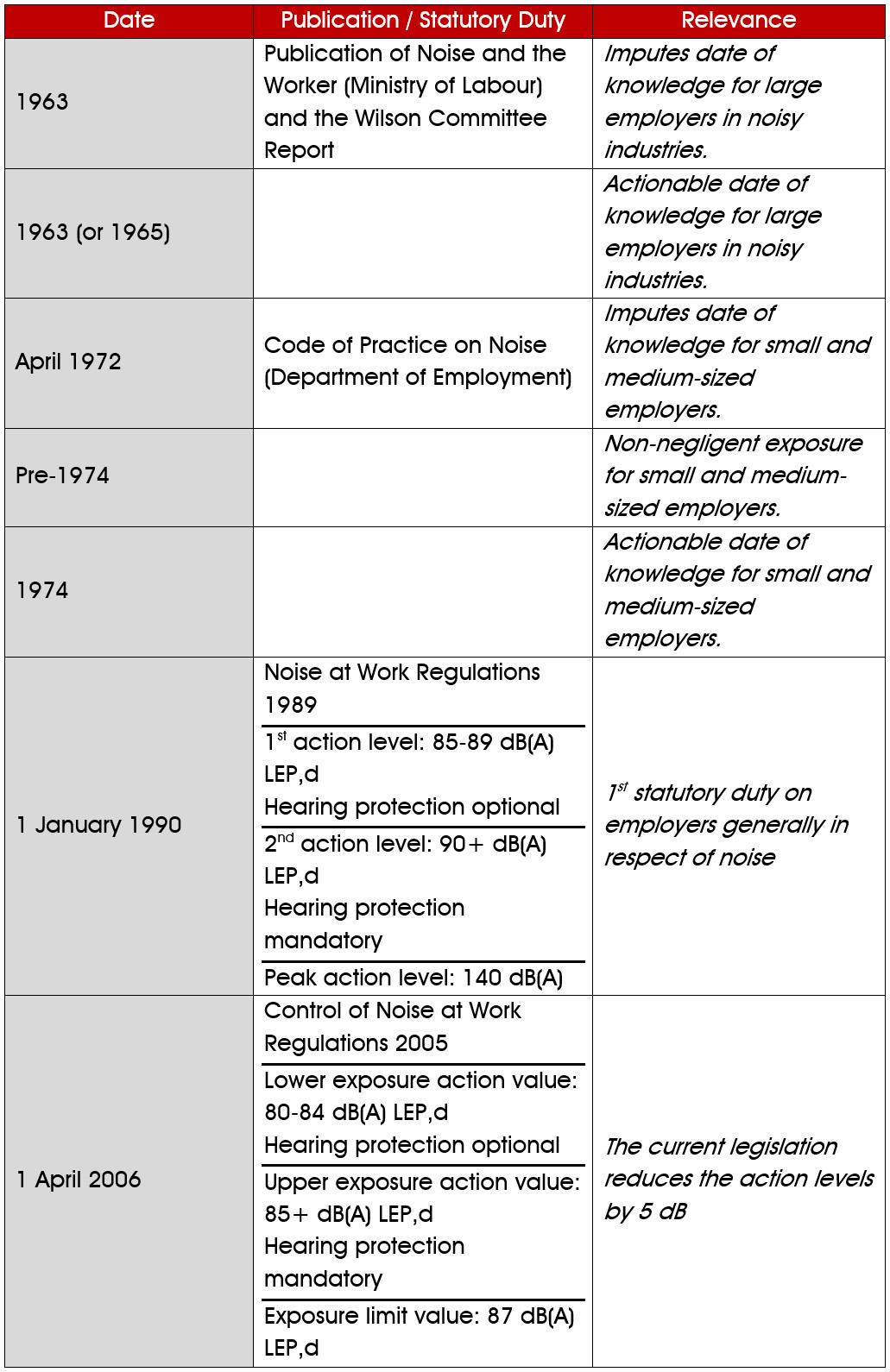 TEMPLATE SCHEDULE OF INVESTIGATIONS IN A NIHL CLAIM
1. PRE-1974 EXPOSURES
Foreseeability in common law negligence may be an issue in respect of any pre-1974 exposures. Consider whether this could provide (i) a complete defence, or (ii) reduce the insurer's share of the claim.
If foreseeability is in issue then evidence (documentary / lay) will be required looking at:
Nature of employer's business?
Industry in which operated?
Size of employer-sites, employees, turnover (any other measures)?
Resources of employer-any H & S and / or R & D and / or OH departments?
Claimant's job title and role description?
Periods of alleged exposure?
Nature of alleged exposure?

Location within premises / site
Sources (identify any departments, plant & equipment etc. where relevant)
Proximity
Frequency
Duration
How did plant / systems of work / exposures change over material period?

Likely noise exposures-Leq and / or Lep,d assessments?
Any complaints made about noise at material time? If so when, where, by whom, to whom, nature of same, response to these?
Any specific knowledge in respect of noise and dangers associated with NIHL-if so what and when and by whom and how acquired?
Subjective assessments of noise exposure-see table below[2].

2. PRE-01/01/1990 EXPOSURES
In addition to 1(i)-(x) above.
Noise surveys conducted

When
What parts of business / processes / departments / plant & equipment
By whom-competency and qualifications
Results
What happened post surveys?
How, when and by whom were surveys / results of assessments periodically reviewed?
If plant / processes changed were surveys / assessments repeated?

Hearing Conservation Programmes

Nature of programme
What parts of business / processes/departments / plant & equipment
Engineering measures taken to reduce / control noise at source?

When?
What measures-silencers, noise dampeners, hush huts etc.?
What parts of business etc.?
By whom?
Reduction achieved?

Changes to systems of work to reduce / control exposures

When?
What measures-job rotation, automation, substitution by quieter plant etc.?
What parts of business etc.?
By whom?
Reduction achieved?

Hearing Protection

From when?
Enforced? How? What areas / processes / plant etc.?
If not enforced why not? Any issues of Con Neg?
What type of HP?

Make
Model
Attenuation
How, why, by whom was it selected as being suitable

Who provided HP?

Training & education

Who provided training? What was their competency / qualifications to do so?
When was training provided and to whom?
How was it delivered?
What was content of training:

Did it provide information regarding noise exposure dose?
Risk to damage to hearing
Advice that HP must be worn-when and where
How to obtain HP?
How to wear HP?
How to maintain HP and identify & report faults / defects in it?
How to replace the HP

Health Surveillance Programme

When
Nature
Who
Competency and qualifications
Results reported to employees? Actions taken?

Complaints / previous claims?
Any complaints made by employees in respect of noise / hearing damage etc.

When?
To whom?
From whom?
Nature of complaint?
Response to complaint?
Any previous NIHL personal injury claims-details & outcomes?

Other

Any HSE investigations / communications regarding noise?
Nature / Outcomes?
When, what part of plant / processes?
Background information on claimant

Previous employments
Previous noisy employments
Social / recreational exposures
Previous NIHL claims
Member of armed forces / shooting history
Member of trade union(s)
Other of relevance
3. 01/01/1990 – 05/04/2006 EXPOSURES
As 1 & 2 above
Consider whether claimant's exposure above 1st or 2nd action level?
How were the results of the noise exposure assessment (and risks of NIHL) communicated to employees?

By whom?
To whom?
When?
Nature of communication?

Were Ear Protection zones identified and demarcated within premises by signage? Full details.
How was need for wearing of HP within such zones communicated and enforced?
4. POST-05/04/2006 EXPOSURES
As 1, 2 & 3 above.
Medical Health Surveillance

What is the programme?
Why implemented and from when and how often?
Competency and qualifications of persons conducting programme?
Has C / other employees been identified with noise damage? Details including when / what noise exposure it relates to?
Were results communicated to C?

When
By whom
Nature / gist of communication?
Was C referred to doctor or any specialist as a result? When & outcome?
What action taken and when (i.e. C removed from noise?

Any analysis of anonymised health results made? When, by whom, to whom, what did / does it show, actions taken?
5. LIMITATION
Where limitation is in issue you will need evidence dealing with s.33 of the LA 1980 and how any delay has caused deterioration in evidence, prejudice to defendant and why a fair trial is no longer possible.
This may include:
Changes in employer name, status, ownership including when?
Changes in premises and when?
Changes in plant and equipment and machinery and when?
Changes in systems of work and when?
Changes in management structures and personnel?
Lay witness recollection-or lack of it-on all the issues 1-4 above, but broadly:

Claimant's role and likely noise exposure?
Noise control measures?
Hearing conservation measures?

Availability of lay witnesses

What evidence can they provide? What can't they comment on? How has recollection of events been affected?
What lay witnesses no longer available?

Why?
What has happened to them / where are they?
From when?
What would they have provided evidence on?

What documents exist? What is their relevance?
What documents did exist but are no longer available?

Why?
When lost or destroyed?
What did they show?

Previous NIHL claims history

Claims by whom
In respect of what exposures, sources, periods-any relevance to C's claim?
Solicitor / trade union representations?
Outcomes?
Insurers / brokers involved?
Documents
This Checklist is intended only to be a guide and it is not exhaustive.
NB: IN CASES WHERE SUCH DOCUMENTS ARE NOT AVAILABLE IT IS VITAL TO CLARIFY WHETHER (I) THEY NEVER EXISTED, OR (II) IF THEY DID WHAT BECAME OF THEM AND WHEN?
The Injury
Any relevant complaints made (if at all).
Any HSE investigations or correspondence in relation to this claim, any other similar incidents or the system of work in general.
Any internal investigation reports or forms, including any statements taken or memos sent.
Any documents completed for the purposes of the DSS.
Documents relating to any other similar claims.
Noise Assessments/Surveys & Health & Safety Records
Health & Safety Committee Meeting Minutes dealing with noise awareness and any hearing conservation policy.
The Company's Health & Safety Policy — particularly in relation to noise and hearing protection / conservation.
Any specific noise reduction or noise conservation policy or policy statement.
Any other relevant internal health and safety documents, including memos and e-mails, relating to noise.
Noise assessments / surveys / noise level readings and / or any relevant risk assessments — throughout the duration of the Claimant's employment.
Documents showing any other sources of information obtained, such as:

independent health & safety reports commissioned; work surveys;
documents obtained from HSE, trade associations, health & safety industry journals.
Noise Control Measures
Schematic plan of premises and plant & equipment.
Identity of plant, machinery, equipment-manufacturer name and model numbers.
Any manufacturers' information provided in respect of machinery / plant / equipment noise levels.
Programme of maintenance and repair.
Documents illustrating any steps taken to reduce noise exposure (e.g. by engineering means or changes to the system of work).
Hearing Protection
Manufacturers' / suppliers' product information (e.g. catalogues, marketing information etc.) for all ear protection provided, including the name and make.
Any manuals in respect of the use of the ear protection.
Purchase records to show how often and how many items are typically purchased (e.g. each month).
Documents showing what ear protection the Claimant received and when (e.g. signed receipt forms).
Documents relating to suitability (e.g. trials, discussions with suppliers etc.).
Training & Enforcement
Health & Safety Handbook / Manual — preferably the copy signed and dated by the Claimant to acknowledge receipt.
Documents showing all training, instructions and warnings given to the Claimant regarding the dangers of noise and how to protect hearing, including:

certificates;
course notes;
course registers
internal memos;
publicly displayed warning notices around the factory — provide photographs if possible;
handbooks/booklets;
notes of guidance and any other literature etc.

The Claimant's Training Records for all aspects of their work and, in particular, in respect of noise awareness.
Documents relating to enforcement procedures, including warnings given and disciplinary procedures taken against employees (particularly the Claimant) for failure to wear ear protection.
Health Surveillance
Documents detailing any system of health surveillance:

What is the programme?
Why implemented and from when and how often?
Competency and qualifications of persons conducting programme?
Has C / other employees been identified with noise damage? Details including when / what noise exposure it relates to?
Were results communicated to C?

When
By whom
Nature / gist of communication?
Was C referred to doctor or any specialist as a result? When & outcome?
What action taken and when (i.e. C removed from noise?

Any analysis of anonymised health results made? When, by whom, to whom, what did / does it show, actions taken?
Complaints or Comments & Action Taken
Documents relating to any written or oral complaints or comments made by the Claimant or any other employees about the symptoms or the system(s) of work.
Documents detailing the Company's response to any such complaints or comments and what action was taken, if any.
All correspondence passing between the Company and the Health & Safety Executive regarding this incident or any other similar matters.
Trade Union
Is / was there a Union in existence? Has noise ever been raised as an issue? If so, provide details of any action taken by the Union and / or copies of any correspondence with it and / or minutes of any meetings with its representative(s).
The Claimant
Contract of employments
Job roles / descriptions
Note: Personnel & Occupational health records will be obtained by BC Legal direct.
Inspection of Workplace / Preserving Evidence
May be relevant in respect of recent exposure claims where plant / machinery being shut down or replaced or premises closing down. Please identify this within the report so that prompt action can be taken to inspect the workplace and preserve any evidence.
[1] Prior to this there was specific duties with respect to woodworking in the Woodworking Machines Regulations 1974.
[2] HSE Guidance on Control of Noise at Work Regulations, 2005.