Is a Part 36 Offer valid if the Offer relates to a 'proposed amendment' to the Particulars of Claim? This question was answered in the recent case of Hertel & Anor v Saunders & Anor [2018] EWCA Civ 1831.
At a Case Management Conference (CMC), the claimants indicated that they wished to serve amended Particulars of Claim (POC). The draft amended claim form and POC were served on the defendants, which did not take issue with moving the amendment 'in front of the Court on the next occasion'.
1 month before the impending court hearing, the defendants made a 'Part 36 Offer', which was accepted by the claimants.
The parties were then in dispute over the costs of proceedings.
When the matter came before Morgan J, the defendants claimed that their so-called Part 36 Offer was not valid, on the basis that the settled claim was not, for the purposes of CPR 36.5(1)(d) [formerly CPR 36.2(2)(d)], 'a claim or part of the claim or an issue which arose in the claim ... because the amendment introducing the new claim was a proposal only and had never been the subject of a court order, it could not therefore be construed as a claim or part of a claim'.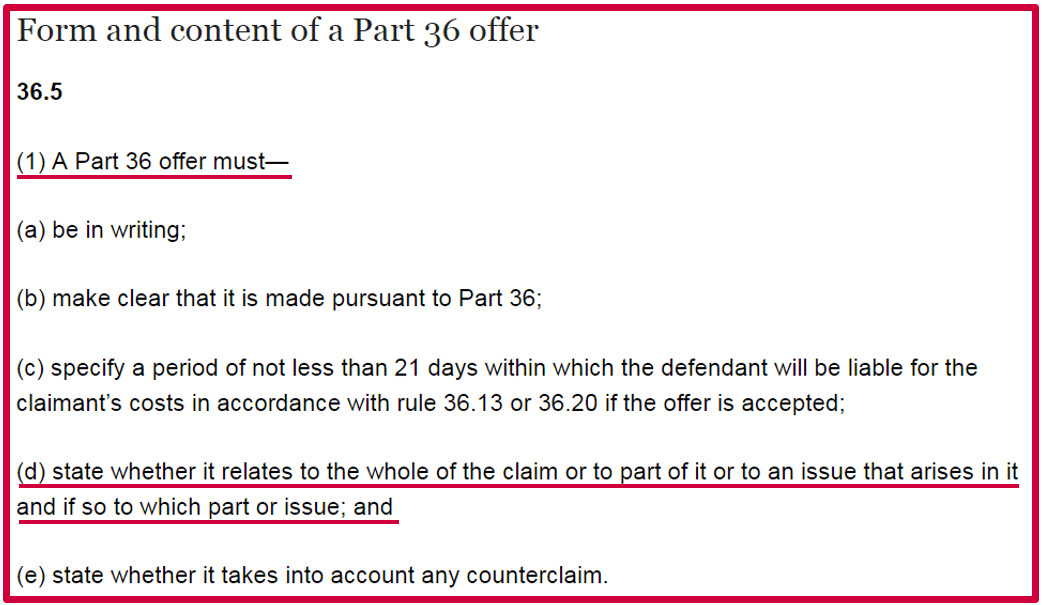 On appeal at the Court of Appeal, Lord Justice Coulson did not accept the claimants' argument that, because Part 36 Offers can be made pre-commencement of proceedings without reference to pleadings, it was therefore unnecessary for CPR 36.5(1)(d) to be 'defined too narrowly' for post-commencement Offers.
He went on to find, at paragraph 31 and 33, that:
'In civil proceedings, claims/parts/issues can only properly be defined by reference to the pleadings. Indeed, that is the principal purpose of pleadings. It would introduce unnecessary and unwelcome uncertainty if claims/parts/issues were given a wide definition that did not seek to anchor them to the pleadings which the parties have exchanged.
...
Accordingly, like Morgan J, I would construe the words 'claim', 'part of a claim'; and 'issue' as referring to pleaded claims, parts of claims or issues, and not other claims or issues which may have been intimated in some way but never pleaded'.
As a result, CPR 36.5(1)(d) could not be interpreted to 'include claims, parts of claims or issues which have not been pleaded but which, for example, may have been mentioned in correspondence or in an informal conversation between solicitors'.
It was irrelevant that the claimants' amendment had not been opposed by the defendants prior to their Offer.
Accordingly, Coulson LJ upheld the decision of Morgan J; the offer of settlement was not a valid Part 36 Offer. Consequently, CPR 36.10(2) [unpreserved in the current version of the Civil Procedure Rules: CPR 36.13(2)], which was the enforceable rule on costs consequences following Part 36 acceptance in 2015, did not apply.

Full text judgment can be accessed here.